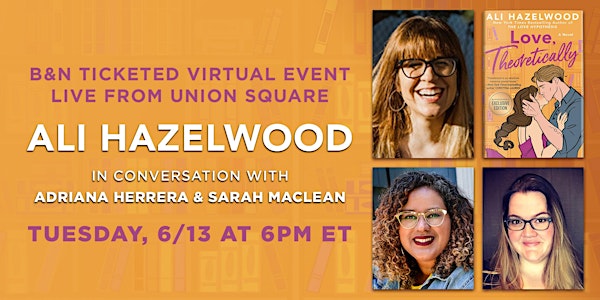 B&N Virtually Presents: Ali Hazelwood celebrates LOVE, THEORETICALLY
Barnes & Noble welcomes New York Times bestselling author of The Love Hypothesis, Ali Hazelwood, to virtually discuss LOVE, THEORETICALLY
Date and time
Starts on Tuesday, June 13 · 3pm PDT
About this event
Live near NYC & want to attend live? Click here to purchase tickets to the in-person event.
Join Barnes & Noble as we welcome the New York Times bestselling author of The Love Hypothesis and Love on the Brain, Ali Hazelwood, for a live, virtual discussion to celebrate the release of LOVE, THEORETICALLY, her new, delightful STEMist romcom where rival physicists collide in a vortex of academic feuds and fake dating shenanigans.
Ali Hazelwood will be in conversation with Adriana Herrera and Sarah MacLean.
BONUS!: Each ticket includes a copy of the B&N Exclusive Edition of LOVE, THEORETICALLY which features an exclusive essay from author Ali Hazelwood, as she delves into the Taylor Swift songs she pairs with different chapters of her novel.
EXTRA BONUS!: Buy any ticket BY JUNE 12, and you are automatically entered for a chance to win a $200 Barnes & Noble gift card, a steminist mug, and signed copies of Ali's books. See details and official rules here.
**This event will be streamed live from Ali's Barnes & Noble Union Square appearance.
-------------------------
This is a live, ticketed event. You must have a ticket to gain access. Please be sure your correct email is listed when you purchase and that your Eventbrite settings include updates on this event.
For book-based tickets: This is for US-based customers ONLY (NO P.O. Boxes), excluding Puerto Rico; P.O. Boxes and all international addresses. Any non US orders, Puerto Rico or P.O. Box mailing addresses will be cancelled and refunded.
Books will be mailed AFTER the completion of the live event; please allow ample time for shipping, typically 8-10 business days.
Each ticket must have a different email associated with it to gain entry. Any repeated emails will be cancelled and refunded.
There is a limit of one ticket per person. If you exceed or attempt to exceed the posted ticket limits, we reserve the right to cancel, without notice, any or all orders and tickets, in addition to prohibiting your ticket purchasing abilities. Any tickets canceled due to violating the posted ticket limit may be refunded at face value (excluding fees). This includes orders associated with the same name, e-mail address, billing address, credit card number, or other information.
TICKET INFORMATION:
Signed B&N Exclusive Paperback Book Admission - $25.03 (Admission + Signed B&N Exclusive paperback book + tax/shipping): **LIMITED QUANTITY AVAILABLE**: A ticket PER PERSON includes:
**Have a question? Leave one at check-out and it could possibly be answered live!
EVENT DETAILS:
This event will air as a Zoom Webinar. You MUST BE SIGNED INTO EVENTBRITE WITH THE EMAIL IN WHICH YOU PURCHASED THE TICKET to access the event. We highly recommend you CREATE AN EVENTBRITE ACCOUNT, as well as DOWNLOAD ZOOM & familiarize yourself prior to the event for the best possible experience.
Access to the event will become available on the evening of the event, Tuesday, June 13, at 6 PM ET / 5 PM CT / 4 PM MT / 3 PM PT.

Access to the event will become available via:

OPEN IN ZOOM button in your Eventbrite account (found under "Tickets" --> "Go to online event page") OR your event ticket confirmation email.

Two hours prior to the event, you will receive a separate email FROM ZOOM with a personalized access link. You may also use this to enter the event.

You will receive reminder emails from Eventbrite before the event. You may also access the event through the reminder email, HOWEVER YOU MUST BE SIGNED INTO EVENTBRITE WITH THE EMAIL IN WHICH YOU PURCHASED THE TICKET.

You may be asked to re-enter the email in which you purchased this ticket to re-validate.
GUIDELINES:
Disruptive Conduct: Barnes & Noble wants to create a safe virtual space for all. You acknowledge and agree that Barnes & Noble reserves the right to remove you from the Virtual Event if B&N, in its sole discretion, determines that your participation or behavior create a disruption or hinder the Virtual Event or the enjoyment of the Virtual Event content by other attendees.
By registering for a paid Barnes & Noble Virtual Event Ticket, you agree not to share, sell or trade your access. If Barnes & Noble determines that you have violated this policy, B&N may cancel your access, retain any payments made by you, and ban you from future Virtual Events.
Recording, Live Streaming, and Videotaping. Participants may not record or broadcast audio or video of Barnes & Noble Virtual Events.
This is a US-based event ONLY, and please allow ample time for delivery. Due to complications around shipping during the pandemic, delays can be common. All tickets include the cost of shipping to domestic, non-P.O. Box addresses only.
Please note that Eventbrite is the only authorized dealer for this event. Each person must have a ticket to enter.
REFUNDS:
We cannot guarantee a replay of the program. Please keep this in mind before purchasing a ticket. There will be no refunds for missing the live event.
Event guidelines are subject to change.
Join Barnes & Noble for future virtual events! See our upcoming line-up here.
_______________________________________________________________________
The many lives of theoretical physicist Elsie Hannaway have finally caught up with her. By day, she's an adjunct professor, toiling away at grading labs and teaching thermodynamics in the hopes of landing tenure. By other day, Elsie makes up for her non-existent paycheck by offering her services as a fake girlfriend, tapping into her expertly honed people-pleasing skills to embody whichever version of herself the client needs.
Honestly, it's a pretty sweet gig—until her carefully constructed Elsie-verse comes crashing down. Because Jack Smith, the annoyingly attractive and arrogant older brother of her favorite client, turns out to be the cold-hearted experimental physicist who ruined her mentor's career and undermined the reputation of theorists everywhere. And he's the same Jack Smith who rules over the physics department at MIT, standing right between Elsie and her dream job.
Elsie is prepared for an all-out war of scholarly sabotage but…those long, penetrating looks? Not having to be anything other than her true self when she's with him? Will falling into an experimentalist's orbit finally tempt her to put her most guarded theories on love into practice?
About the organizer
Barnes & Noble is the world's largest retail bookseller, and a leading retailer of content, digital media and educational products.