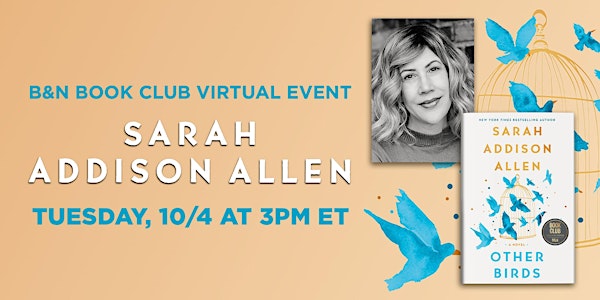 B&N Book Club: Sarah Addison Allen - OTHER BIRDS
B&N welcomes Sarah Addison Allen for a live, virtual event to discuss OTHER BIRDS our September Book Club selection!
About this event
Join Barnes & Noble as we welcome Sarah Addison Allen, the New York Times bestselling author of Garden Spells, for a live, virtual event to discuss OTHER BIRDS our September B&N Book Club pick!
If you don't have a copy, please order the B&N Exclusive edition of OTHER BIRDS (on sale 8/30/22) before our book club.
An Audiobook edition of the book is also available here.
Sarah Addison Allen will be joined in the discussion by Shannon DeVito, Director of Category Management at B&N and Miwa Messer, Editorial Director at B&N.
PLEASE NOTE: There will be spoilers at this book club event!
**Have a question for the discussion? Leave one at registration and it could possibly be answered live!
-------------------------
EVENT DETAILS:
This is a live, free event. Registration is required to attend.
Each registration must have a different email associated with it to gain entry. Please be sure your correct email is listed when you register and that your Eventbrite settings include updates on this event.
This event will air as a Zoom Webinar. It will not air on the Eventbrite site itself.

You must be logged into Eventbrite with the email in which you purchased the ticket to access the event. We highly recommend you create an Eventbrite account, as well as download Zoom & familiarize yourself prior to the event for the best possible experience.

Access to the event will become available on the afternoon of the event, Tuesday, October 4 at 3 PM ET.
Access to the event will become available via:

The OPEN IN ZOOM ( highly recommended) or JOIN NOW buttons in your Eventbrite account (found under "Tickets" --> "Go to online event page") OR your event ticket confirmation email.

You will receive reminder emails from Eventbrite before the event. You may also access the event through the reminder email, HOWEVER YOU MUST BE SIGNED INTO EVENTBRITE WITH THE EMAIL IN WHICH YOU PURCHASED THE TICKET.

You may be asked to re-enter the email in which you purchased this ticket to re-validate.
GUIDELINES:
Disruptive Conduct: Barnes & Noble wants to create a safe virtual space for all. You acknowledge and agree that Barnes & Noble reserves the right to remove you from the Virtual Event if B&N, in its sole discretion, determines that your participation or behavior create a disruption or hinder the Virtual Event or the enjoyment of the Virtual Event content by other attendees.
Recording, Live Streaming, and Videotaping. Participants may not record or broadcast audio or video of Barnes & Noble Virtual Events.
Please note that Eventbrite is the only authorized dealer for this event. Each person must be registered to enter.
We cannot guarantee a replay of the program. Please keep this in mind before registering for a ticket.
Event guidelines are subject to change.
Join Barnes & Noble for future virtual events! See our upcoming line-up here.
----------------------------------------------------------------------
Between the real and the imaginary, there are stories that take flight in the most extraordinary ways. Right off the coast of South Carolina, on Mallow Island, The Dellawisp sits—a stunning cobblestone building shaped like a horseshoe and named after the tiny turquoise birds who, alongside its human tenants, inhabit an air of magical secrecy.
When Zoey comes to claim her deceased mother's apartment on Mallow Island, she meets her quirky and secretive neighbors, including a girl on the run, two estranged middle-aged sisters, a lonely chef, a legendary writer, and three ghosts. Each with their own story, Each with their own longings. Each whose ending isn't written yet.
About Sarah Addison Allen:
SARAH ADDISON ALLEN is the New York Times bestselling author of Garden Spells, The Sugar Queen, The Girl Who Chased the Moon, The Peach Keeper, and Lost Lake. She was born and raised in Asheville, North Carolina.