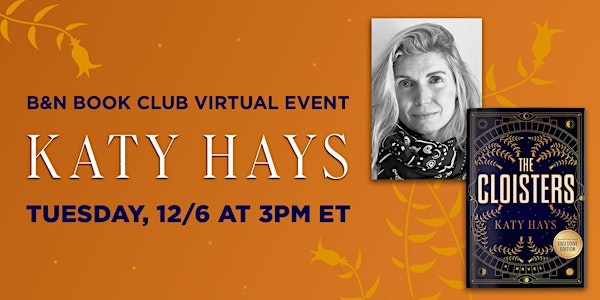 B&N Book Club: Katy Hays - THE CLOISTERS
B&N welcomes Katy Hays for a live, virtual event to discuss THE CLOISTERS our November Book Club selection!
About this event
Join Barnes & Noble as we welcome Katy Hays for a live, virtual event to discuss our November B&N Book Club pick, THE CLOISTERS !
The Secret History meets Ninth House in this sinister, atmospheric novel following a circle of researchers as they uncover a mysterious deck of tarot cards and shocking secrets in New York's famed Met Cloisters.
If you don't have a copy, please order the B&N Exclusive edition of THE CLOISTERS before our book club. This special edition of the book will have unique endpapers.
An audiobook edition of the book is available here
Katy Hayes will be joined in the discussion by Shannon DeVito, Director of Category Management at B&N and Miwa Messer, Editorial Director at B&N.
PLEASE NOTE: There will be spoilers at this book club event!
**Have a question for the discussion? Leave one at registration and it could possibly be answered live!
-------------------------
EVENT DETAILS:
This is a live, free event. Registration is required to attend.
Each registration must have a different email associated with it to gain entry. Please be sure your correct email is listed when you register and that your Eventbrite settings include updates on this event.
This event will air as a Zoom Webinar. You MUST BE SIGNED INTO EVENTBRITE WITH THE EMAIL IN WHICH YOU PURCHASED THE TICKET to access the event. We highly recommend you CREATE AN EVENTBRITE ACCOUNT, as well as DOWNLOAD ZOOM & familiarize yourself prior to the event for the best possible experience.
Access to the event will become available on the afternoon of the event, Tuesday, December 6 at 3 PM ET / 2 PM CT / 1 PM MT / 12 PM PT.
Access to the event will become available via:
OPEN IN ZOOM button in your Eventbrite account (found under "Tickets" --> "Go to online event page") OR your event ticket confirmation email.
You will receive a separate email FROM ZOOM 24 hours before the event and again two hours prior to the event with a personalized access link. You may also use this to enter the event.
You will receive reminder emails from Eventbrite before the event. You may also access the event through the reminder email, HOWEVER YOU MUST BE SIGNED INTO EVENTBRITE WITH THE EMAIL IN WHICH YOU PURCHASED THE TICKET.
You may be asked to re-enter the email in which you purchased this ticket to re-validate.
GUIDELINES:
Disruptive Conduct: Barnes & Noble wants to create a safe virtual space for all. You acknowledge and agree that Barnes & Noble reserves the right to remove you from the Virtual Event if B&N, in its sole discretion, determines that your participation or behavior create a disruption or hinder the Virtual Event or the enjoyment of the Virtual Event content by other attendees.
Recording, Live Streaming, and Videotaping. Participants may not record or broadcast audio or video of Barnes & Noble Virtual Events.
Please note that Eventbrite is the only authorized dealer for this event. Each person must be registered to enter.
We cannot guarantee a replay of the program. Please keep this in mind before registering for a ticket.
Event guidelines are subject to change.
Join Barnes & Noble for future virtual events! See our upcoming line-up here.
----------------------------------------------------------------------
About THE CLOISTERS:
When Ann Stilwell arrives in New York City, she expects to spend her summer working as a curatorial associate at the Metropolitan Museum of Art. Instead, she finds herself assigned to The Cloisters, a gothic museum and garden renowned for its medieval art collection and its group of enigmatic researchers studying the history of divination.
Desperate to escape her painful past, Ann is happy to indulge the researchers' more outlandish theories about the history of fortune telling. But what begins as academic curiosity quickly turns into obsession when Ann discovers a hidden 15th-century deck of tarot cards that might hold the key to predicting the future. When the dangerous game of power, seduction, and ambition at The Cloisters turns deadly, Ann becomes locked in a race for answers as the line between the arcane and the modern blurs.
A haunting and magical blend of genres, The Cloisters is a gripping debut that will keep you on the edge of your seat.
About Katy Hays:
Katy Hays is a writer and adjunct art history professor in California, where she teaches rural students from Truckee to Tecopa. She holds an MA in art history from Williams College and pursued her PhD at UC Berkeley. Having previously worked at major art institutions, including The Clark Art Institute and SF MoMA, she now lives with her husband and dog, Queso, in Olympic Valley, California. The Cloisters is her first novel.