BMW | Bold Men & Women "EXcelling in Business"
Description
April we celebrate Business Month which gives us the opportunity to emphasize and promote economic empowerment for women, entrepreneurship and leadership development as we reach out to public audiences, youth, and businesswomen in our local communities.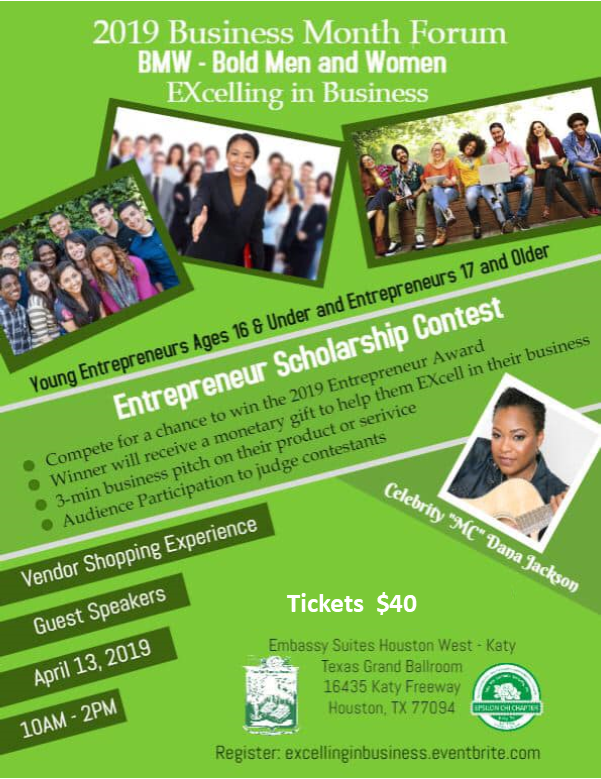 Guest Presenters
Howard L. White is a John Maxwell certified coach and trainer that focuses on S.T.E.P.S. (Strategies, Tips, Execution, Productivity and Systems) to help his clients "Grow Dynamically".
Howard utilizes his background as an engineer, as a corporate sales manager with Fortune 500 companies and as a small business owner to teach and show his clients how they can realize more revenue and more time for themselves at the same time.
Howard and his company, Business Growth Dynamics Consulting, are routinely sought out when business owners and leaders are having challenges and are looking for creative way to grow their business and their team.
Tosha Evans is an International Empowerment Speaker, Author, Trailblazing Well-being Expert and has launched the "Be Incredibly Well & BRAVE Well-being Movements that are positively impacting individuals around the globe. Both movements go beyond motivation and help individuals move past mental and emotional barriers that separate them from the life they desire. Tosha Evans has a proven formula that will help you achieve results with your mindset, finances, business and more.
Tosha is a native Houstonian, holds a Bachelor of Business Administration and is a committed Philanthropist. Her Media Platforms have spanned, radio, podcasts and the recent premier of Live Well TV - Talk Show. She is also the Best-Selling Author of Be Incredibly Well – Journey to a Better You.
Recognitions
Business Woman of the Year
Entrepreneur Awards
Activities
Entrepreneur Scholarship Contest (Ages 16 & Under and 17 & Older)
Opportunities
Vendor
Sponsorship
For more information contact us at excellinginbusiness@gmail.com