For business networking at its finest, then come out to our annual end-of-year event featuring the Joe Manns Black Wall Street Awards.
About this event
In 17 years of operation, Bmorenews is so very grateful for the opportunity to serve. We are also grateful for the service of others. And so, as always, we are proud to recognize some of the area's most dynamic entrepreneurs and business owners who are taking life by the horns.
This event helps Bmorenews to continue to bring readers and listeners to our show Thursdays on WOLB 1010 AM indigenous news on the City of Baltimore and beyond, as "unapologetically black" as ever!
Additionally, we - in conjunction with our community officers - are collecting toys for local youth.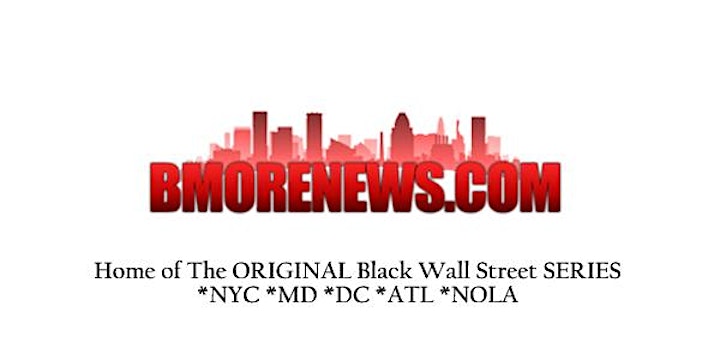 Organizer of Bmorenews.com's 17th Anniversary
BMORENEWS.com, founded in 2002, is an Afrocentric news and information website based in the Baltimore-Washington, D.C. corridor that focuses primarily on business and politics. With about 2,200 unique visitors, BMORENEWS gets over 1.5 million hits per month from about 170+ nations around the world. BMORENEWS is produced by DMGlobal Marketing and Public Relations, a multimedia PR firm that services nonprofits, corporations, organizations, artists, lawyers, and individuals. 

In February 2014, DMGlobal began the journey of www.BlackWallStreetNews.com. This latest venture is only an expansion - a manifestation of what we have long been doing: Seeking to stimulate better support of African American businesses across America.

DMGlobal has been presented the Joe Mann Black Wall Street Awards across Maryland, and also in Washington, D.C., Harlem, at the United Nations, and in Atlanta. Our goal is to celebrate black entrepreneurs and the people who support them.

FMI, contact DMGlobal at 443.858.2684. Come out and join us for *business networking at its finest! We believe that with a trillion dollars in annual disposable income in the black community nationwide, we already have the ability to solve a lot of the challenges we face - if we just do a better job helping each other and working together.