BMORE SECONDHAND | Baltimore Thrifting Meetup

Saturday, November 28, 2015 from 10:00 AM to 4:00 PM (EST)
Event Details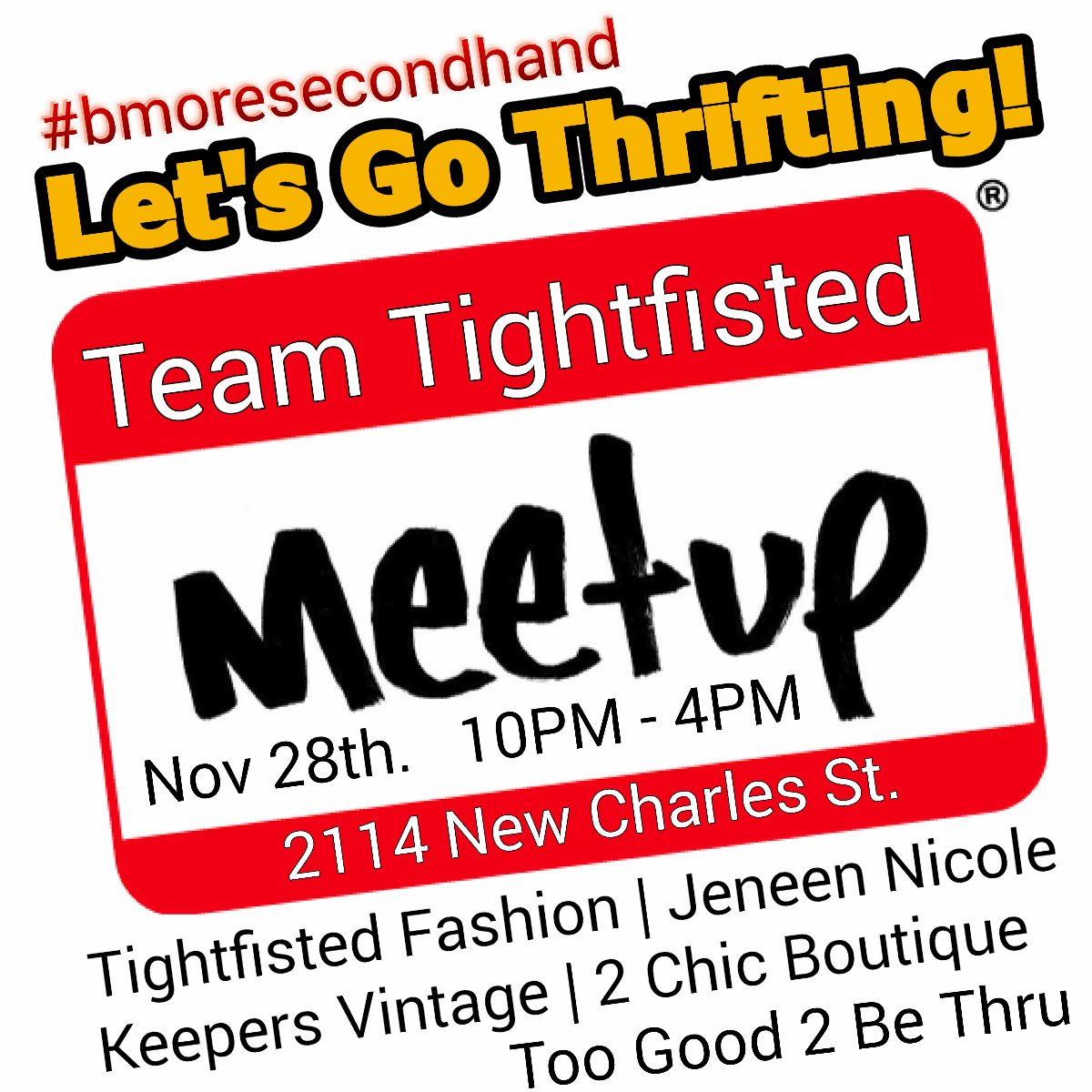 Come to BMORE SECONDHAND | Baltimore Thrifting Meetup!
Join us on Saturday November 28th from 10:00 AM to 4:00pm as we tour some of Baltimore's best and little known secondhand, consignment and thrift stores.
We will meet up at Tightfisted Fashion, 2114 N Charles St, Baltimore MD 21218 at 9:30am for ice-breakers and breakfast. We will tour for a few hours and ajourn for lunch and thrifting tips and activities around noon. Along the tour we will play games to get our creative juices going and possibly win some nice merchandise. We will pick up at 1:30 for more shopping.
This event is FREE and open to the public, however, you must register and agree to contribute canned goods to receive a FREE Tightfisted Fashion tote bag, exclusive shopping deals from our participating stores and refreshments. RSVP online at https://bmoresecondhand.eventbrite.com, email tightfisted23@gmail.com or join our MEETUP group.
 We will tour approximately 3 secondhand stores and a special secondhand pop-up vendor so please bring a friend, clean out your trunk and consider carpooling as we are planning on doing a little driving and shopping.
 These small businesses could certainly use your support so please share this exciting event with your thrifting buddies and use the social hash tag #bmoresecondhandsaturday
 **You are welcome to join any leg of the tour, you do not have to stay the whole time.
9:30 Tightfisted Fashion with Jeneen Nicole
11:00 Too Good 2 Be Thru
12:00 Keepers Vintage
1:00 2 Chic Boutique

Looking forward to seeing everyone!
When & Where

Tightfisted Fashion
2114 N Charles St
Baltimore, MD 21218


Saturday, November 28, 2015 from 10:00 AM to 4:00 PM (EST)
Add to my calendar
Organizer
Tightfisted Fashion LLC
What is Tightfisted Fashion?
Tightfisted Fashion is a resale and consignment store that seeks to connect with conscience, fiscally responsible, fashion-forward women and men. As our name suggests, Tightfisted Fashion believes that one can be fashionable, have variety and reflect individuality without spending a lot of money. While fashion is our focus, the (clenched) tight fist also represents our strength and support of worthy causes and the community.
Tightfisted Fashion seeks to build and sustain a network of resources, including but not limited to websites, bloggers, local venues, businesses, artists, other talented individuals, useful products etc. to keep a tight relationship with the community and its needs. Our company takes pride in giving back by offering free services, hosting clothing drives, fundraisers, fashion shows, art/design classes and service learning projects.
About Zakiya

Tightfisted Fashion is a resale and consignment store located at 2114 N Charles St in Baltimore, MD. The owner and operator, Zakiya Shivers, recognized the need for more collaboration and involvement between businesses, entrepreneurs and professionals in the Baltimore area and endeavors to connect people to the right resources. As a small business owner, mentor and scholar, Zakiya helps entrepreneurs realize their full potential by encouraging entrepreneurs and professionals to think critically about their businesses. You may have seen her throughout the DMV sharing her business and secondhand lifestyle tips as well as her positive energy at various social and professioanl networking events, expos or workshops.
BMORE SECONDHAND | Baltimore Thrifting Meetup