BMF LUNCHEON - Speakers: Mike & Chris Reis

Thursday, March 7, 2013 from 11:45 AM to 1:00 PM (EST)
Event Details
Join us Thursday, March 7, at 11:45 for our next BMF Luncheon at Pearl Lian Asian Restaurant in Johns Creek.
---
Our speakers Thursday, Mike and Chris Reis, are a dynamic father and son speaking team whose mission is to encourage others to live life with thoughtful and selfless intention. They are the co-authors of Recovery of a Lifetime which examines how a Chris' positive beliefs and accomplishments culminating in his historic recovery of the onside kick in Super Bowl XLIV could inspire his father Mike to reign in 35 years of addictive behaviors, in favor of sobriety and selflessness. Since the book's release in November of 2012, Mike and Chris have made appearances on the 700 Club, 700 Club Interactive, CNN's Faces of Faith and ESPN.com (Lost Heroes of the Super Bowl) to name a few.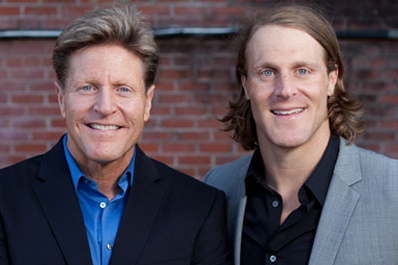 Mike Reis. Mike is a certified addiction, recovery, and life coach who firmly believes that it's never too late to create the life you want to live. After becoming a Christian in 2005, Mike was eventually able to battle the cycle of his own alcoholism, and today he lives a life dedicated to God, family and serving others. He feels most called upon to help substance abusers -- men especially, to carry his message that being a good father, husband, and head of household is about much more than income and possessions. He travels to churches, retreats, men's groups and organizations, and even to men's shelters and rehabilitation centers in order to share his own story of enlightenment with this demographic.
Prior to coaching, Mike enjoyed a successful career in executive sales with companies including Hallmark Cards, PepsiCo and ConAgra Foods.
Mike graduated with honors from Georgia State University with a BA in liberal arts and business. He is a Certified Master and Professional Coach, and is also certified in Recovery and Christian Life coaching, all from the World Coach Institute (WCI) where he is also an instructor. Mike is a member of the International Coach Federation (ICF), Georgia Coach Association (GCA), and Recovery Coaches International (RCI).
Mike is the proud father of six adult children and two grandchildren. He and his wife Celia live in a Christian-valued home in Cumming.
Chris Reis. Chris is a loyal follower of Christ, devoted husband and father, philanthropist, Super Bowl champion, NFL player, and lifelong athlete.
He is best known for his historic, game-changing play made during Super Bowl XLIV, and ultimately helping to lead his (then) team, the New Orleans Saints, to victory. As the first onside kick recovered before the fourth quarter during a Super Bowl game, NFL.com named Chris' play one of the "top 10 greatest Super Bowl plays of the decade," and the actual ball recovered resides in the NFL Hall of Fame.
Chris is a graduate of the Georgia Institute of Technology, where he was the president of the Fellowship of Christian Athletes throughout his entire college experience. It was here that Chris met his wife, Michelle. It was also within these walls of fellowship that Chris' father Mike felt his own calling to surrender his life to Christ.
Chris is passionate about helping others to improve their lives. He serves on the board of LUO, a non-profit organization that works on empowering children in impoverished global communities by providing them with sustainable solutions including nutrition, biblical curriculum, education, and medical care.
Today Chris travels the country speaking to men's groups, churches and religious organizations, rotary clubs, youth groups, touchdown clubs and corporations, inspiring others by sharing his story of living a faith-based lifestyle in an ego-centric culture. He also offers workshops for youths and young adults who may find trusting God in today's culture to be more and more daunting.
Chris lives in Cumming with his wife Michelle, daughter Piper and their dogs Kolsch and Tyger.
Join us Thursday for a Luncheon Meeting you won't want to miss!
 __________________________________________
  BUSINESS MEN'S FELLOWSHIP
(Johns Creek Chapter)
Meets 1st and 3rd Thursday of Each Month
 ________________________________________
  BMF is not a Bible Study, but rather a place where men can hear fellow businessmen tell their stories of how Christ is working in their lives. Come for the fellowship, networking, food, and always a great testimony!
* * * * *
To learn more about Business Men's Fellowship, visit our website at http://www.bmfusa.com
If you have any questions, please e-mail or call Jay Lin at: 
 jay@pacificventuresgc.com
Tel: 770-527-3298
Thank You and God Bless! 
---
SPONSORS
When & Where

Pearl Lian Restaurant
11600 Medlock Bridge Rd
Suite 100
Johns Creek, GEORGIA 30097


Thursday, March 7, 2013 from 11:45 AM to 1:00 PM (EST)
Add to my calendar
Organizer
BUSINESS MEN'S FELLOWSHIP (Johns Creek Chapter)
The Business Men's Fellowship is a worldwide, non-profit member-based organization of Christian men in the business marketplace. We are men whose lives have been transformed through relationship with Jesus Christ. We understand the pressures of the marketplace and what they can do to a man, his family, and his business. We've come from all walks of life and backgrounds, with a myriad of life experiences. But, we share one common thread: relationship with a living Savior. We have discovered the peace that Jesus promised to us even in the midst of difficulties.
For more information: http://www.bmfusa.com/
BMF LUNCHEON - Speakers: Mike & Chris Reis