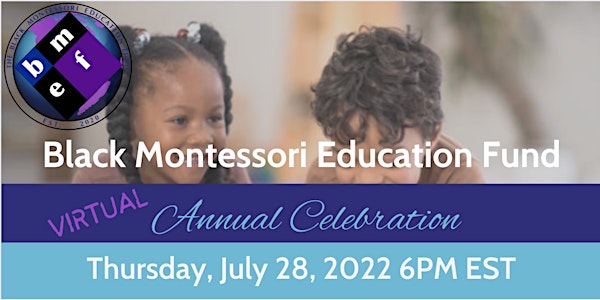 BMEF Anniversary Celebration
Join us to celebrate the Black Montessori Education Fund's anniversary celebration!
About this event
The Mission of the Black Montessori Education Fund (BMEF) is to increase engagement and support positive experiences of Black children and adults in Montessori education. The BMEF envisions educational environments that place value on the racial, cultural, economic, and spiritual background of all and seeks to support the wholistic development of each individual to their highest potential.
Since its founding in 2020, the BMEF has donated over $160,000 in scholarships to engage more Black in Montessori education. Our scholarships support Black families with tuition at Montessori schools, Black adults to obtain Montessori teaching credentials, Black entrepreneurs to start Montessori schools, and Black researchers to explore the impact of the Black Montessori movement.
During the event, BMEF scholarship recipients will discuss their Montessori journeys as a pathway to liberation from harmful educational experiences, using racially-just Montessori practices.