BMCC E'ship Show Series Celebrating National Entrepreneurship Week
Description
Join us for a week of LIVE insights and unbelievable 30-minute conversations via YouTube with entrepreneurs who are building their businesses and experts who are shaping careers that take advantage of entrepreneurial thinking. Follow #NatlEshipWeek all week long and @bmcceship
Monday @ 10-10:30AM EST: Francine Steadman Krulak, Founder, BuddhaBooth.com speaks on health entrepreneurship, mindfulness, and building a business.

Francine is an innovative lifestyle guru. As a serial entrepreneur, prior to founding BuddhaBooth, she spent her time consulting and developing business for international companies such as La Playa Insurance and Source-Lifestyle, as well as nurturing her line of eco-friendly artisan packaging, Fabrilopes. She is perpetually inspired by her diverse clients and loves navigating the ins and outs of the art world.She is currently thrilled to be a founding member of the Centre for Social Innovation's Women's Lab "Founding 40" (http://nyc.socialinnovation.org/the-womens-lab-founding-40) as she combines her mission of bringing quiet spaces to noisy places with a focus on helping survivors of domestic violence and sexual crimes find peace and quiet through meditation.
Tuesday @ 2-2:30PM EST Dawnn Karen, Faculty, Founder of Fashion Psychology(tm)

Dawnn-Karen holds a Master of Arts degree in counseling psychology from Columbia University. She has made history as a pioneer in the field of Fashion Psychology (2012), as one of the youngest Professors and first black woman Psychology Professor in the Social Sciences Department at the Fashion Institute of Technology(2014) and and by founding the first ever online institution in the world to offer courses in the new Fashion Psychology Field- Fashion Psychology Institute (2015).
Wednesday @ 10-10:30AM EST: Kevin Horton, Branding Consultant, SoyB Consulting
Wednesday @ 12-12:30PM EST: Jonathan Kalin, Founder, Party with Consent
Jonathan Kalin

is Founder and Executive Director of Party With Consent. He created the movement as a Sophomore at Colby College through the organization Male Athletes Against Violence. His work has been recognized by The Huffington Post, TEDx, the Clinton Global Initiative University, the Clinton Foundation, Seventeen Magazine, The Guardian, MasculinityU, BK Nation, and Time Magazine. He loves celebrating with a team.
Thursday @ 12PM EST: Brian Wong, Founder and CEO at Kiip, Author of The Cheat Code
Brian Wong is the co-founder and CEO of Kiip (pronounced "keep"), a category-creating mobile rewards network that is redefining mobile advertising through an innovative platform that leverages "moments of achievement" in games and apps to simultaneously benefit users, developers and advertisers. Backed by American Express, Interpublic Group, Hummer Winblad, Relay Ventures, True Ventures, Verizon Ventures, and others, the company has raised $15.4 million in funding to date. Kiip has been listed by Forbes as one of the 4 Hot Online Ad Companies to Watch, Fast Company's 50 Most Innovative Companies in the World, and been named to the Dow Jones FasTech50 List.



Friday @ 2PM EST: Franklin Madison, Venture Finance
As Managing Director & Co-Founder of Gaia Ventures Franklin Madison accelerates the growth of innovative high-tech firms and advanced manufacturers in the U.S. and Canada. He advises CEO's in areas as diverse as cleantech, virtualization, new product development and defense technologies, to name a few.



Saturday @ 12PM EST: Evelyn Badia, AirBnB Super Host & Podcast Creator of The Hosting Journey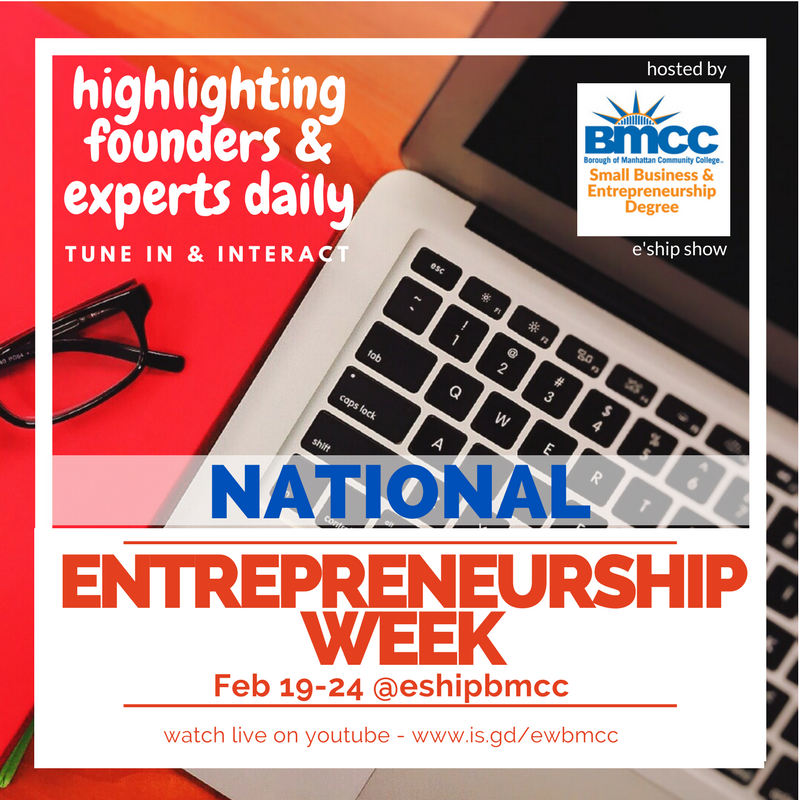 WATCH LIVE MONDAY THROUGH FRIDAY