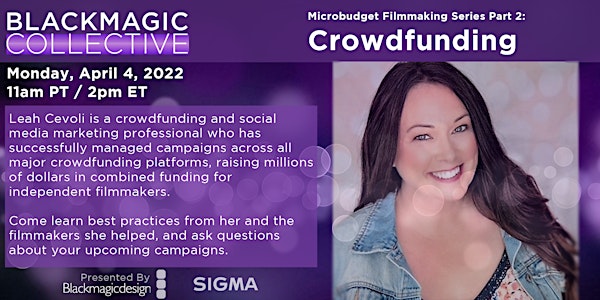 BMC Crowdfunding | Microbudget Filmmaking Series Pt. 2
Join us LIVE for a conversation on everything you need to know about crowdfunding, plus get the latest tips & trips from expert Leah Cevoli.
About this event
Monday, April 4, 2022
Starting at 11am PT / 2pm ET
You wrote your script, and it can totally be done on a microbudget, now what? Well, you have to raise some money for the basics like food, gear, and crew. If you don't want to go the traditional route then Crowdfunding is a very viable option and we are going to chat with a top crowdfunding expert and the clients she's helped successfully fund their films on crowdfunding platforms.
Come learn about best practices from her and the filmmakers she helped, and ask questions about your upcoming campaigns.
One lucky attendee will win a seat of DaVinci Resolve Studio ($295 value), so make sure to join us! Must be a member to win (free to join).
LINK TO EVENT SENT ABOUT A WEEK AHEAD, HOWEVER, YOU CAN GO TO OUR FACEBOOK PAGE OR YOUTUBE PAGE AND WATCH LIVE.
To learn more about Blackmagic Collective and everything we offer and to sign up for the chapter nearest you visit BlackmagicCollective.com​.
Everything we offer, including membership, is free.
You can also join our Facebook Group to join in on discussions and connect with our filmmaking community at https://www.facebook.com/groups/2297259097171796/
Presented by Blackmagic Design and Sigma.
**
Guest:
Leah Cevoli, Crowdfunding Expert / Actor (Green Light Your Passion Project)
Bio:
Leah Cevoli is a crowdfunding and social media marketing professional who has successfully managed campaigns across all major crowdfunding platforms, raising millions of dollars in combined funding for independent filmmakers, musicians, authors, game developers and more.  Clients include Sean Astin (Lord of The Rings, Goonies), Jim Beaver (Deadwood, Supernatural), Mark Marshall (Free Willy, Harry Potter), Jim Michaels (Supernatural) and many more.  

As an actress she has appeared in dozens of popular television and film roles and is most recognized for having appeared on multiple seasons of the cartoon network hit, Robot Chicken. 
Biz Website: www.GreenLightYourPassionProject.com 


Connect with Leah on Instagram (@Leah_Cevoli) and Twitter (@Leah_Cevoli)!
Read a recent Shoutout LA Article featuring Leah!