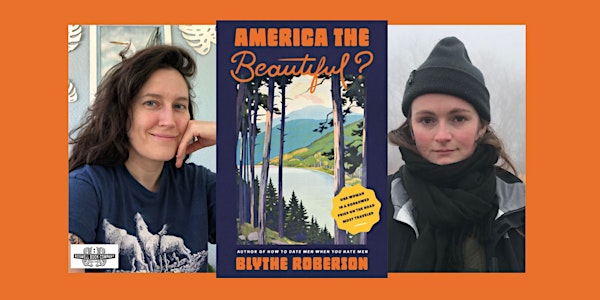 Blythe Roberson, author of AMERICA THE BEAUTIFUL? - a Boswell event
Blythe Roberson, author of AMERICA THE BEAUTIFUL? - an in-person Boswell event
Date and time
Starts on Tuesday, April 25 · 6:30pm CDT
Location
Boswell Book Company 2559 North Downer Avenue Milwaukee, WI 53211
About this event
Boswell Book Company presents an evening with Blythe Roberson, author of America the Beautiful?: One Woman in a Borrowed Prius on the Road Most Traveled. In conversation with local writer and artist Emmy Yates.
For writer and comedian Blythe Roberson, there are only so many Mary Oliver poems you can read about being free before you too, are itching to take off. Canonical American travel writers have long celebrated the road trip as the epitome of freedom. But why does it seem like all those canonical travel narratives are written by white men who have no problems, who only decide to go the desert to see what having problems feels like? To fill in the literary gaps and quench her own sense of adventure, Roberson quits her day job and sets off on a Great American Road Trip to visit America's national parks. The result is a laugh-out-loud-while-occasionally-raging-inside travelogue, filled with meditations and many, many jokes on ecotourism, conservation, freedom, traffic, climate change, and the structural and financial inequalities that limit so many Americans' movement. Ultimately, Roberson ponders the question: Is quitting society and going on the road about enlightenment and liberty—or is it just selfish escapism?
From Samantha Irby, author of Wow, No Thank You.: "America the Beautiful? is so funny and special and illuminating that it makes even me, a person who cannot tolerate trees or weather, wish I could've tagged along in the back seat."
Blythe Roberson is a comedian, a humor writer, and author of How to Date Men When You Hate Men. She has written for The New Yorker, Cosmopolitan, Kinfolk, and more, as well as the NPR quiz show Wait Wait... Don't Tell Me!
Emmy Yates is a Milwaukee-based writer, artist, amateur naturalist, and a licensed urban beekeeper. She works in bicycle advocacy for Bublr Bikes, and writes life stories for the elderly.
Click here to order your copy of America the Beautiful? from Boswell. Signed copies and personalization available on pre-orders. Please note that signed copies will not be shipped until after the event.