Description
Description
Attendees must be 21 or older*
You're invited to an evening of "TED" style presentations by cannabis professionals, networking, and fun!
Blunt Talks are "TED" style presentations given by innovators of the cannabis industry who want to share their knowledge so we can grow together!
With the passage of Proposition 64 (legalization of recreational marijuana use), the California cannabis industry is experiencing a period of rapid growth! There are more businesses, brands, products, and services than ever before, and now is your chance to learn from a few that are really changing the game!
Whether you're a professional looking to transition careers into the cannabis industry, a canna-professional looking to keep up to date with whats going on, or a business owner that is looking to add talent to your team, or you're just looking to network and eat some good food, this installment of Blunt Talk is for you!

Past events: Women Share, DTLA, Long Beach, Santa Monica, Boulder CO, Hollywood CA, San Francisco CA

We suggest taking Lyft or Uber.
FORMAT
Eat. Drink. Check out our sponsors. Make friends and professional connections. (Drinks will not be free at this event. The venue will be selling drinks.)

Hear short, TED-style talks from cannabis professionals.

Ask some questions.

Make more friends and professional connections.
---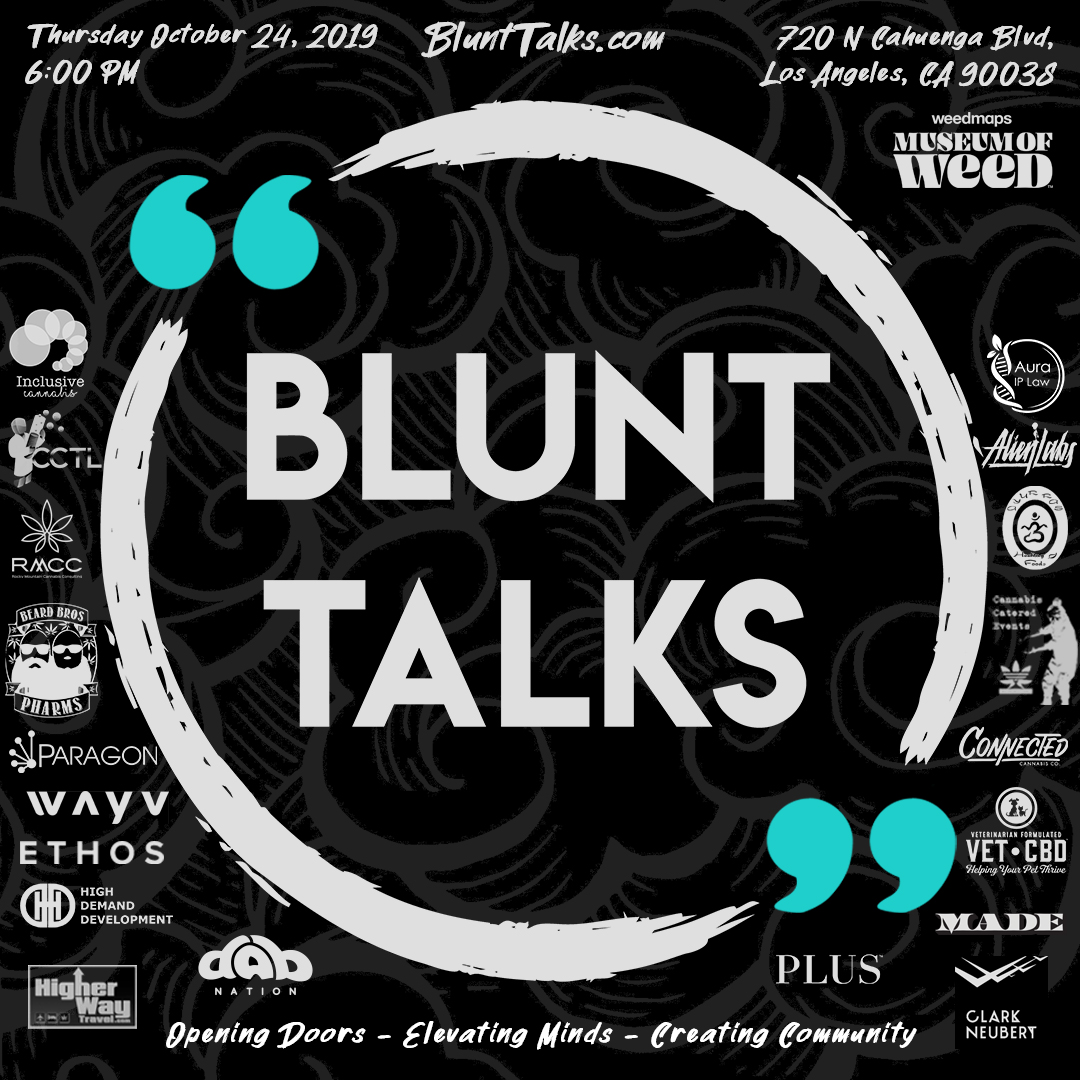 ---
SPEAKERS
April Black - CEO of Higher Way Travel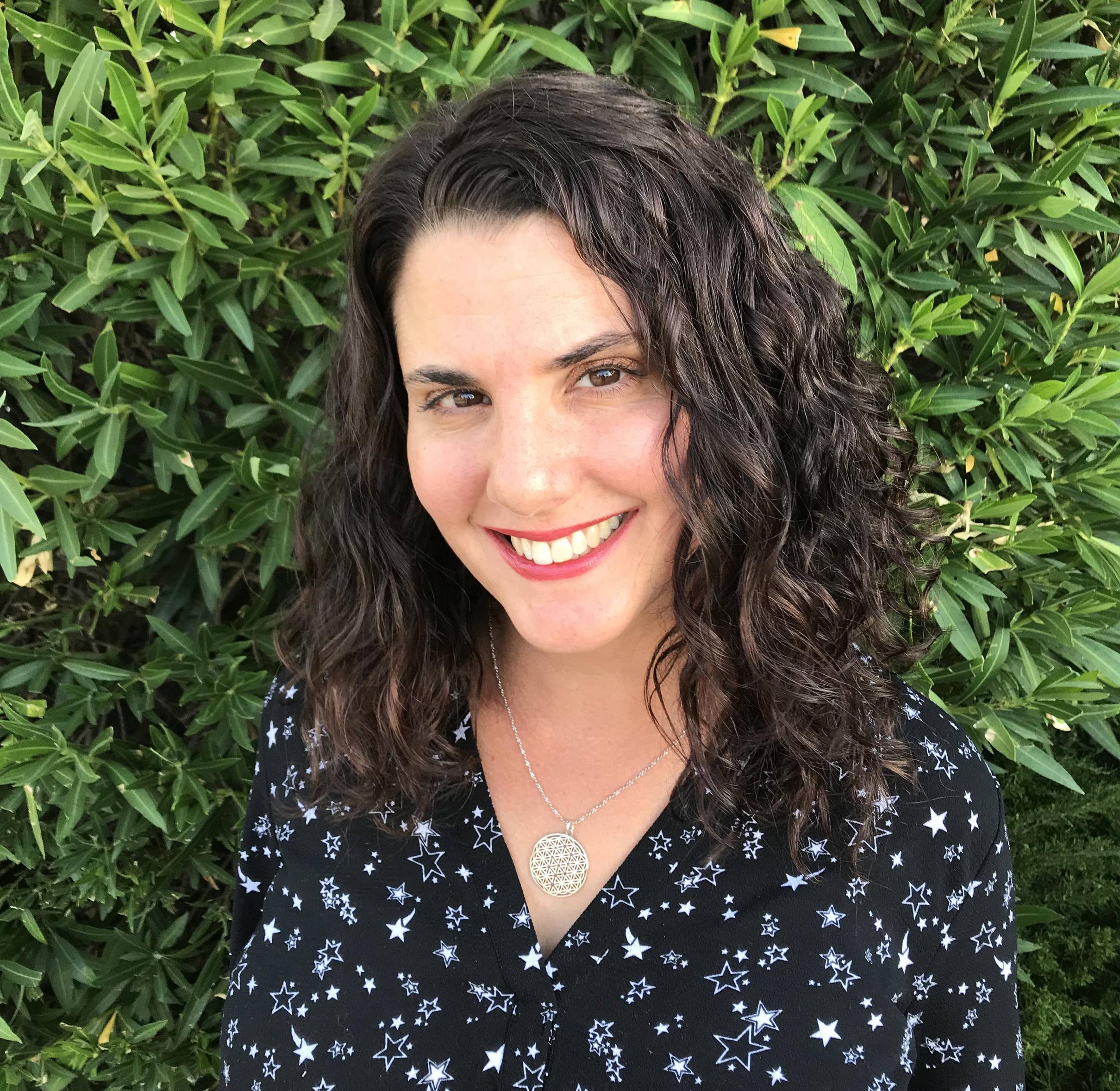 April Black has been a certified yoga instructor, holistic wellness professional, and cannabis travel agent for over a decade. As the founder and CEO of Higher Way Travel, she has transformed her passions for cannabis, yoga, and travel into a successful career—hosting and teaching at 420-friendly events, retreats and vacations around the globe.
Ariel Clark - Partner at Clark Neubert LLP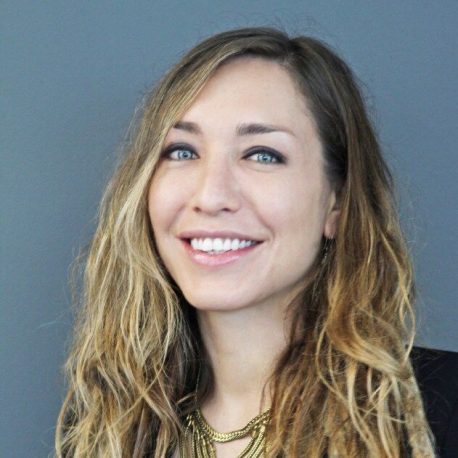 Ariel Clark is one of California's best known and longest-serving cannabis business attorneys. Over a decade ago, when the idea of a cannabis business law was considered an oxymoron, she dedicated her practice to this emerging industry—foresight that was recognized by Rolling Stone, which named her one of 18 "Women Shaping The Culture of Tomorrow." Whether advising legacy operators or entrepreneurs in how best to navigate, and succeed in, a complex and dynamic legal and regulatory environment, Ariel's intelligence, charisma, and tenacity have earned her a national reputation as one of the industry's fiercest advocates.

Ariel advises cannabis, hemp and CBD companies on all aspects of business transactional matters, corporate structuring, regulatory compliance, supply chain issues, licensing and permitting, and myriad other legal challenges in her role as outside general counsel. Her extensive policy reform background, coupled with her work in executing complex political strategies, has given Ariel a deep understanding of state and local priorities, which translates into creative solutions for building successful businesses.

Ariel's ability to get to solutions is visible in the City of Los Angeles, by all accounts, the biggest urban cannabis market in the world. Ariel founded the Los Angeles Cannabis Task Force, which was instrumental in the passage of Measure M, authorizing the creation of a legal, regulated industry in LA. As the world embraces industrial hemp, CBD, CBG, and other parts and uses of the plant, Ariel's extensive legal and political expertise provide valuable counsel to other trailblazers as they build successful companies, brands, products and services.

Ariel has received many kind distinction, among others, she has been recognized as one of the top 75 "most important women in cannabis" by Cannabis Business Executive, as one of the "30 Most Powerful Cannabis Lawyers" by MG Magazine, and was included in Entrepreneur's "top 100 cannabis leaders."

Ariel earned her Juris Doctor degree from the University of California, Berkeley School of Law (Boalt Hall), and was awarded a Bachelor of Arts degree with honors from the University of Michigan, Ann Arbor. She is an active member of the International Cannabis Bar Association (INCBA), the National Cannabis Industry Association (NCIA), and the California Native American Cannabis Association (C-NACA). She is Co-General Counsel to Chacruna Institute for Psychedelic Plant Medicines and is a member of the Council for the Protection of Sacred Plants. She is also an active member of the California Cannabis Industry Association (CCIA) and sits on the Diversity, Inclusion & Social Equity (DISE) Committee. Ariel is also co-founder of Cannaboss Womxn's Circle, an active community of professionals collectively advancing feminine leadership in the industry.
Peachie Wimbush-Polk – Wellness Advocate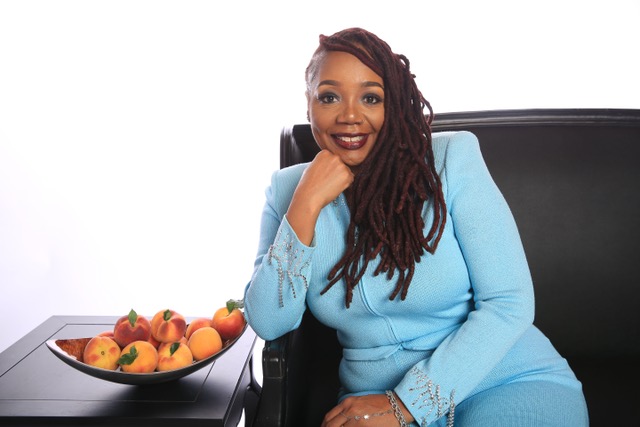 Peachie Wimbush-Polk was born and raised in Pittsburgh's Historic Hill District in 1964, the same year that the Civil Rights Act was signed into law. Her first memory of community, was the National Guard occupation of her neighborhood following the assassination of Dr. Martin Luther King, Jr. in April 1968. Most baby boomers can tell you where they were when JFK was killed. Peachie was baking in her Mom's belly. She was born into a revolution, and it continues to inform who she is today. Peachie is a US Air Force veteran, author, speaker, wife, teacher, counselor, closet comedian, self sufficiency expect, straight shooter, fairy godmother , Mommy to her two children and OG aka elder to her grandson, Sebastian and the 25 + grandchildren that she shares with her husband, Richard. Retired from the Commonwealth of PA, Peachie has found over her 33 year career that every time she helps someone get what they need, the collateral benefit is she gets to realize her wildest dreams.Service is her magical superpower. She mentors at risk girls, does work to benefit minority mothers and domestic abuse survivors and of course supports veteran causes such as The Warrior Rocks Concert Series. She's most proud of the work she gets to do with DoWork.org to help eradicate poverty through dignified jobs in earthquake ravage Haiti because Peachie believes we have an obligation to leave the world and each space we inhabit better than we found it.
Jason Pinsky - Producer for VICELAND's Bong Appétit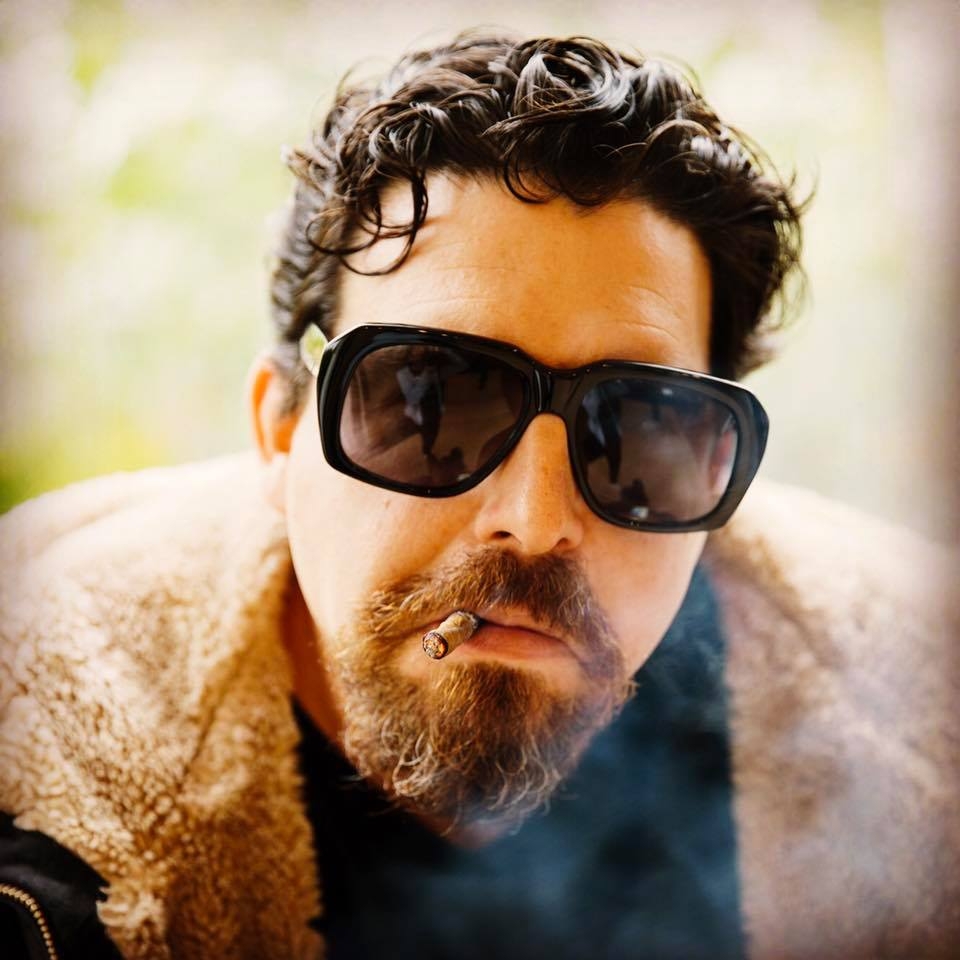 Jason Pinsky is the former Chief Cannabis Evangelist at Eaze and the Cannabis Producer for VICELAND's Bong Appétit. Pinsky's role with the show, the first credited cannabis producer on IMDB was recognized by his peers when he was crowned King of Mainstream Marijuana by the Cannabis Business Awards at their inaugural comedy roast in 2016. Prior to Eaze, Pinsky was a prolific cannabis connoisseur starting in 1994 when he judged the first High Times Cannabis Cup in Amsterdam. In 2014, after a decade of opioid dependency due to a spinal injury, Pinsky used cannabis to help wean himself off pain medication completely. His story and advocacy lead to his participation in the passing of New York State's Compassionate Care Act and in 2016 he helped expand the program to include chronic pain as a qualifying condition for patient access. 
His technology background dates back to 1993 as a founder of Image Info, who created technology solutions for the fashion industry and Haze City, who provided consultation on digital and live music strategies. In 1999 Pinsky married his passion for music and technology as CTO of MusicVision creating technology solutions that drove new revenue streams to artists. In 2003 he continued his career on the road as the Technology Manager for Phish and in 2006 Pinsky became a founding partner of Fette Sau, Zagat rated number one for BBQ in NYC for over a decade. Pinsky's diverse career in Music, Technology, Food and Cannabis is often self described in a four point geometric configuration known as The Pinsky Triangle. He currently resides in Venice, CA with his two cats Indi and Tiva.

Colin G Gordon - CEO of Ethos Genetics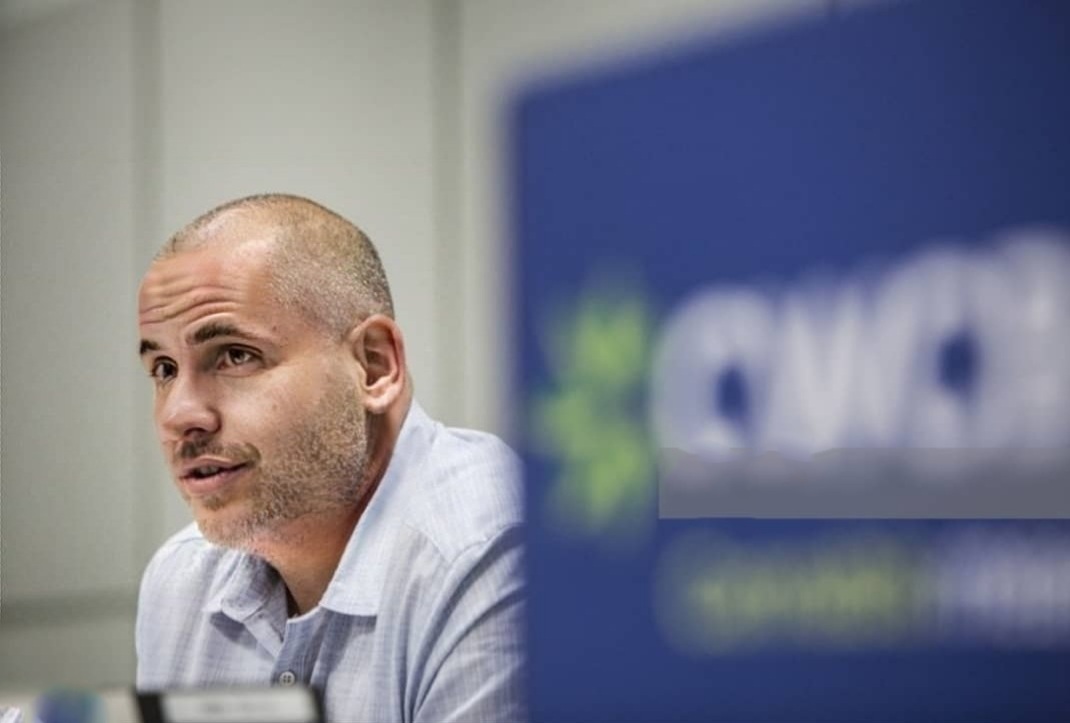 Colin began growing and breeding cannbabis in 1993. Commercially growing since 2009. Founder and CEO of Ethos Genetics. Owner of both the largest and most diverse cannabis seed collection in the world.
Kyle Kushman - Karma Consulting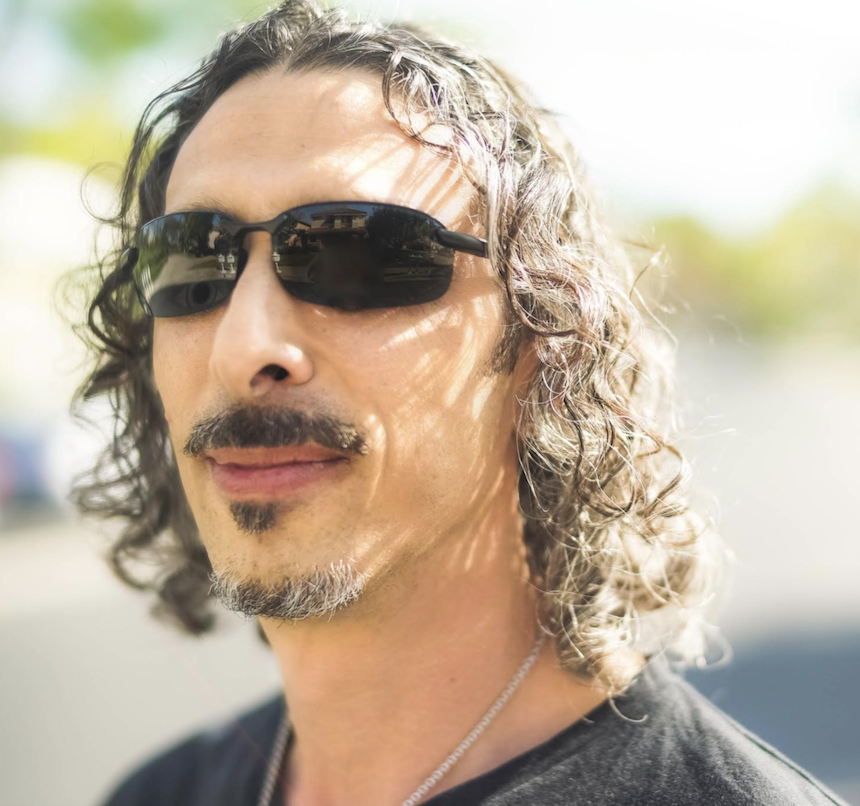 Kyle Kushman is an internationally renowned marijuana cultivator whose collaborations have earned 13 Medical Cannabis Cups awards, including three US Cannabis Cups for Best Flowers. All awards were earned by utilizing Kushman's Vegamatrix, winner of the coveted STASH Award from High Times Magazine in 2014 as Best New Nutrient.
Vegamatrix is seen in the Netflix series Disjointed and was used in the Vice Series Bong Appetite along with Kushman's Flowers. Recently, Kushman was awarded the 2018 Cultivator of the Year Award by Green State and San Francisco Chronicle. He has cultivated in both small and commercial scale facilities throughout his career. He's best known for cultivating premium cannabis that is clean and healthy. He is recognized for several cannabis strains including the world famous Strawberry Cough, Cherry Lopez, Starberry and Blue Dawg and specialized breeding continues.
Kyle Kushman is a 30-year veteran of Organic Cannabis Cultivation. After working the Q&A section of the High Times website for several years, Kyle was hired as a staff journalist and cultivation expert for High Times magazine. In 2004 Kyle left New York and his job at High Times to go back to cultivating and experimenting with organic growing. California provided a legal atmosphere to grow where Kyle started Karma Consulting in
2006; a consulting service for Proposition 215 medicinal cannabis gardens.
Kushman's articles have been featured in High Times Magazine for over 25 years. In 2009 he began teaching advanced horticulture classes at Oaksterdam University in Oakland, California. Later that year, Kyle began cultivating with his own methodology of Veganics. He taught Earth- Friendly Cannaculture classes using organics and Veganics at the OU Oakland Campus, the North Bay learning center at Peace In Medicine in
Sebastopol, and in Ann Arbor Michigan to a class of over 300 students. Kushman Veganics is featured in the Jan. 2011 issue of High Times with a full 12 pages; coincidentally it was High Times' 420th issue! Since then, there have been numerous articles published nationally about Kyle and his innovative techniques including the LA Times, Chicago Tribune, Rolling Stone, Forbes, San Francisco Chronicle, Playboy, MG Magazine and the New York Times to name a few.
Kyle has studied and used almost every nutrient, gadget and piece of equipment on the market today. This experience, his reputation as an internationally renowned cultivator and Cannabis Cup winner provides continuous opportunities to contribute as a freelancer to national and international publications. Kyle has been working on a book and DVD on the subject of earth-friendly Veganics. Additional projects in the works include Kushman Veganics, Kushman Genetics and Kushman Brands, where award winning flowers, genetics and various premier cannabis related items will be available on a national scale. Kyle has dedicated his life to understanding cannabis cultivation and to help normalize its use. This year, Kyle has partnered with both Oaksterdam University and Green Flower Media for the most exciting project yet: to bring Kyle's Veganic Horticulture to the world
through online education.
The innovator of compassion and compromise, Kyle's free information and resources have helped countless numbers of marijuana growers, and the benefits have extended to millions of patients around the globe. Society has leaped into a generation of sharing information at the speed of light. With a few clicks on an electronic device, we can transcend our thoughts and ideals to thousands upon thousands of people. You may find Kyle teaching all phases of organic cultivation across the world!

Kyle hosts "The Grow Show" on CannabisRadio.Com which features growing tips of the week, interviews with industry experts and discusses the changing climate of cannabis culture. Kyle can be found on KyleKushman.com, Vegamatrix.net, Oaksterdam.com, Green Flower Media, Facebook and Instagram.

As the creator of Vegamatrix™, the only line of vegan and organic nutrients designed for
cannabis, Kyle continues to make advances for people who want to cultivate "simply the
purest, cleanest medicine possible."


---
Hosted by Sam Zartoshty & Nichole West