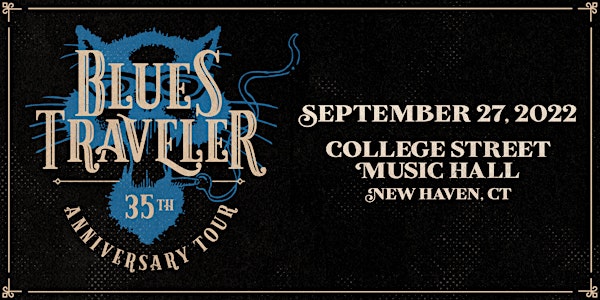 Blues Traveler
Premier Concerts and Manic Presents:
Location
College Street Music Hall
238 College Street
New Haven, CT 06510
About this event
This event is General Admission Standing Room on the Floor and Reserved Seated in the Balcony.
** This show has been rescheduled. The new date is 9/27/22. All tickets for the 5/10/22 show will be honored. If you can no longer attend the new date, refunds are available by request until 6/20/22 at 10PM.If you would like a refund, please contact Manic Presents customer service at customersupport@manicpresents.com. Please provide your name & order # when you reach out.**
Masks are strongly encouraged.
By purchasing tickets to this event, you agree to abide by the State of CT, City of New Haven, Artist, and College Street Music Hall's Health and Safety measures in effect at the time of the event. Check back for updates to your event on our website as guidelines and entry requirements are subject to change.
BLUES TRAVELER
Blues Traveler were on the vanguard of the jam band scene of the 1990s, the first of their generation to sign to a major label, and one of a handful to experience genuine commercial success when the naggingly catchy "Run-Around" went into the Billboard Top Ten in 1995. By that point, Blues Traveler had already carved themselves a place within the firmament of modern rock, earning a loyal audience through their sweaty improvs of blues-based rock and coalescing their peers by launching the H.O.R.D.E. Festival in 1992. One of several Lollapalooza-inspired touring fests, H.O.R.D.E. illustrated the large audience for jam bands and helped push Blues Traveler toward the top of the charts with their 1994 album Four going platinum six times. They didn't stay in the upper reaches of Billboard for long, but they never faded away. They worked steadily throughout the 2000s and beyond, sometimes experimenting -- 2015's Blow Up the Moon was littered with unexpected cameos -- but always returning to the blues as their foundation, a debt underscored by the 2021 blues covers album Traveler's Blues.
Blues Traveler was formed in 1987 by singer/harmonica player , guitarist Chan Kinchla, bassist Bobby Sheehan, and drummer Brendan Hill; the band was part of a revival of the extended jamming style of '60s and '70s groups like and . Signed to , they released their first album, Blues Traveler, in May 1990 and followed it with Travelers & Thieves in September 1991. was in a serious car accident in 1992, leaving him unable to perform for a number of months. Fortunately, he recovered, but he had to perform in a wheelchair for a while. In April 1993, Blues Traveler released their third album, Save His Soul, which became the band's first to make the Top 100.
The band's aptly named fourth album, Four, released in September 1994, first looked like a sales disappointment, but it rebounded in 1995 when "Run-Around," a single taken from it, became the group's first chart hit. "Run-Around" became one of the biggest singles of 1995, spending nearly a full year on the charts and sending Four into quintuple-platinum status. As the group prepared the follow-up to Four, they released the live double album Live from the Fall in the summer of 1996. The group returned in the summer of 1997 with its fifth studio album, Straight on Till Morning. After completing his 1999 debut solo effort, Zygote, -- who'd been experiencing chest pains for months -- was forced to undergo an angioplasty; weeks later, tragedy struck on August 20, 1999, when Sheehan was found dead in his New Orleans home. He was just 31 years old.
The new millennium saw a newly charged Blues Traveler with the addition of keyboardist Ben Wilson, and their sixth record, Bridge, appeared in May 2001. The next winter, Blues Traveler released the live What You and I Have Been Through. The studio record Truth Be Told followed in 2003, and another concert album, Live on the Rocks, appeared in 2004. The group returned to the studio in 2004, releasing the -produced Bastardos! in September of the following year. In 2007, Blues Traveler released Cover Yourself, a collection of previous hits reworked with acoustic arrangements. The David Bianco-produced North Hollywood Shootout appeared from in 2008. In March 2012, the band released 25, a two-disc set (one disc of hits and key tracks and a second disc of B-sides, demos, and rarities) celebrating the group's 25th anniversary. It was followed in June by Suzie Cracks the Whip, the group's 11th studio album, which was produced by S*A*M & Sluggo, and featured guest spots from , (), and . Three years later, Blues Traveler returned with Blow Up the Moon, an album filled with collaborations from pop stars including , , , and . Joining forces with producer Matt Rollings, Blues Traveler returned to their rootsy beginnings on 2018's Hurry Up & Hang Around.
They continued their back-to-basics move with the Grammy-nominated covers album, Traveler's Blues, a 2021 record that featured guest appearances by , , Christone "Kingfish" Ingram, , and . ~ Stephen Thomas Erlewine & William Ruhlmann, Rovi
Links: Official Website | Facebook | Instagram | Twitter | Spotify