Blues Traveler and special guest Los Colognes
Sales Have Ended
Registrations are closed
Thanks for registering don't forget to keep your tickets handy, either in the Eventbrite app or print them out and bring them with you. This is a FREE concert and tickets have no resale value.
Sales Have Ended
Registrations are closed
Thanks for registering don't forget to keep your tickets handy, either in the Eventbrite app or print them out and bring them with you. This is a FREE concert and tickets have no resale value.
Description
Twitter | Facebook | Instagram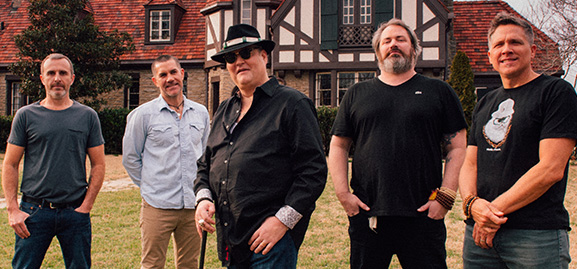 30 years ago, the four original members of Blues Traveler, who had known each other since their early teens -- John Popper, Chandler Kinchla, the late Bobby Sheehan and Brendan Hill -- gathered in the basement of their drummer's parents' Princeton, NJ, home and the seeds were planted for a band who has released a total of 13 studio albums, four of which have gone gold, three platinum and one six-times platinum. Over the course of its illustrious career, Blues Traveler has sold more than 10 million combined units worldwide, played over 2,000 live shows in front of more than 30 million people, and, in "Run-Around," had the longest-charting radio single in Billboard history, which earned them a Grammy® for Best Rock Performance by a Duo or Group with Vocals. Their movie credits include Blues Brothers 2000, Kingpin, Wildflowers and others. A television favorite, they have been featured on Saturday Night Live, Austin City Limits, VH1's Behind the Music and they hold the record for the most appearances of any artist on The Late Show with David Letterman.

"We started this whole adventure as a team," says Brendan Hill. "We've taken every step of this as a group together, from the basement to moving to New York, getting signed, hiring a manager, to achieving all our goals."

"I'm a firm believer that rock and roll keeps you young," adds co-founding member Chan Kinchla. "Because I don't feel any different than I did when we started, even though I've got a wife, two kids and all kind of life in between. We still go back to that mentality we had as kids, smoking pot and learning to jam. We had our first epiphanies about music together. This is a real family affair."

"The way the songs have held up moves me," admits legendary frontman Popper, who has gotten down to a svelte 280 from a high of 436 after a gastric bypass 10 years ago, which he admits saved his life. "We've really got nothing but love from our audience. If something has quality, it's constantly reconsidered through the ages. And that's what we're doing this for... posterity. We've never been 25 before, so having this kind of retrospective, as songwriters, it's an opportunity for long forgotten songs get their day in court."

From the suburbs of New Jersey, Blues Traveler moved to New York in the late '80s, where they became part of a jam-band scene that packed clubs like Nightingale's, McGoverns and Kenny's Castaways, where they would share the bill with Spin Doctors and Phish. Represented early on by Bill Graham and son David, Blues Traveler's live reputation led to a deal with A&M Records, for whom they released their self-titled debut, which produced songs like the hit "But Anyway," "Gina" and "100 Years," eventually going gold simultaneously with the album Four. The following year came Travelers & Thieves, also now gold, with songs like "What's For Breakfast." The subsequent gold release Save His Soul followed in 1993, with songs like "N.Y. Prophesie," whose lyrics were actually co-written by John's Hungarian father, Robert. The recording, and resulting tour, was marked by Popper having to sing from a wheelchair, the result of a motorcycle accident that almost took his life and destroyed the band, which led to a deeper investment from A&M to help support the band during a mettle-testing period in their career.

The band's Four, released in 1994, was a watershed moment for the group, eventually selling more than six million albums on the strength of the singles "Run-Around" and "Hook."

"The fact we had that success in the middle of our career, rather than early on, was beneficial because it opened doors to a whole new audience that we continue to court today," says Hill.

The band's next album, the now-platinum Straight on till Morning, released in 1997, produced the memorable "Carolina Blues," a longtime staple of Blues Traveler's live show. After that, tragedy struck when bassist Bobby Sheehan was found dead in New Orleans on August 20, 1999, at the age of 31. It was a wake-up call for Popper, who vowed to lose his extra weight after help from friends like Howard Stern and Roseanne Barr. Deciding to soldier on, the group brought in Chan's brother Tad to replace Sheehan on bass and, at the same time, enlisted keyboardist Ben Wilson.

"I kind of vicariously grew up around the band," says Tad, four years younger than his older brother. "I saw all the trials and tribulations moving forward, and then lightning striking."

"They wanted to bring in someone who could be part of the band," recalls Wilson. "They wanted keyboard to play a little bit more of a part of the sound. Apparently, Bobby had always wanted to have a keyboard player in the band. So adding me was a bit of a nod to him."

The transition took place in 2001 on the aptly named studio album Bridge, the band's last for major label group Interscope Geffen A&M, on songs like "Back in the Day" and "Girl Inside My Head."

"That was us looking back," admits Popper. "It was the end of an era. We wanted to call it 'Bridge Out of Brooklyn' as an homage to Bobby, but we decided to talk about where the bridge was going rather than where it was coming from."

Truth Be Told, recorded in Ojai and Santa Barbara, CA, followed in 2003 on the Sanctuary label and proved a fun experience for the band as they explored their more pop side on songs like Tad's "Let Her and Let Go" and "Unable to Get Free," both represented on this compilation.

Bastardos, produced by former Wilco member Jay Bennett for the Vanguard label, featured "Amber Awaits," Popper's ode to one of several New England Patriots cheerleaders with whom he fell in love while on a USO Tour of Iraq and Afghanistan. North Hollywood Shootout, recorded in 2008 and released on Verve Forecast, produces a pair of tracks for the collection, Chan Kinchla's Led Zeppelin-esque "Remember It" and Wilson's "You, Me and Everything."

Currently putting the finishing touches on their tenth studio album -- the first to feature outside songwriters in addition to the band members' contributions -- the group is taking the opportunity of their milestone to not just look behind, but ahead.

"We intend to keep going as long as they pay us," laughs Popper, resplendent in bathrobe, Simpsons pajamas and Samurai sword dangling from a belt loop. "We're going to be in everybody's face this year. I feel like I'm in my prime. I was convinced I'd be dead at 37."

"We're brothers," concludes Chan. "We're not done. We've got a few more swings left, some more damage to do. I'm sure we bug the shit out of one another at times, but it's an honor to play onstage with these guys. They are awesome musicians. You have to keep touch with that. And never forget it."

Still alive and kicking, Blues Traveler prepares for the next 25 years, with a comprehensive overview of the first, in one deluxe package.
---
Twitter | Facebook | Instagram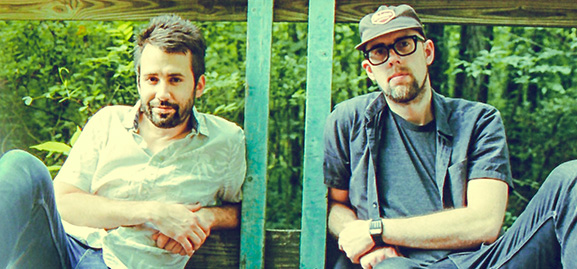 "Only the living feel the flow/only the loving let it go"- Unspoken
One of the highest and rarest aspirations in popular music is to reach for the transcendental, to access the spirit. On the third album "The Wave" by Nashville based Los Colognes, they succeed just this- in breaking through the confines of everyday pop song lyricism to tell a sort of holistic story. It's not a concept piece, but it's a brooding and still joyful song cycle filled with philosophical rumination, effortless hooks, inspiring musicianship, and expansive arrangements. It's an album perfectly suited of the current zeitgeist of unease and hope.
"The Wave" is an album about archetypes and about the everyday. There are illusions to the Great Flood, to Plato's Cave, to Poe, to the hero's quest so iconically defined by Joseph Campbell. There are recurring metaphors about the water, about the vastness of the ocean and the delicate balance between riding the wave and being pulled under. There is struggle, there is dread, there is hope, there is ultimately the knowledge only gained by a journey. It's an album about attempting to gain acceptance with the flow of adulthood, life in the music business, the changing awareness that only time and maturity can hand to someone.
Guitarist/singer Jay Rutherford opines in the album's initial single , "Flying Apart" Nobody believed/We're all just hoping/Floating down streams". It's a song that repeatedly invokes the wave metaphor of the album's title while churning through its own sonic sea of shimmering keyboards and guitars anchored by drummer Aaron Mortenson. The music evokes any of the best moments of late seventies or mid eighties FM radio while never being weighed down by the specter of influence. Los Colognes are a young band who have managed to forge their own sound while channeling the best sonic worlds of the decades past. Unlike the live approach used to record the group's previous records, "The Wave" was built from the ground up so to speak and with attention to each track, each part. There is a certain economy of space in the songs that feels deliberate while never ceasing to be warm and inclusive. Guitar and keyboard lines drift off each other in between lyrical exchanges while Mortenson propels the beat, sometimes meditative, sometimes driving. Each song passes into another with a thoughtful pause- a passing keyboard chord, a drone, a bit of noise, a breath before the next reflection.
Like any fully realized album, there is a cyclical wholeness to it that beckons the listener not just to hear it in its entirety from the outset, but to hit 'play' again or lift the needle as soon as the last chord of "Can You Remember?" subsides. Rutherford sings on "Can You Remember?" - 'When you were young/there was a flood/ almost drowned', but with the understanding that the journey didn't end in tragedy, we didn't drown, we are still navigating the waters and with new perspective. The journey to finish the recording of "The Wave" was its own quest of sorts for Rutherford and Mortenson, a more deliberate process of creation and craft that shows a band becoming fully aware of its voice and its vision. As current events in the world breed anxiety and unease, as the accelerating paces of the hyper information age make it yet harder to deliver contemplative messages in the arts, and as we all struggle to accept the uncertainty and mystique of 'living in the moment', Los Colognes have given us a singular collection of quietly anthemic tunes, held together by philosophical reflection and damn fine rock and roll chops. The Wave is coming. Written by William Tyler - Merge Records
*****************************************************************************
Every Saturday Night, from July 13th to August 17th, enjoy the free concert series at Pershing Square, an outdoor venue in the heart of Downtown LA. The free six week Saturday night concert series features a carefully curated selection of legacy and contemporary live music, set against the Downtown LA skyline. Some of this years' artists include Best Coast, The Psychedelic Furs, Easy Star All-Stars, Smash Mouth, Pat Benatar & Neil Giraldo, and She Wants Revenge. Ten full-service bars and food trucks are located inside the venue. A complete line-up of artists, venue rules, and other summer events taking place at Pershing Square can be found on the venue website: laparks.org/pershingsquare

Every eventbrite pass ensures access into the venue. Once the pass is downloaded, the patron is subject to all venue rules and regulations. Please keep in mind that at the request of the artist/performer, flash photography, professional camera or recording equipment (including cameras with detachable lenses and any form of camera stand) and laser pointers are prohibited at Pershing Square's Downtown Stage Saturday concerts. This policy will be strictly enforced due to a contractual agreement.
FAQs
Are there ID or minimum age requirements to enter the event?
YES the Pershing Square Downtown Stage is a 21 and over event with ID . If you wish to drink alcohol you must be 21 or over with a valid ID.
What are my transportation/parking options for getting to and from the event?
Pershing Square has an underground garage that has a weekend parking fee of $9. Pershing Square is located across the street from the Metro Red line on the corner of 5th and Hill.
What can I bring into the event?
Guests are welcome to bring low back soft beach chairs or blankets. All bags are subject to security check. No outside food, drinks, or containers of any kind may be brought into the Pershing Square venue. The less you bring, the quicker you enter the venue. A complete list of venue rules for Pershing Square can be found on the venue website: laparks.org/pershingsquare/summer-concert-rules-policies

Do I have to bring my printed ticket to the event?
Yes. Each printed or digital Eventbrite pass ensures access into the venue. Once the pass is downloaded, the patron is subject to all venue rules and regulations. Please remember to bring 21 and over proof of ID.
Can I update my registration information?
Yes, Go to Eventbrite confirmation and cancel a ticket and or transfer it to someone else.
Where is the main entrance located?
The Main Entrances to the venue are located on the corners of 6th and Olive.
ADA Accessible Entrance to the venue is up the east side escalator or elevator and through the east side breeze way, "Hill Street side"
Will I need a pass for each show I want to go to?
Yes, a pass is required for each Saturday night concert. Pershing Square Downtown Stage is a 21 and over concert event with ID only.
What time should I arrive at the venue?
Although each Eventbrite pass ensures access into the venue, your place in line is on a first come, first serve basis. Doors open at 7:00pm.
What is the re-entry policy?
Pershing Square has a "Re-Entry" policy for all events. Guest who leaves the venue for any reason may re-enter on the corner of 6th and Olive and go through the check-in procedure. Once capacity has been met there will be no re-entry into the venue. It is strongly suggested to stay until the end of the show.
Can I bring outside Food and Drinks ?
No outside food, drinks of any kind may be brought into the Pershing Square venue. Eight full-service bars and food trucks are located inside the venue for food and drink purchase. A complete list of venue rules for Pershing Square can be found on the venue website: laparks.org/pershingsquare/summer-concert-rules-policies