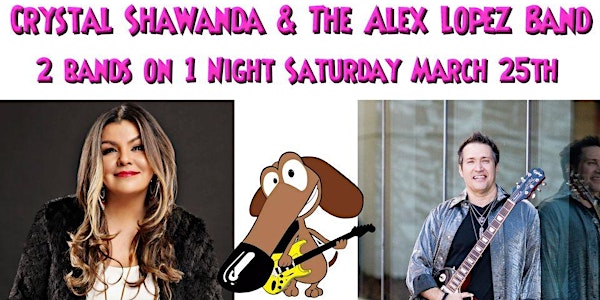 Blues Artists ALEX LOPEZ & CRYSTAL SHAWANDA debut at Mojo's!
TWO BANDS...ONE NIGHT OF BLUES with Alex Lopez and Crystal Shawanda on Saturday, March 25, 2023!
By Mojo's BoneYard Sportsbar & Music Venue
Date and time
Saturday, March 25 · 7 - 10pm CDT
Location
Mojo's BoneYard Sports Bar & Grille Must be 21+ to enter 4920 Bellemeade Avenue Evansville, IN 47715
About this event
ALEX LOPEZ:
Intro:"The soul of a singer/songwriter combines with the emotion of blues and the power of rock" as acclaimed Blues/rock recording artist Alex Lopez and his band The Xpress perform their special brand of British infused blues mixing blues, rock, pop, and even funk. Alex and his band create a blues sound that is uniquely mesmerizing within a framework of melodic memorable songs. With 2 #1 albums on the blues/rock radio charts and a top ten on the Billboard charts, Alex is recognized as a modern master of contemporary blues and along with his band will deliver a high-energy performance for a show you will remember. Alex and the band will be performing songs from their ground-breaking 2022 release "Nasty Crime" being hailed as one of the year's best, along with songs from his other 6 albums.
LINKS: (the website contains links to EPK, YouTube for videos, Facebook, band bios, resume of places performed and IG etc. - for convenience FB and YouTube are below: https://www.alexlopezmusic.com/
Crystal ShawandaOne of the most heralded voices in all of blues - Juno Award (Canadian Grammy) multi-award-winning Blues artist Crystal Shawanda. Crystal and her fabulous band(featuring guitar wizard Dewayne Strobel) hail from Nashville and are touring the country dazzling audiences everywhere in support of her new album "Midnight Blues" Reviews have compared her to icons like Etta James and Koko Taylor.
Juno Award-winning powerhouse Crystal Shawanda is back with her latest studio album, Midnight Blues, on True North Records. Her latest fiery blues collection showcases her full-throttle raspy voice, unmatched in today's musical landscape, and an authentic appreciation for the genre dating back to her youth. Produced and engineered in Nashville by her husband and long-time collaborator Dwayne Strobel, Midnight Blues — her eighth studio album, and fifth since switching from a chart-topping career as a country artist — is a collection of original songs, such as the seductive-sounding rocker "Midnight Blues," swampy dancefloor groove "Rumpshaker," and gentler "Take A Little Walk With The Moon," as well as covers of the Howlin' Wolf classic "Evil" and her take on Celine Dion's hit "That's Just The Woman In Me."
Crystal's first foray as a professional singer was in country music, not blues. She was in her early 20s and had immediate success after signing a U.S. record deal with RCA Nashville. 2008's Dawn of a New Day, featuring the single "You Can Let Go," reached No. 1 on the Canadian Country Album chart and No. 16 on the Billboard Top Country Albums, the highest charting album by a full-blooded Canadian Indigenous country artist (in the SoundScan-era).
The following year she left the label and created her own, New Sun Records. Her first release was the holiday album I'll Be Home For Christmas. Her next country album was 2010's Just Like You, which won a 2013 Juno Award for Best Aboriginal Album, before she made the change to the blues with 2014's The Whole World's Got The Blues. Two years later, in quick succession, came 2016's Fish Out of Water and 2017's Voodoo Woman, then recognition as a bonafide blues talent with 2020's Church House Blues, which won the 2021 Juno Award for Best Blues album.