Description
Phil Freeman presents Blueprints for Songwriting, a 2.5 hour seminar on the art and mechanics of songwriting. While on tour this month, Phil created a brief video about the workshop: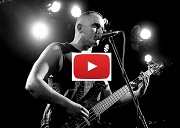 Novice songwriters will benefit from professional guidance while experienced songwriters will gain valuable insight from a new perspective.
Phil brings his knowledge to the table as a singer and a songwriter with years of production experience under his belt. In this workshop, students will work together to craft a song from scratch and learn fundamental principles to the art of songwriting along the way. Attendees will also have the opportunity to break down some of Phil's most popular work and why the songs continue to garner international attention.

As the lead singer of the Small Town Titans, Phil is best known for their hard-rockin' style. But his talent extends to various other styles and formats. Here are a couple examples that show his range:
Dragonfly - acoustic ballad

Junkie for You - heavy rock

For more info about Phil Freeman, check out his bio page on the Keystone Musical Arts Center website.
* Ticket special * Buy one ticket at the regular price and any additional tickets purchased at the same time receive a 20% discount!
See all of our class listings on Eventbrite.
* See important note below *

About the instructor:
Phillip Freeman brings over 15,000 hours of experience in singing, performance, and touring to dozens of his current voice students and frequent group seminars. From Opera and Theater Music to Americana and Metal, Phillip has performed and instructed in several genres while developing and maintaining a 4 octave range and mastering the dangerous skill of screaming. Graduating Lebanon Valley College with degrees in Music Business and Digital Communications in 2011, Phillip has an intense schedule. He regularly performs with his band Small Town Titans and continues instructing students on an international scale through online lessons and in-person training. Phillip is also part of the Alt-Folk duo Lucille & The Wolf, co-producer and on-call session vocalist for various recording studios, has co-written with multi-platinum artists and enjoyed an adventurous life due to the many opportunities and blessings that the gift of singing has continued to bestow. His mission is to spread the love of singing to anyone and everyone looking to take up such a passion. For more information on Phillip, visit his website at http://phillipnathanielfreeman.com/
Note - As a professional working musician, Phil may be called away for special shows or even touring with his band the Small Town Titans on short notice. If this happens and creates a conflict with this class, participants will be contacted as soon as possible with the details and options for making up any missed classes. This has not been a problem in the past, but the possibility is always there.