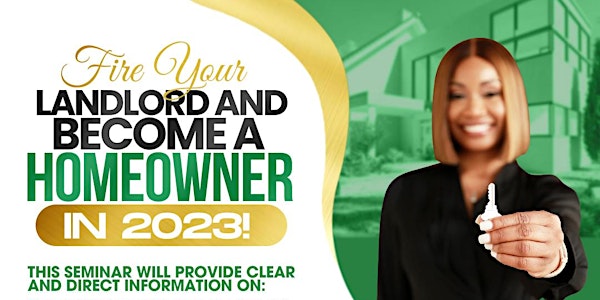 Blueprint to Buying a Home Experience
We look forward to helping you get a clear vision & action plan for achieving your goal of becoming a home owner this year!
By Terrica Matthews, REALTOR, The Credit Score Queen
Date and time
Thursday, January 19 · 6:30 - 8pm CST
Location
Spaces 10202 Perkins Rowe Baton Rouge, LA 70810
About this event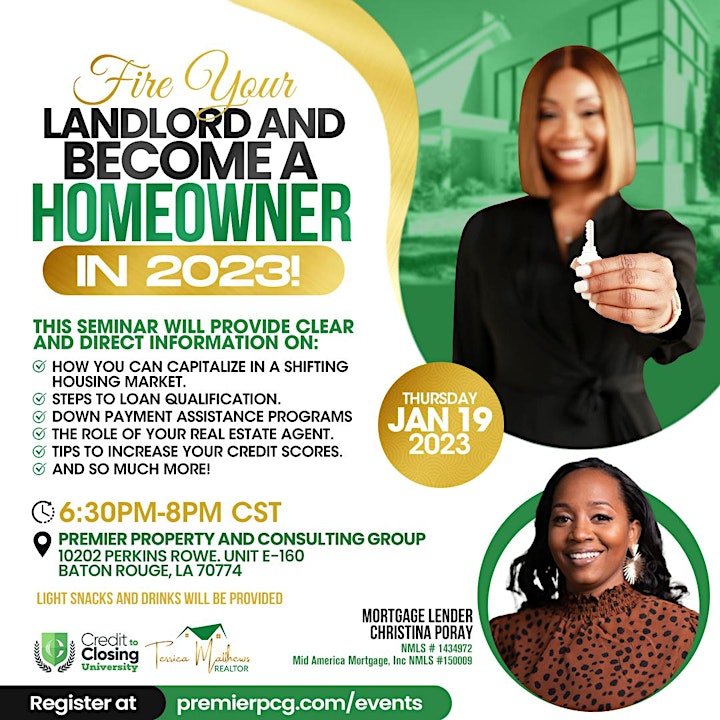 Buying your first home can seem overwhelming not knowing where to begin, who to talk to, or what preliminary actions you should be take to ensure that you are an informed homebuyer.
Our COMPLIMENTARY Blueprint to Buying a Home Experience will thoroughly answer these questions and much more.
Come prepared, open minded, and ready to learn some invaluable tips and strategies.
We will be covering:
-Benefits of Homeownership.
-How you can capitalize in a shifting housing market.
-The home buying process from A-Z.
-Credit score requirements and steps to getting a mortgage loan approval.
-Mortgage loan products and down payment assistance featuring mortgage lender Christina Poray of MidAmerica Mortgage.
-And so much more!
HURRY!! Attendance IS limited! Sign up now to solidify your spot!
Terrica Matthews, M.S./REALTOR/OWNER/ I License #0995696803
The Credit Score Queen
Premier Property and Consulting Group I License #0995700364
225-921-1511| terrica@premierpcg.com
www.premierpcg.com
About the organizer
Premier Property and Consulting Group is an illustrious, boutique real estate firm dedicated to delivering a top-tier real estate experience to all of our clients.
Our core values of excellence, integrity, passion, loyalty, collaboration, agility, and fun, empowers us to provide an outstanding level of service.
We are ready, willing, and able to assist you with your desire to buy, sell, and/or invest in residential and commercial real estate in the state of Louisiana.
---------------------------------------------------
Premier Property and Consulting Group, LLC
10202 Perkins Rowe. Unit E-160
Baton Rouge, Louisiana 70810
Contact: 225.921.1511
Email: info@premierpcg.com
Website: www.premierpcg.com
Brokerage License Number: 0995700364
Licensed in the State of Louisiana