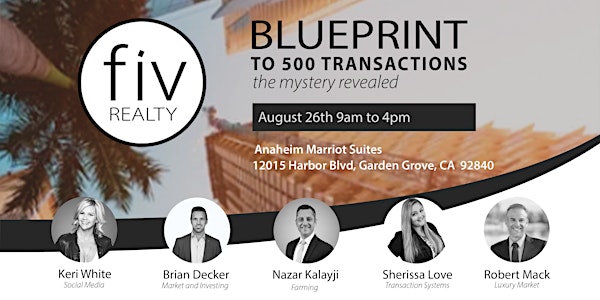 Blueprint to 500 Transactions - The Mystery Revealed!
Come join us as we hear from top leaders in the CA real estate industry. Breakout sessions, agent panels, masterminds, and lunch provided!
When and where
Location
12015 Harbor Blvd 12015 Harbor Boulevard Garden Grove, CA 92840
About this event
Our sponsor, Fiv Realty, is a revenue-sharing real estate brokerage that focuses on surrounding yourself with like-minded individuals to help you grow and improve in "your circle". They offer high commissions and low caps with an emphasis on improving and striving for excellence every day. They feel that community is vital and are proud to give back to 5 charities each year. They provide you with the tools necessary to create balance in your work/home life using a cloud-based platform and proven systems. They are proud to offer the following education and information for you to be the best agent you can be in today's current market. During the event, they will be hosting breakout sessions, agent panels, masterminds, and the following guest speakers. You don't want to miss this information!
Keri White - will teach you about how you can use current trends in social media to effectively market yourself.
Brian Decker - will teach you about the state of the current market and how you can use real estate to your benefit and grow a passive income.
Nazar Kalayji - will teach you about ways that you can grow your current "farm" using proven marketing strategies.
Sherissa Love - will teach you about the importance of a smooth transaction process and the systems involved to create a great experience for the client and agent.
Robert Mack - will teach you all the ins and outs in breaking into the luxury market in today's current market, using tried and true strategies.