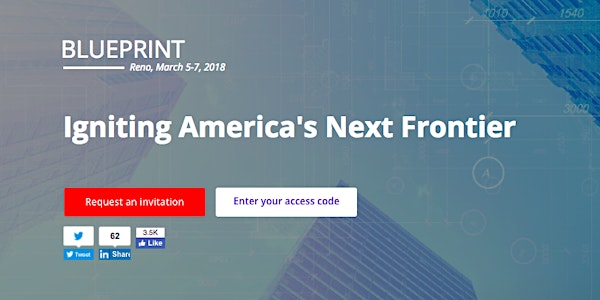 BLUEPRINT 2018
When and where
Location
Nevada Museum of Art 160 W Liberty St Reno, NV 89501
Description
Booming tech epicenters in the U.S. continue to outgrow local talent pools and confront the rising costs of business in places like Silicon Valley and New York while too many in middle America are being left ​behind..
​Join us as we showcase regional tech success stories and discuss how to accelerate prosperity across America at the inaugural BLUEPRINT conference in Reno, March 5-7, 2018.
Now is the time to create a BLUEPRINT, one that builds on existing success stories that have allowed high-growth tech companies to create jobs and expand the wealth beyond the coasts — and optimize profitability by relocating some of their business activities to the heartland.
By bringing together leaders from technology, business and government, BLUEPRINT will accelerate efforts to address our talent and workforce issues — for all of America.
OVER THREE DAYS, BLUEPRINT WILL DIVE DEEP INTO:
THE ISSUE: The challenges facing tech companies with unsustainable costs in tech epicenters AND the challenges facing communities across America in need of stimulus

THE SUCCESS STORIES: Companies who are thriving in this economic transition including the public/private relationships that have fostered their success

THE FUTURE: The priorities and real solutions that can be replicated across the country
WHO SHOULD ATTEND?
Tech company executives exploring HQ2 and expansion opportunities outside of the coasts

All executives interested in impacting job prosperity across America

Investors looking to grow their investments beyond the traditional coastal hubs

National, state, and local government leaders looking to develop policies that will accelerate growth in the heartland

Economic development professionals looking to showcase their region to technology companies and investors and talent
SPECIAL PRICING
Only 100 early-bird tickets at 40% off the full price are available only until January 5.
$495 tickets for nonprofit, economic development and government agencies
WHAT TO EXPECT
BLUEPRINT is not a sit-back conference. You definitely can expect valuable, inspiring keynotes and discussions from those leading this economic change. However, the event will actively engage all participants with the goal of creating meaningful outcomes. The framework is designed to have all walk away on the final day not asking what's next, but knowing what's next.
Main stage keynotes and discussions will be accompanied by several small break-out groups of 15-20 intended to foster tangible priorities and plans – each focusing on how to expanding tech's footprint across America:
LOWER-COST TECH EXPANSION: High-growth tech companies, from the big names to the success-story start-ups, are investing in job creation beyond the coasts to close the opportunity gap and achieve ROI.

REGIONAL TECH ACCELERATION: Regional communities are igniting their local ecosystems by attracting tech companies with high skill jobs, tech investments and tech entrepreneurs.

MAPPING TALENT TO JOBS : Explore the the kind of early and mid-career training, education and delivery mechanisms that are necessary for existing workforces to take advantage of the jobs that can be relocated to the Heartland.
Join us to get an unprecedented first-hand understanding from those already experiencing success and to help create a playbook for what's needed to expand job prosperity across America.
Are ticket refunds available?
Once purchased, refunds are available only 30 days or more in advance of the event.