About this Event
>>> Click the green button to purchase passes for Sunday, April 28th. Or visit our other event page for Saturday, April 27th. <<<
Backcountry ski/splitboard on 200 controlled acres of Winter Park Resort set aside for just 50 Bluebird Backcountry guests!
Rent backcountry equipment on site, learn and practice uphill and backcountry skills, meet new friends, explore Winter Park in a new way, and generally enjoy earning your turns out on the mountain.
Bluebird Backcountry is offering two different ticket options depending on backcountry experience level:
Bluebird Pass — Choose your own adventure — $50
• A day of "in-bounds backcountry" — ski or splitboard with peace of mind! Each day 200 acres will be open to just 50 Bluebird Backcountry guests.
• Clinics: Avalanche Basics, Tools & Rescue, Transitions, Kick Turns
• Beacon Park: Practice your avalanche rescue skills
• Hosted Rally Laps: Meet other backcountry enthusiasts, find potential partners, and swap tips and tricks
• Optional apres hangout at Hideaway Park Brewery (food and drink not included)
• Bragging rights as one of the first-ever Bluebird Backcountry guests
Plus Pass — A more structured day of education — $75
• All the benefits of a Bluebird Pass, plus:
• Demonstrations and guidance on how to use your backcountry equipment
• A group tour up the mountain in the morning designed to welcome you to the sport of backcountry skiing/splitboarding and connect you with other backcountry beginners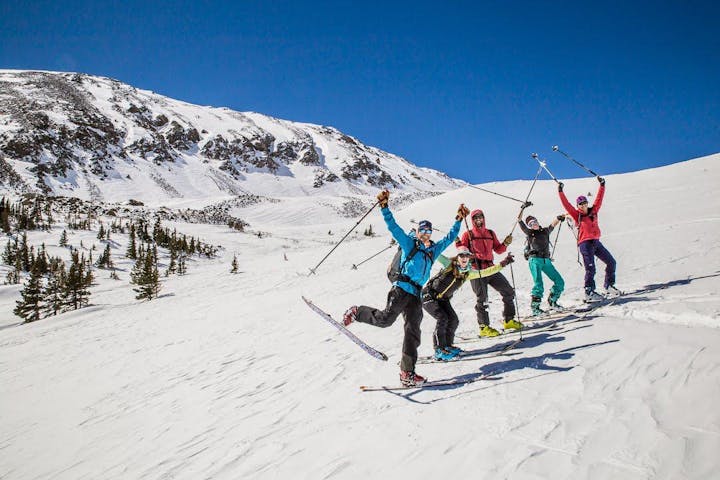 Who is this for?
Bluebird Backcountry @ Winter Park Resort is for anyone who's interested in joining our backcountry community and/or learning more about backcountry skiing or splitboarding. No backcountry experience necessary! No lift ticket to Winter Park necessary!
To participate, you should be a fit and experienced resort skier (comfortable skiing all day on blue/black runs) who's ready to skin up to earn your turns. Whether it's your first time on backcountry equipment, you've been out a few times and want to learn more, or you're a more experienced backcountry skier looking to meet new partners and have a fun day outside, there will be plenty for you to enjoy.
Sound fun? We think so, too. Find a friend or two and sign up fast. Registration is limited (only 50 passes available per day).
What do I need to sign up?
• No previous backcountry experience required!
• Fitness: you should be a solid resort skier (comfortable skiing blue or black runs all day) who is able and excited to travel 3–5 miles at altitude, gaining at least 1,000'.
• Backpack with avalanche gear: transceiver, shovel, probe. Thanks to our partner, Ortovox, packs with this gear are available for rent through Bluebird Backcountry @ $29/day and can be picked up on site. Even though we will be skiing in-bounds, this equipment is required.
• Backcountry ski gear: backcountry-specific boots, skis/splitboard with matching skins, and ski poles. Thanks to our partner, Cripple Creek Backcountry, ski equipment is available for rent through Bluebird Backcountry @ $60/day and can be picked up on site.
• Appropriate clothing, food, and water for a day in the high country (packing list will be provided upon registration)
• Transportation (carpooling encouraged) that can get you to and from Winter Park Resort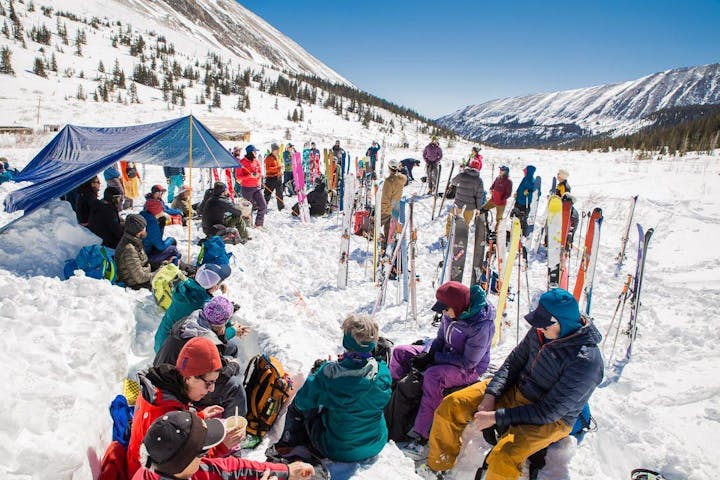 What's this all about?
The long term Bluebird Backcountry vision is an avalanche-controlled and ski-patrolled ski area that's 100% human powered. This test event at Winter Park Resort will be a backcountry-lite experience that helps Bluebird Backcountry collect vital information to further their goal.
Imagine all the comforts of a ski resort: quality terrain, great snow, gear rentals, lessons, guides, ski patrol, food/beverage, and a lodge... but no chairlifts or lift lines. We hope Bluebird Backcountry's vision will enhance backcountry education and introduce more people to the spirit and soul of the backcountry.
In 2019, Bluebird Backcountry is prototyping in multiple locations, including Winter Park Resort, in order to learn what backcountry skiers want and need at a more permanent location. Winter Park Resort is working hand-in-hand with Bluebird Backcountry to help develop their idea and offer a unique in-bounds backcountry event for anyone who's curious about backcountry skiing and wants to learn more.
Event expectations:
This event is designed for people who are looking for a taste of the backcountry in a more controlled, resort environment. You will be skinning up and skiing/splitboarding down in an in-bounds ski-hill environment that is otherwise closed to the public.
We've partnered with Winter Park Resort to provide a controlled environment for you to have fun, explore, experiment with backcountry equipment, meet new friends, and learn a thing or two about backcountry skiing.
Guests are welcome to ski anywhere within the designated Bluebird area but must ski with at least one partner and check in and check out at specific locations/times. Winter Park Resort ski patrol will be on hand to respond to any emergency.
Since we have just one day to ski and learn, this experience will NOT include in-depth avalanche education or rescue training, and it's NOT a ski lesson.
While we will be in-bounds, runs will not be groomed since this event is after the closure of Winter Park. Highly variable snow conditions and unmarked obstacles may exist.
There's a lot to learn to be able to travel safely in the backcountry, and it can't all be taught in one day. Bluebird recommends you obtain further education before venturing into the backcountry. Bluebird will provide you with some basic information about educational resources.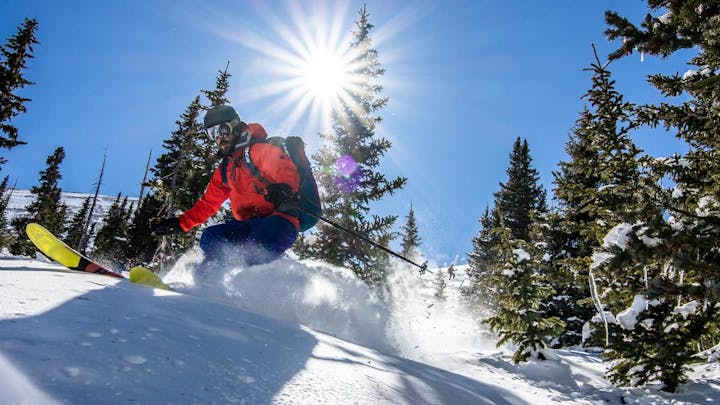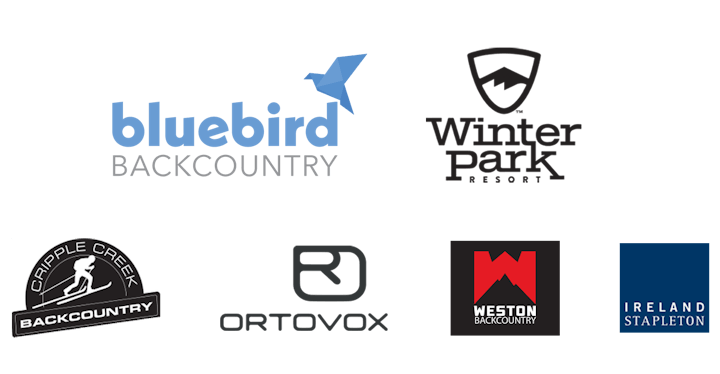 Thank you to our partners!
High fives to Winter Park Resort; Cripple Creek Backcountry; Ortovox; Weston Backcountry; and Ireland Stapleton.
Fine print
Snow or shine, frigid or warm, we will go skiing! Please be prepared for whatever weather we might encounter (we will send you a packing list when you register). In case of hazardous conditions, we reserve the right to cancel or postpone the event(s). Registrations are first come, first-served, and payment is required in full at time of reservation. No refunds.
The parking is at 9,000', and you can expect to ski up to 10,000' or higher. You should be prepared to ski 3–5 miles, at altitude, with at least 1,000' of elevation gain. We reserve the right to refuse participation to anyone who lacks proper equipment, fails to follow rules and instructions, or otherwise poses a risk to themselves, other participants, partners, or volunteers.
Winter Park Resort ski patrol will be on hand to respond to any emergency.
Please also note that we have a ZERO TOLERANCE policy on drugs and alcohol during our day of skiing.
WARNING
Under Colorado law, a skier assumes the risk of any injury to person or property resulting from any of the inherent dangers and risks of skiing and may not recover from any ski area operator for any injury resulting from any of the inherent dangers and risks of skiing, including: Changing weather conditions; existing and changing snow conditions; bare spots; rocks; stumps; trees; collisions with natural objects, man-made objects, or other skiers; variations in terrain; and the failure of skiers to ski within their own abilities.
Have a question?
We have an answer. Email info [@] bluebirdbackcountry.com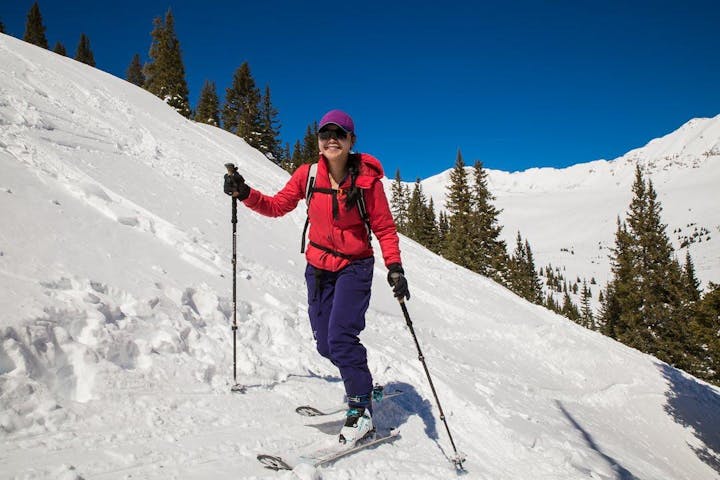 Photos by Scott Cody and Doug McLennan. Thank you to all of our amazing volunteers!