Please join us for Blue Water Wave's Second Annual Holiday Party & Toy Drive!
About this event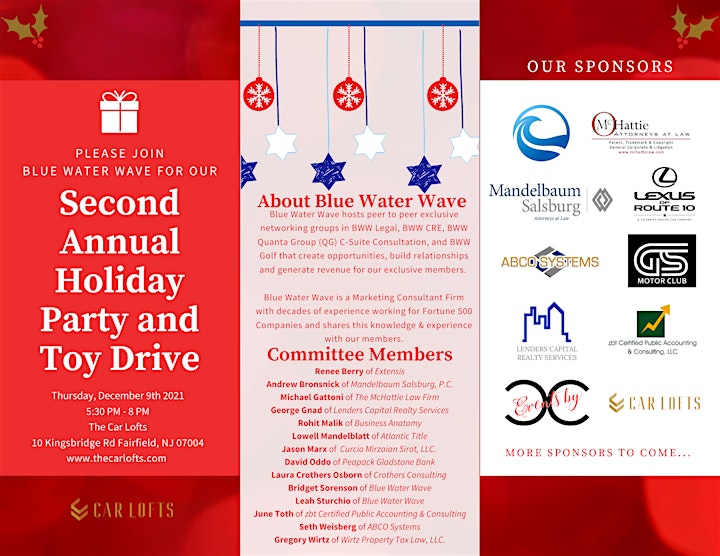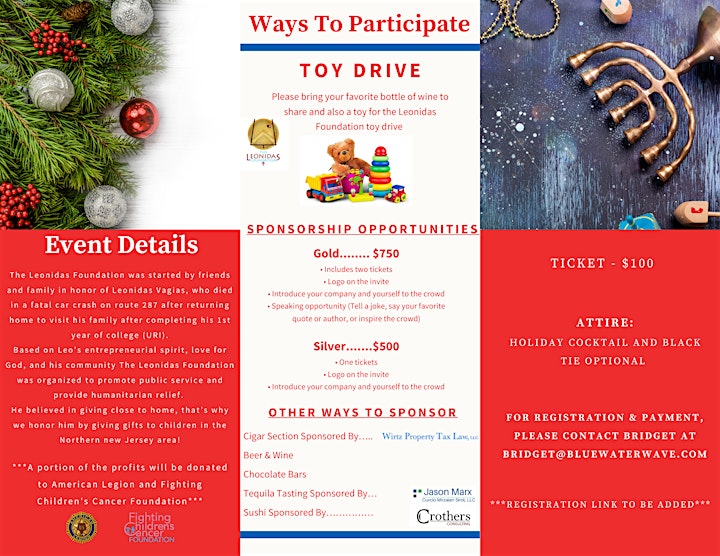 Thursday, December 9th 2021
5:30 PM - 8 PM
The Car Lofts
10 Kingsbridge Rd Fairfield, NJ 07004
Attire:
Holiday cocktail and black tie optional
About Blue Water Wave:
Blue Water Wave hosts peer to peer exclusive networking groups in BWW Legal, BWW CRE, BWW Quanta Group (QG) C-Suite Consultation, and BWW Golf that create opportunities, build relationships and generate revenue for our exclusive members. Blue Water Wave is a Marketing Consultant Firm with decades of experience working for Fortune 500 Companies and shares this knowledge & experience with our members.
About this Event:
The Leonidas Foundation was started by friends and family in honor of Leonidas Vagias, who died in a fatal car crash on route 287 after returning home to visit his family after completing his 1st year of college (URI). Based on Leo's entrepreneurial spirit, love for God, and his community The Leonidas Foundation was organized to promote public service and provide humanitarian relief. He believed in giving close to home, that's why we honor him by giving gifts to children in the Northern new Jersey area!
***A portion of the profits will be donated to American Legion and Fighting Children's Cancer Foundation***
Please bring your favorite bottle of wine to share and also a toy for the Leonidas Foundation toy drive!
Committee Members:
Renee Berry of Extensis
Andrew Bronsnick of Mandelbaum Salsburg, P.C.
Michael Gattoni of The McHattie Law Firm
George Gnad of Lenders Capital Realty Services
Rohit Malik of Business Anatomy
Lowell Mandelblatt of Atlantic Title
Jason Marx of Curcio Mirzaian Sirot, LLC.
David Oddo of Peapack Gladstone Bank
Laura Crothers Osborn of Crothers Consulting
Bridget Sorenson of Blue Water Wave
Leah Sturchio of Blue Water Wave
June Toth of zbt Certified Public Accounting & Consulting
Seth Weisberg of ABCO Systems
Gregory Wirtz of Wirtz Property Tax Law, LLC.
This Event is Sponsored By:
The McHattie Law Firm
Mandelbaum Salsburg, P.C.
Lexus of Route 10 Celebrity Motor Car Company
ABCO Systems
GS Motor Club
Lenders Capital Realty Services
zbt Certified Public Accounting & Consulting
Events By CC
Car Lofts
Other Sponsors:
Cigar Section is sponsored by - Wirtz Property Tax Law, LLC
Sushi is sponsored by - Crothers Consulting
Tequila Tasting is sponsored by - Jason Marx of Curcio Mirzaian Sirot, LLC.
Our Sponsorship Opportunities Include:
Gold Sponsorship - $750
Includes two tickets
Logo on the invite
Introduce your company and yourself to the crowd
Speaking opportunity (Tell a joke, say your favorite quote or author, or inspire the crowd)
Silver Sponsorship - $500
One ticket
Logo on the invite
Introduce your company and yourself to the crowd
Organizer of Blue Water Wave's 2nd Annual Toy Drive & Holiday Party