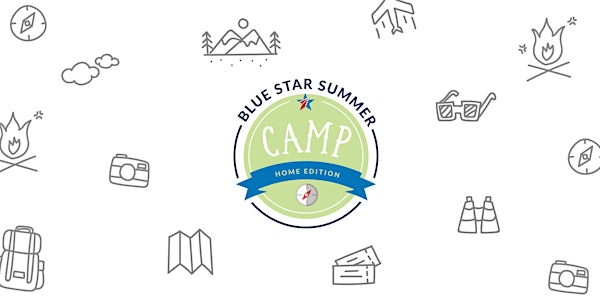 Blue Star Summer Camp - the Home Edition is back this summer!
Blue Star Summer Camp — the Home Edition is coming back this summer, and it's going to be spectacular!
About this event
Back by popular demand! Blue Star Families Summer Camp returns in July 2021 with more amazing virtual field trips to museums and parks to keep kids busy and engaged whether you are PCSing or staying put! Designed as a solution for COVID-19 closures, Blue Star Families responds to ongoing families' needs for quality FREE virtual summer programming.
Join us for three weeks of discovery, including creative activities that are hands-on and minds-on. Each week ends with "Campfire" Fridays featuring special guests, singalongs, and newly designed character development activities. Your kids won't want to miss all the fun this summer! Our camp weeks will explore animals, aerospace, and science/nature.
Please note: This camp is designed for elementary-aged children (6-11 years old). When registering, please plan for your child to attend all virtual Zoom field trip calls on Monday and Wednesday, as well as the "Campfire" Zoom call on Friday during your selected week(s).
What are you waiting for? Register for Blue Star Families' virtual Blue Star Summer Camp today! More details will be provided upon registration.
Week 1, July 12-16: Summer Safari
Week 2, July 19-23: Aerospace
Week 3, July 26-30: Motion in the Ocean
Visit: https://bluestarfam.org/for-mil-families/summer-camp/ soon for up to date information!