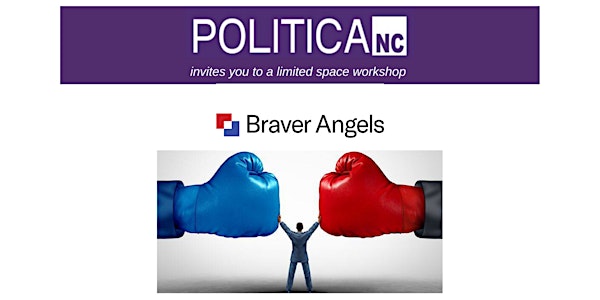 Blue Skills - An On Line Braver Angels Workshop
Braver Angels workshop to teach participants skills for talking with those on the other political side.
Date and time
Sunday, May 17, 2020 · 11am - 1pm PDT
About this event
There's a lot of stress these days among family members and friends who are divided politically, and the current polarized public conversation doesn't help. Please join us for a Braver Angels Skills Workshop to learn skills for having respectful conversations that clarify differences, search for common ground, and affirm the importance of the relationship.
Participants will be asked to complete a 40 minute on line class to prepare for this workshop. The class can be completed anytime prior to joining the Zoom meeting.
About the organizer
PoliticaNC's mission is to inspire and embolden women to be independent, confident, informed activists and civic leaders, working for democracy in North Carolina.