Blue Skies Christmas

Thursday, December 12, 2013 from 7:00 PM to 9:00 PM (EST)
Event Details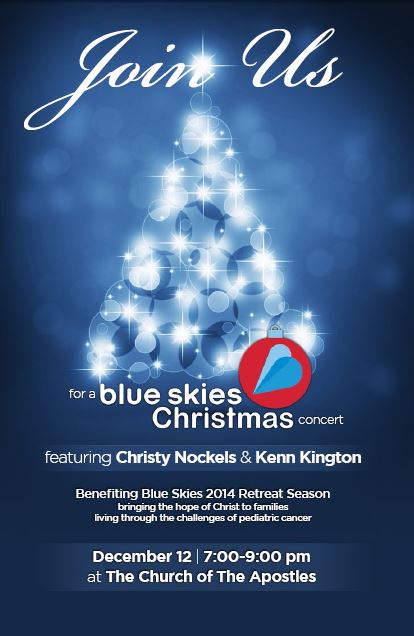 Share the Christmas Joy at a Live Performance for a Cause
Christy Nockels, singer-songwriter of contemporary Christian music, and Kenn Kington, professional comedian and keynote motivational speaker, perform live at a Christmas concert benefitting families fighting pediatric cancer.
The event is free but the goal is to raise funds for Blue Skies Ministries' 2014 retreat season. Blue Skies is a local non-profit with a mission to share the hope of Christ with families living through the challenges of pediatric cancer by offering them a week-long beach retreat to lift them above the clouds of childhood cancer.  To learn more about Blue Skies go to www.whereskiesareblue.org.
____________________________________
Please consider helping us fulfill our "Wishes and Dreams" for the 2014 retreat season by making a donation today or at the event.  If you make a donation at the concert, you will receive a Christmas ornament as a thank you for your gift.
$25 Donation - Welcome Bag (12 per retreat - 96 total) When our special guests arrive at Blue Skies, they find a Blue Skies beach bag on their bed! Not only is this fun for them while they are at the beach, it's helpful to carry back and forth to the hospital – it not only holds the things they'll need for the day, but it brings fun and happy memories from their week at Blue Skies!
$35 Donation - Chapel (12 per retreat – 96 total) Our days at Blue Skies begin with Chapel overlooking the beach. While gazing at God's incredible creation, we connect with our Heavenly Father through worship and His word.
$50 Donation - Breakfast Gift Card - (12 per retreat - 96 total) All expenses paid at Blue Skies! We provide our guest families with a $50 gift card to purchase their breakfast groceries! Whether they like to get up early or sleep in, our guests make their breakfast when it is convenient for them (and we clean up)!
$75 Donation - Ice Cream Extravaganza - (1 per retreat - 8 total) One night of each retreat is capped off with a crazy ice cream sundae extravaganza! Buckets of chocolate and vanilla ice cream and every imaginable topping make a child's eyes light up as they create their own delicious masterpiece!
$100 Donation - Paper Lantern & Balloon Release - (1 per retreat - 8 total) Each retreat kicks off with a celebration on the beach. Dozens of colorful lanterns float into the sky as we begin to lift families above the clouds of childhood cancer. Families start to relax as they look up at the floating lanterns and dream of a week at the beach far away from cancer. At the end of the week we gather to say "See you later". We open our hands to our Heavenly Father and release balloons into the sky. It is a powerful and meaningful experience for our guest families and volunteers alike.
$150 Donation - H20/Kindred Journey Goodies (5 per retreat, 40 total) After Chapel, our camp pastor gathers with the parents in Kindred Journeys where they share their stories and encourage one another. A coffee bar and homemade treats make the morning special! During Kindred Journeys, the children attend H2O. They select an activity group and spend their morning making friends and doing something they love (or want to learn)! Whether cooking, stained glass, fishing, sports camp, newspaper, art or outdoor adventures, the kids have a great time just being kids. Your sponsorship provides treats for the parents and all of the supplies needed for the kids to have fun!
$200 Donation - Red, White and Blue Skies Parade (1 per retreat - 8 total) - Red, White, and Blue Skies Day is a retreat tradition that ends with a parade around the town square! The kids cover their bikes, scooters, wheelchairs, strollers and even luggage carts with patriotic streamers, balloons and flags. The local police and firemen lead the small-town parade while the kids march along and toss candy to the onlookers celebrating the day. It is a much loved event, one that carries many fond memories!
$300 Donation - Beach Horseback Rides (1 per retreat - 96 total) - Truly a once in a lifetime experience! Our precious families make lifelong memories as they take horseback rides together on the beach. As the horses trot over the dunes and along the shore line, the smiles, excitement and feelings of accomplishment are unforgettable!
$400 Donation - Lunch (5 per retreat - 40 total) – From subs to fried chicken, your gift of $400 provides a yummy lunch for our guests. One day we even take a picnic to the beach! On our last day together, we have lunch at a local beachside restaurant followed by a day of play on the beach!
$500 Donation - Parents Night Out/Party for the Kids! (1 per retreat – 8 total) – On Tuesday night our parents enjoy a night out without the kids. They are treated to a special dinner where they laugh and bond with the other parents and one another. While the parents experience a relaxing evening away, the kids stay at the resort and PLAY! Pizza, candy, ice cream and a pool games make for an unforgettable evening for the new found friends.
$600 Donation - Snorkeling Trip or Shark Fishing Excursion - (1 per retreat - 8 total) – Our guest families set out for a day at sea as they board the Island Queen outfitted with snorkels, masks, fins and nets. Side by side on the snorkel boat, they cross the bay to the shallow waters of Cape San Blas. Far away from hospitals and clinics our guest families are greeted by fresh air, sea mist, open water and occasionally a dolphin sighting. Tensions and burdens are lifted. Some watch from the boat, some walk along the shore and others search for the hidden treasures in the sea but everyone enjoys the "show and tell"!. Sand dollars, sea urchins, conch shells, sea slugs, starfish, puffer fish, shells of all kinds and even seahorses are passed around for all to touch and see! What a great day! And sometimes, when the weather doesn't cooperate for snorkeling, we go shark fishing. Every day on the water is filled with fun, relaxation and Blue Skies for our guests!
$750 Donation - Theme Night Dinner Parties (6 per retreat – 48 total) Imagine eating meal after meal in the hospital cafeteria or on the run…..not at Blue Skies! Each night we host a spectacular theme night party. There are no worries about what to eat or what to do, our guests simply show up and enjoy! Whether it's a Hoola by the Poola, Hometown BBQ, Pirate Night or Mexican Fiesta the food is delicious, the decorations are amazing and the fun goes on and on.
$1,000 Donation - Fun in the Sun- (1 per retreat - 8 total) – Sunscreen, beach chairs, umbrellas, rafts, floats, balls, waterguns and sand buckets make their days even sunnier! From poolside to beachfront, our guests have tons of fun on the shore and in the water. New friends and great memories are made playing at the beach, building sand castles, collecting shells and splashing in the pool.
$1500 Donation - Blue Skies Goodies (1 per retreat – 8 total) – Blue Skies T-shirts, stickers, beach balls, buttons, bracelets, balloons, banners and flags make our week even more special. This gift provides all of our Blue Skies logo items that our guests and volunteers love.
$3000 Donation - Sponsor a Family - (100 families for 2014!) – Blue Skies serves about 12 families at every retreat. While our volunteers raise support to help cover their own expenses, our guest families attend Blue Skies at no cost. Your gift of $3000 sponsors a child with cancer and their families to attend Blue Skies and gives them a week filled with hope, love and laughter.
$50,000 Donation – Sponsor an entire retreat! This monumental gift provides everything needed to host a retreat (from beach balls to amazing accommodations) and supports Blue Skies in bringing the hope of Christ to families facing the challenge of living through childhood cancer.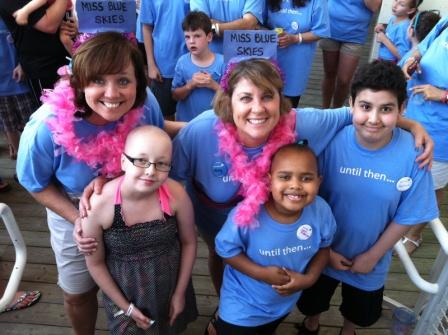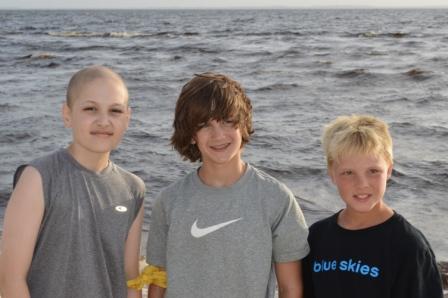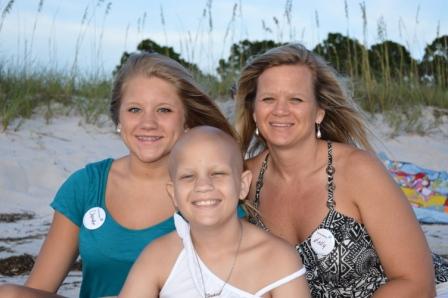 When & Where

Church of the Apostles
3585 Northside Parkway
Atlanta, GA 30327


Thursday, December 12, 2013 from 7:00 PM to 9:00 PM (EST)
Add to my calendar
Organizer
Blue Skies Ministries, Inc.
Blue Skies is a local non-profit that offers families battling pediatric cancer a week-long respite at the beach. To learn more about Blue Skies go to www.whereskiesareblue.org