Description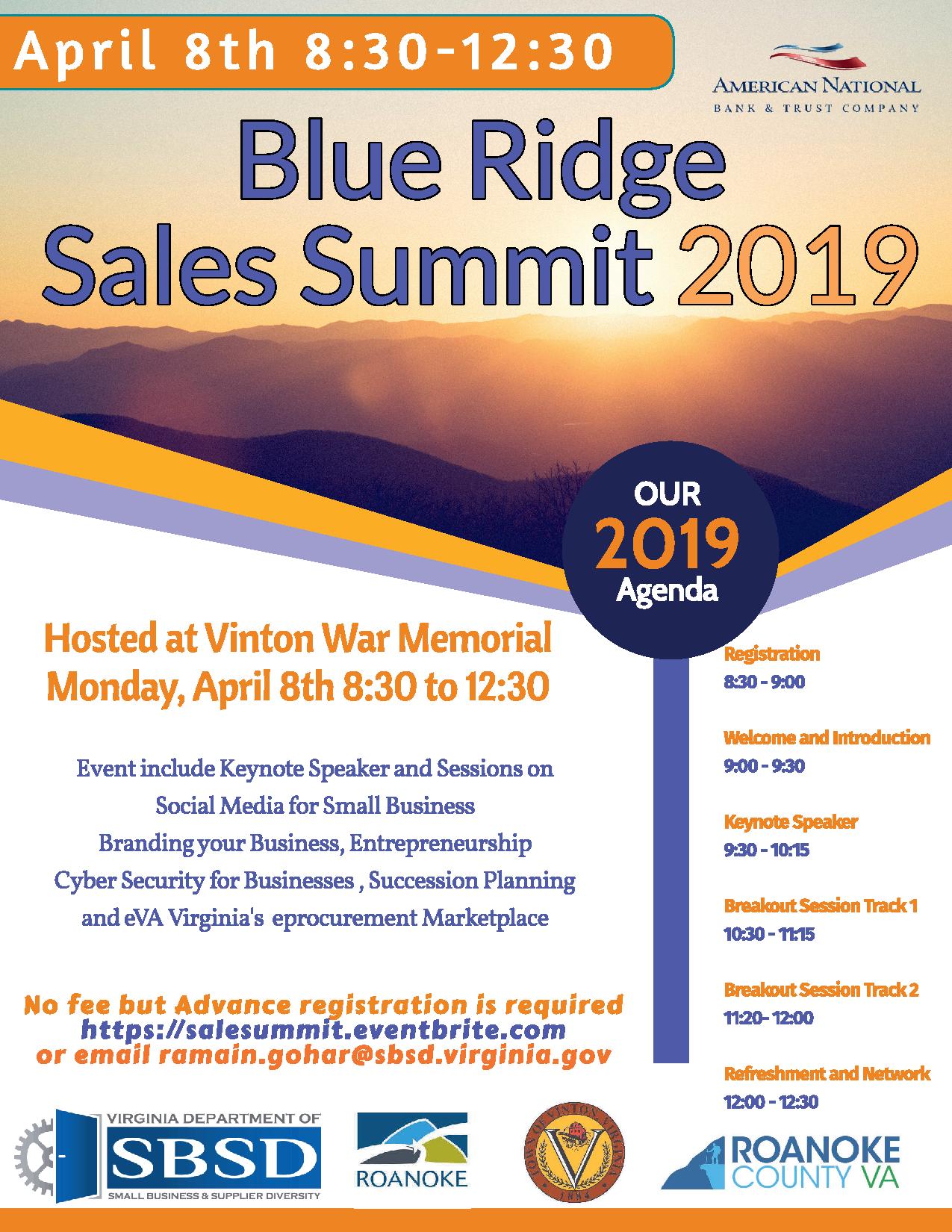 This Blue Ridge Sales Summit includes an exhibit hall of small business resources; breakout sessions regarding Social Media Marketing, Branding, Entrepreneurship, Cyber Security for businesses, Succession Planning eVA Virginia eprocurement Marketplace and doing business with local, state and federal government agencies; and networking opportunity for small business owners to think outside their walls.
A Virginia Department of Small Business and Supplier Diversity event in partnership with City of Roanoke, Roanoke County Economic Development, Town of Vinton and sponsored by American National Bank and Trust Company.
Hosted at Vinton War Memorial
No Fee but due to limited seats register by March 30th
Agenda
8:30 AM--9:00 AM: Check-in and Networking - Registration
9:00 AM--9:30 AM: Welcome, Director, BDO VSBSD Remarks , and Introduction of Guests
9:30 AM--10:15 AM: Keynote Speaker "Leadership and Managing Business" Jeff Smith - CEO Voltage Leadership Consulting

10:15 AM--10:30 AM: Break and Proceed to Choice of Breakout Sessions
Breakout Sessions Track I
10:30 AM--11:15 AM: Social Media Marketing By Christina Garnett (Founder Marketing Media Maven)
10:30 AM--11:15 AM: Market Advantage and Customer Segmenting By Amanda Forrester (Marketing Director SBDC)
10:30 AM-- 11:15 AM: Is My Business Providing Value By Dr. Lisa Fournier (Professor at Virginia Tech)

Breakout Sessions Track II
11:20 AM--12:00 PM: Cyber Security for businesses By Zak Kephardt (Banker's Insurance)
11:20 AM--12:00 PM: Succession Planning By John Settle (American National Bank and Trust)

11:20 AM--12:00 PM: eVA in Review--Strategically Navigating Virginia's eProcurement Portal By Kim Brewer, eVA Outreach & Marketing Manager
Refreshment and Network
12:00PM to 12:30PM
FAQ
My business is interested in exhibit table?
Contact Ramain.gohar@sbsd.virginia.gov for exhibit table
What are my parking options?
There is plenty of parking avaliable at Vinton War Memorial Parking lot plus off street parking
How can I contact the organizer with any questions?
Ramain.gohar@sbsd.virginia.gov
Cell:276-274-9740