Description
---
"Uncommon Leadership in Transitional Times"

---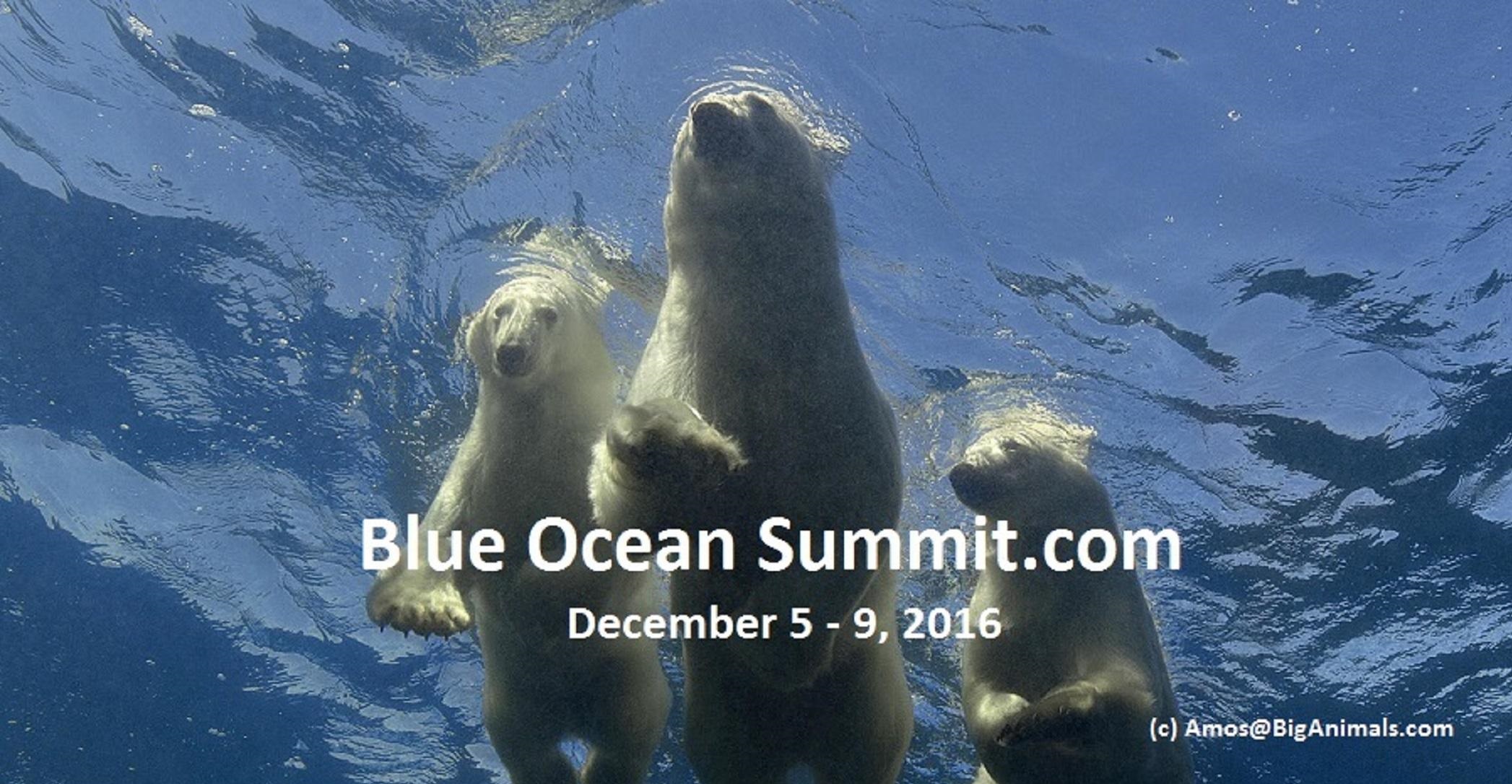 GET YOUR COPY!
Blue Ocean Summit Resource Guide
Back by popular demand, in this new edition of our downloadable Summit Resource Guide, you'll receive (1) Highlights of each of the talks, (2) full pdf transcripts of all Summit 2016 interviews along with (3) an Ocean Issue Overview, (4) a list of all the Resources mentioned in our interviews, (5) a Rolodex of our Summit Alumni, and (6) a Daily Action Guide to protect our blue planet. You'll also receive (7) a Collection of our favorite Ocean Quotes we use in social media to connect people more deeply to the sea, and inspire us all to take action. The Summit Resource Guide for Ocean Change-Makers will be available 'Hot-Off-The-Press' in late January 2017. Click on the green TICKETS button (above right) to pre-order your downloadable Summit Resource Guide!
---
ABOUT BLUE OCEAN SUMMIT 2016
On December 5, 2016, a 5-day online Adventure began...
We kicked off the 3rd Blue Ocean Summit on Monday December 5, 2016. It's the Only Online Event that brings together Ocean Enthusiasts, Eco-conscious Entrepreneurs and Sea Change-makers. This unique free week-long ocean community gathering showcases Action-Oriented Thought Leaders, Do-Gooders and Ahead-of-the-Curvers in marine conservation, ocean sustainability and the blue economy.

A Community Like This Can Change the World.
Over 2100 stakeholders from the dive, travel and marine tourism industry, marine science, ocean conservation and ocean recreation sectors have already joined us in 2014 and 2015. This online event is designed for you if you're an...

OCEAN LOVER

If you're a diver, snorkeler, a beach­goer, surfer, sailor, sportfisher, cruiseshipper, ocean activist or global citizen – who's concerned about the future of your ocean playground, we're lining up the seats for you at this conference!
OCEAN ENTREPRENEUR

If you make a living using the ocean as a backdrop to your business, or a focus of your organization, you MUST join us. If you are a Watersports Retailer or Operator, Ocean-based Resort Owner or Live-aboard Operator or Travel Seller, you'll learn more about the new blue business model that changes everything - for the better.
OCEAN ACTIONIST If you're a Non-Profit, No-Profit,

Student,

Scientist, Marine Educator, Artist, Photo or Filmmaker that has been left out of the discussion (up until now) we NEED you at this event.


14 Speakers. 5 Days. Blue Action.
The previous Blue Ocean Summits have featured several TED and TEDx presenters, and this year was no different. What was different this year is a smaller, more intimate Summit, featuring a special selected group of leaders who have taken to heart Dr. Sylvia Earle's TED Prize-winning call-to-action:
"Use all means at your disposal – films! expeditions! the web! new submarines! … to save and restore the ocean, the blue heart of the planet." ~ Dr. Sylvia Earle, TED Prize Winner, Founder of Mission Blue

Speakers You'll "Meet"
We gathered fourteen compelling voices who get up close and personal about their work that exemplifies the Summit's underlying theme: "Uncommon Leadership in Transitional Times". The Summit list of leading ocean changemakers who have combined their abilities in uncommon ways to take on uncommon leadership roles includes:
Dr. Wallace J. Nichols —Turtle Scientist, Neuro-conservationist and Founder of Blue Mind
Dr. Mikki McComb-Kobza —Shark Researcher, Executive Director and Educator, Ocean First Institute
Amos Nachoum — Award-winning Nature Photographer, Explorer, Founder of Big Animal Expeditions
Michael Aw — Publisher of Ocean Geographic, Elysium Artists for the Ocean Expedition Leader
Liz Cunningham — Illustrator, Speaker, Educator, Best-selling author of "Ocean Country"
Courtney Mattison — Large Installation Ceramic Sculptor, Editorial & Delopment Manager at MissionBlue.org
Ief Winckelmans — Entrepreneur, Creator of Impact Investor Network, Founder of OceanImpact.org
Liz Taylor — President, DOER Marine/Deep Ocean Engineering and Research, Consultant and Educator

Mehgan Heaney-Grier — World Free Dive Champion, Explorer, TV personality, Marine Biologist
Lizzi Larbalastier — Executive Business Coach, Founder of Going Coastal, Environmental Activist
Gianna Savoie —TV Documentary Producer, Environmental Biologist, Executive Director Ocean Media Institute
Daniel Ponce-Taylor — Sustainable Development and Experiential Education Facilitator, Director of Programs at GVI, Marine biologist
Parvati Devi and Rishi Deva - Music Artist & Manager, Founders of Parvati Magazine & Media, Founders of Parvati.org and the MAPS Movement.
You'll receive plenty of ideas on how you can take action from these inspiring speakers.
When You Register, You'll Get...
With this new series of spirited conversations, you'll hear from some remarkable people who have combined their passion for the ocean with their unique talents and skill sets to create Hope Spots of conscious change in their field. Prepare to be moved and motivated by unusual stories and deep insights that will help you be a more effective change agent in your sphere of influence.
LEARN! Attendees will receive free access to the Summit interviews during the week of the Summit.
SHARE! You'll gain access to our private Facebook Group to network and share ideas during the Summit.
STAY CONNECTED! Once you register, you become part of the inner sanctum of Blue Ocean Network members. You'll receive updates, continued access to our Closed Facebook Group, and be the first to hear about upcoming events for members in our ocean community portal.

To gain access to the Summit Sessions, you must RESERVE your Seat.

How You Attend.
Register here at Eventbrite. Closer to the event, you will receive the event schedule along with occasional non-annoying email updates. Before the Summit launches, you'll get details to gain access to each day's online interviews during the Summit. During the Summit, you have access to each day's interviews; all you'll need is Internet access, your Summit portal password, and a good internet connection. Interviews will be available for free during the Summit. Attendees will also receive free membership to our new ocean community portal, along with news updates, AND be first to know about future events at BlueOcean.Net.

Be a part of our growing community of conscious consumers,
ocean change-makers, eco-friendly entrepreneurs,
experts and industry pioneers.


ABOUT OUR SUMMIT ALUMNI
The calibre of our Summit Speakers is jawdrop­worthy. Here's a sampling of the change­makers who have generously contributed to our Summit's successes in 2014 and 2015. (For highlights of past Summits, visit BlueOceanSummit.com)

Blue Ocean Summit 2015 Alumni.
These visionaries and action takers were part of our recent Blue Ocean Business Summit where we discussed the "Elephant in the Ocean" - the big issue the mainstream is ignoring. Dr. Sylvia Earle, Jean-Michel Cousteau, Jill Heinerth, Rob Stewart, Sharon Kwok, John Thet, Doug McNeese, Amy Slate, John Racanelli, Dianna Cohen, Andy Miners, Stefan Gossling, Judi Lowe, Stiv Wilson, Lois Hatcher, Ken Nedimyer, Chloe Harvey, John Englander, Vicki Nichols-Goldstein, Jim Toomey, Mikki McComb-Kobza, Jose Truda Palazzo, Graham Casden, Michele Westmorland, Julian Hyde, Martina Milanese, Holly Lohuis, Peter Sales, Richard "Murph" Murphy, Andrew Lewin, Cecilie & Max Benjamin, and up-and-comer Jonah Bryson.

Blue Ocean Summit 2014 Alumni.
These industry pioneers and change-makers were part of our first Blue Ocean Business Summit where we discussed the "New Blue Model for Business" that's changing the ocean - for the better: Dr. Carl Safina, Dr. Wallace J. Nichols, Michael Aw, Dr. Alex Brylske, Shawn Heinrichs, Vicki Nichols-Goldstein, Henrik Rosen, Dr. Brian Garrod, Burt Jones & Maurine Shimlock, Dr. Mark Erdmann, Steve Weaver, Dr. Rachel Dodds, Steve Mussman, Sacha Greene-Belter, Dr. Douglas Fenner, Cheryl Patterson, Neil Van Neikerk, Jennifer Mills, Dana Krauskopf, and Dr. Carl Cater.
Do You Love the Ocean?
Reserve Your Ticket here at Eventbrite.
Connect with your Ocean Tribe at Blue Ocean Summit 2016!