Blue Mind 5: Live Stream

Monday, May 11, 2015 from 9:00 AM to 4:00 PM (EDT)
Event Details
BLUE MIND 5: URBAN BLUE
Can't make the live event? This is your chance to listen to the Blue Mind conversation as top brain scientists, oceanographers, explorers, educators, psychologists, and artists come together to consider the deep connection to our water planet as well as the cognitive, emotional, psychological and social benefits of keeping it healthy.  
Following on the heels of the New York Times best seller, Blue Mind: The Science That Shows How Being Near, In, On, or Under Water Can Make You Happier, Healthier, More Connected and Better at What You Do by Dr. Wallace J Nichols, Blue Mind 5 is the fifth annual convening of interdisciplinary professionals working at the intersection of brain science and conservation.
This years' summit will be held at the Carnegie Institution for Science in Washington DC and will focus on the theme of Blue Urbanism. Offering insight into our relationship between urban development and our waterways, deeper subjects within this context will include Story, Solitude, Sleep and Submergence and offer compelling testimony from experts in the field.
Join the conversation and discover how healthy waterways and oceans are vital to happy life.
#bluemind, #brainonwater, #livblue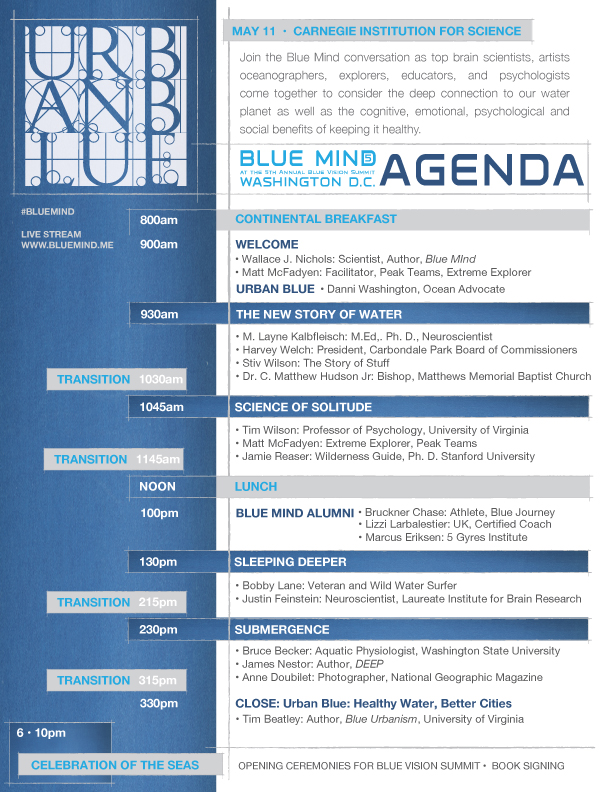 SPECIAL THANKS TO OUR EVENT PARTNERS:  PEAK TEAMS, iRESLAB, OCEAN REVOLUTION, PLASTIC POLLUTION COALITION, THE OCEAN FOUNDATION, SLOWCOAST, LIVBLUE, JULIE STARKE CREATIVE, MAX DAVIS COMPANY, GRAYCELOVESBOO, VENTANA SURFBOARDS, HARRINGTON DESIGN, OCEAN MATTERS, WOMEN WHO WORK FOR WATER
Organizer
Marine biologist, scientist and New York Times best-selling author of Blue Mind, Dr. Wallace J. Nichols, pushes boundaries to widely share the unique and timely message behind "your brain on water." Together with communications professional, Julie Starke, this Blue Mind team uses its vast network and engaging style to open the door to the cognitive, emotional, psychological, social and spiritual benefits of healthy water, changing the conversation for good.