Description
Only 50 miles east of Manhattan, Blue Island Oyster Farm offers a tour full of adventure and fun on the beautiful Great South Bay. The setting is beautiful and serene with gorgeous views of the Fire Island Lighthouse. There is no other place quite like it, anywhere: warm sunshine, salty fresh air, and breathtaking view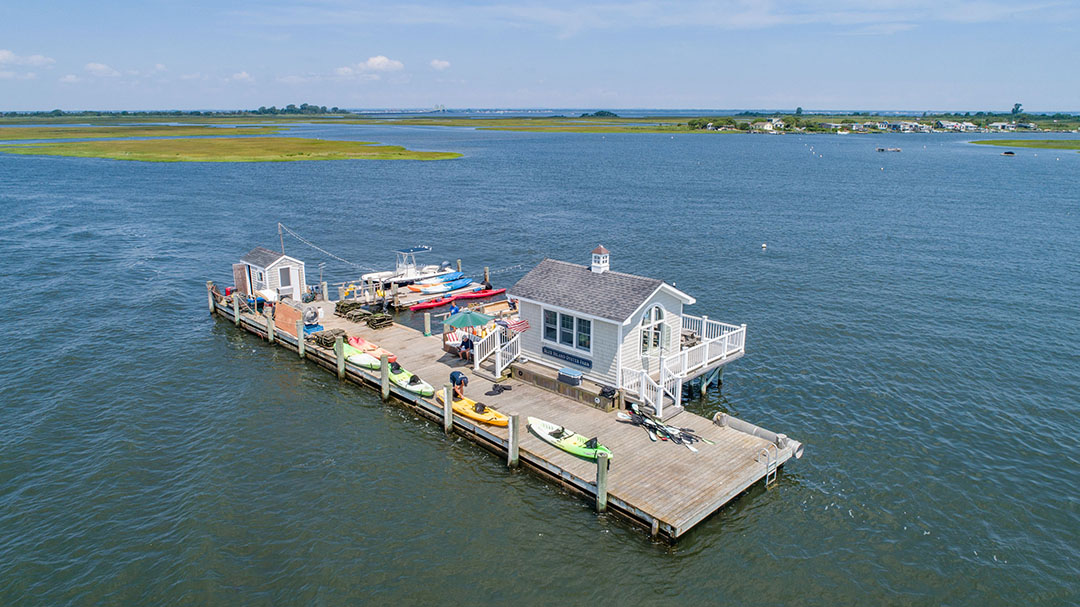 Photo: Blue Island Oyster Farms "Island Dock"
Our tour includes the following and lasts approximately 3 hours:
A traditional New England lobster roll picnic lunch with dessert.

Enjoy lots of farm fresh Blue Island oysters.

Guided kayak eco-tour around our oyster farm, the surrounding back meadows, and wilderness.

Provide your own beverages and our friendly staff will be sure to keep your glasses full.

Learn the history, biology & geography of oysters, as well as the tools and tactics of oyster farming and how our "Island Dock" and Oyster Farm works.

.
We recommend bringing the following

Sunscreen

Sunglasses and/or hat

Waterproof Camera or Phone Case

Bathing Suit

Towels

Water Shoes

A warm layer
Tour Meeting Location
Your tour will start with a short boat ride that departs from the dock directly outside the Bait & Tackle Shop at the Captree Boat Basin, located at 3500 E. Ocean Parkway Babylon, NY 11702. Please arrive there 15 minutes prior to the tour start time.

Costs

The ticket price is $100 per person plus sales tax and Eventbrite fees.

Tipping is not included but greatly appreciated. Recommended gratuity is 10 to 20%.

There is an additional $8.00 cash parking fee per vehicle that must be paid at the toll booth when entering the parking log. (Parking is free for valid Empire Pass holders.)
Please Note
Reservations are required either through this Eventbrite ticket sales page or placed over the phone with Blue Island staff. (Buying a ticket = making a reservation)

Space is limited on each tour, and dates do sell out, so please purchase your tickets early.

Reservations are made on a first-come, first-served basis. Therefore, tickets purchased online via Eventbrite, which is available 24 hours a day, can supersede any phone or email reservation requests submitted.

If you are redeeming a gift certificate, please see the certificate for any specific redemption instructions.

All guests must be 12 years or older.

All guests will be required to complete a waiver which we will provide for you to sign.
---
BLUE ISLAND GEAR
Blue Island Oysters T-Shirts and other items will be available to purchase during your farm tour. Selection and availability of additional items may vary.

Cash or Credit Cards accepted (Visa, MasterCard, AMEX)
---
FAQ's
What happens if the weather is bad and the tour is canceled?
If the tour is canceled due to poor or unsafe weather conditions we will try and reschedule. If that is not possible, you will be issued a full refund in your original payment method. If you used a gift certificate to pay then the gift certificate will remain unused and you can use it when you reschedule.
When will we know if a tour is canceled due to the weather?
Since storms can blow through that area quickly we monitor the forecast the days leading up to the farm tour. We will make the call when we are confident it will not be clearing out which could be as late as the early morning of the tour. You will only be contacted if the tour is canceled. If you do not hear from us, the tour is still on.
Is there a place where beverages can be kept cool at the farm?
Yes. We generally have cooler space available for you to keep your beverages on ice so they are kept cold until it's lunchtime.
Is there a place to keep my belongings dry?
Yes. We have indoor space on the dock to keep your belongings safe & dry
Do I have to bring my ticket to the tour?
No, you do not need to bring your ticket with you. We will verify who you are verbally when you submit your signed waiver.
Can I give my ticket away last minute if I can't make it?
Yes. As long as the individual attending is at least 12 years old and we get a signed waiver, they do not have to be the person who originally purchased the ticket.
Are there accessible bathroom facilities there?
Yes. There is one small bathroom located on the dock available for changing and quick bathroom breaks. However, we do recommend using the public facilities located outside the bait and tackle shop which is steps from the meeting point on the mainland noted above.
I saw a dog in some photos, will he be there?
Bosun is our friendly farm dog who loves to greet our guests and spend his weekends on the water. He's a medium size, well mannered, Vizsla who is present at most of our farm tours.
I have a food allergy, who should I tell?
If you have a food allergy that may be an issue with the lunch we provide please call or email to discuss how this may affect your tour. Email: Events@BlueIslandOysters.com or call 631.750.5986.
How old do you have to be to participate?
Due to certain physical requirements and the location of our farm, all participants must be at least 12 years or older to register and participate in our public farm tours.
Is there a way I can book a tour without paying online ticket fees?
Yes, we take cash check or money order payments, which can be dropped off at our West Sayville, NY office, at 136 Atlantic Avenue. Office hours are 9 am to 4 pm, Tuesday through Friday. If you would like to mail a check or money order you can do so to Blue Island Oyster Co., PO Box 31, West Sayville, NY 11796. Tour spots will not be reserved until payment is received in full. Ticket price per person to book via check or money order is $108.62, which includes sales tax.
How do I redeem my gift certificate online?
In late Spring, the summer farm tour dates and times will be listed on Eventbrite. You will use your redemption code as their "promotion code" when you make your ticket purchase to reserve online for the number of guests the gift certificate is for. Only 1 gift certificate code can be used per transaction, so if you are using multiple gift certificates you will have to do a new transaction for each gift card number.
Does my gift certificate have an expiration date?
Gift certificates that are purchased do not have an expiration date and will state that on the hard copy of it. If you don't use them one season you can use them the next season, or the next and so on and so on. Any gift certificates with an expiration date will have it noted on them.
Can I book a private tour?
Yes. Private tours are available to be booked for a $1000 minimum (plus taxes, fees & gratuity charges) on custom days and times. Call or email to inquire about your private grout tour.
I can't do a farm tour for some reason, can I use my gift certificate for something other than a public farm tour?
Yes. The amount paid for the gift certificate can be applied towards a private farm tour spot, or we can use the dollar amount towards other items we have to offer. Please contact our office to discuss your options, and we'll get back to you during our regular business hours. Events@blueislandoysters.com or 631.750.5986.
Can I get a refund for an unused gift certificate?
All gift certificate sales are final, but the paid value can be transferred to other items we have available. Contact us to discuss your options. Events@blueislandoysters.com or 631.750.5986.
Do you offer event insurance if there's a possibility I can't attend?
No. We do not offer ticket insurance. Any event ticket insurance offered would be through a third party at your time of purchase. We do not adhere to any refund policies other than those noted for weather-related cancellations as noted above. Any purchase made for event insurance is between you and the third party and can not to be claimed directly through Blue Island Oyster Company.

Photo: Blue Island Oyster Farm at Sunset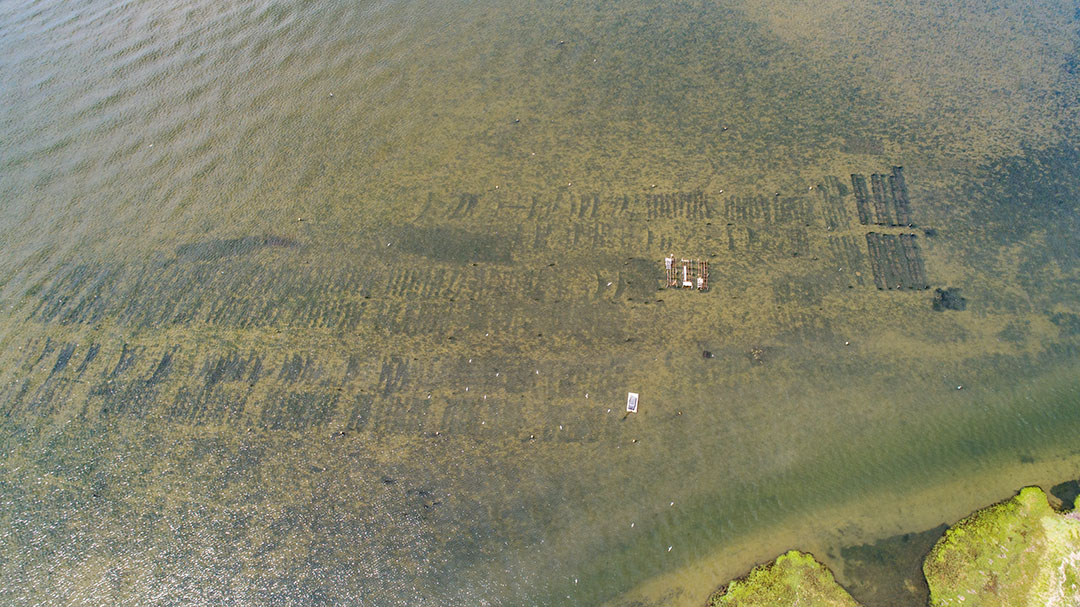 Photo: Oyster gear is set up out in the water to the North of the oyster dock at Blue Island Oyster Farm.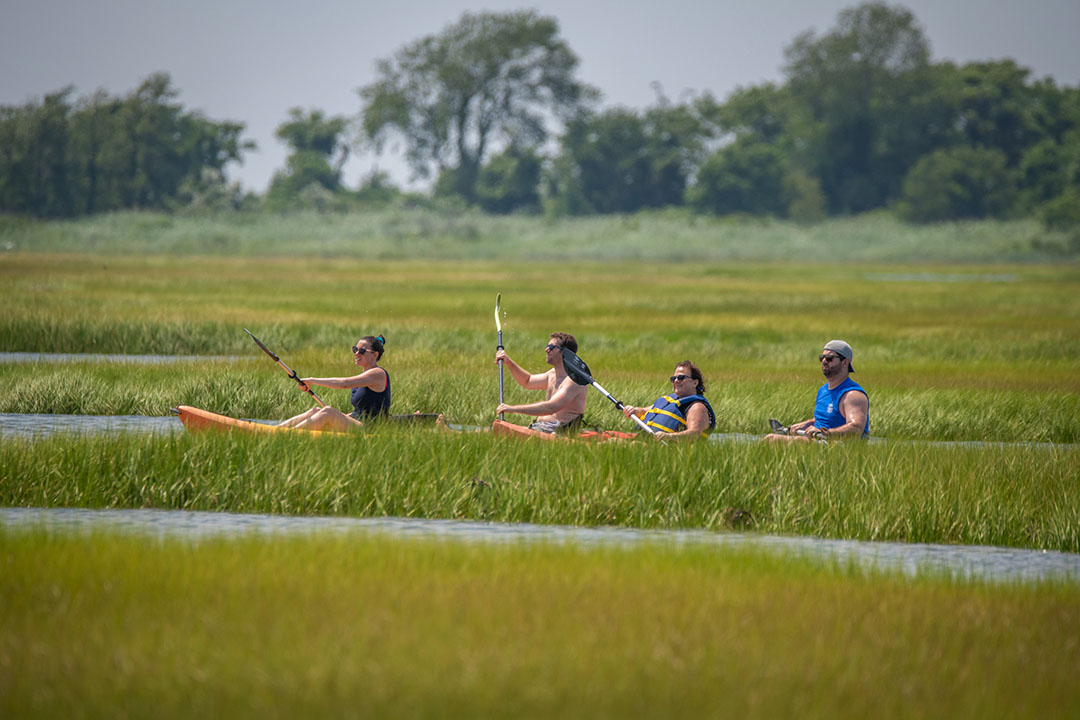 Photo: Blue Island Oyster Farm tour guests out enjoying the kayaking segment of the tour.