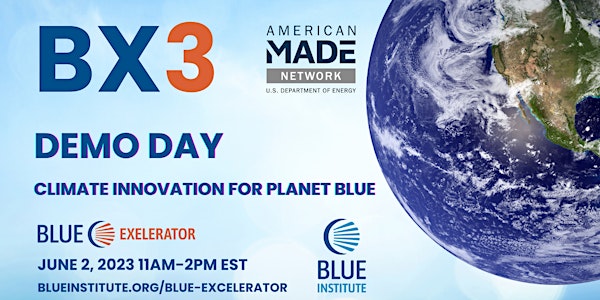 BLUE Excelerator BX3 Demo Day - Virtual
BX3 Cohort of ClimateTech Startups @ BLUE Excelerator will virtually showcase their innovations & field questions in one on one Zoom rooms.
Date and time
Friday, June 2 · 8 - 11am PDT
About this event
Blue Institute is proud to present the third cohort of amazing ClimateTech startups from our BLUE Excelerator (BX) program. The startups are working diligently in a 12 week program focusing on solving challenges around pilots, prototypes, stakeholder partnerships and funding mechanisms. They have been mentored by skilled, dedicated practitioners and received expert instruction from industry speakers.
Please join Blue Institute as we welcome these climate impact innovators, cheer on their presentations, and engage in one-on-on zoom meeting rooms for Q&A and in depth discussion after the presentations.
Explore the opportunity that YOU can help these startups with - a connection, introduction, pilot partner, university partner, industry partner, seed funding?
At the end of the day, all these collective, collaborative actions are for Planet Blue.
#togetherwearestronger #innovationforplanetblue #climateimpactinvesting
BX was created at our sister organization BLUE Institute Labs, a public benefit corporation, to serve advanced and disparate Climatetech, BlueTech and Blue Economy startups. BX consists of weekly topic expert presentations and ongoing mentoring from experienced in-field practitioners to support the design, development, deployment of each startups individual pilot, prototyping, and scaling needs. With the completion of BLUE Excelerator's Third Cohort BX3 Demo Day, Blue Institute is proud to announce that 30 Climate Impact Startups will have graduated from the program.