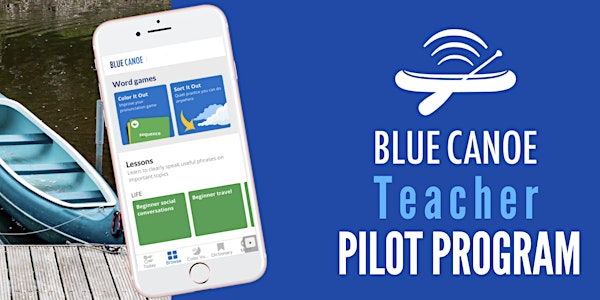 Blue Canoe: Information for ESL/EFL educators who work with adult learners
This session for ESL/EFL educators will introduce you to Blue Canoe, our Free 8-week Classroom Trial, and institutional pricing options.
About this event
Blue Canoe is a mobile app for improved English pronunciation and speaking confidence. Blue Canoe combines voice-recognition with artificial intelligence and the Color Vowel® System to provide learners with effective practice and useful feedback.
We are proud to launch the Blue Canoe Teacher Pilot Program to help ESL/EFL teachers and their adult learners get the most out of Blue Canoe from the start. Attend this session to learn more about Blue Canoe and how to launch a FREE 8-week trial of the app with up to 25 learners.
This free informational session will include:
a brief demonstration of Blue Canoe's word- and sentence-level games and activities
a teacher-friendly overview of the Color Vowel System that shapes the pronunciation feedback provided by Blue Canoe's revolutionary voice recognition system
practical 'next steps' for launching a FREE classroom trial through which you can provide up to 25 learners with Blue Canoe Premium for 8 weeks
a view of our Teacher Dashboard for tracking student engagement and individual progress
This information session is for teachers and school administrators who work with adult ESL/EFL students and young adults as young as 14 years of age. If you are an English learner, talk to your teacher about getting Blue Canoe through your school!
This session will be recorded and sent to all who register for this event.