The Blue Angels are coming back to the Bay for Fleet Week!
About this event
The Blue Angels are coming back to the Bay for Fleet Week!
Step aboard our beautiful, traditionally-rigged sailboat in Sausalito and set sail across San Francisco Bay. We'll be serving a gourmet Boxed Lunch (included in the ticket price) and Maritime Mimosa bar. What could be better? You'll be able to sit back, enjoy a good meal, and watch a world-famous airshow from the special vantage of the water. Grab your tickets while they last!
California Style Boxed Lunches
Artisan Sandwich Boxed Lunch - orders must be received in advance. Served with seasonal fruit salad, red potato salad, and individual dessert. Our team will be emailing you in advance to get your orders.
Itinerary
11:45 am - Board in Sausalito
12:00 pm - Departure
4:30 pm - Return to Sausalito
Schooner Freda B:
Schooner Freda B is a sea kind 80' gaff-rigged coastal schooner, making her one of the San Francisco Bay's most comfortable and traditional vessels to sail. Experience the romance of yesteryear and with a local, licensed Captain and Crew.
Our Captain and crew encourage guests to support Sausalito's Restaurants before boarding or upon return.
Please plan on arriving early to find parking and the boat.
We recommend parking in one of the municipal lots surrounding Sausalito Yacht Harbor. Parking costs between $2 and $4 per hour, and Parking Lot #3 (Google Maps) will be the most convenient.
Walk to 100 Bay Street in Sausalito and then continue walking north towards The Spinnaker Restaurant. You'll soon come across a wood boardwalk on your left that will lead you to our dock (look for the two red masts). The Schooner Freda B is located at Sausalito Yacht Harbor, Slip 465, Sausalito, CA 94965 (searchable as "Schooner Freda B" on Google Maps). If you are lost, see your ticket confirmation for the "boat phone" number to call.
What to Wear
Sailing on the San Francisco Bay offers ever-changing views and exciting microclimates. Weather can change in a minute. Windbreaker, warm base layer, gloves, hat, scarf, sunglasses, and comfortable shoes are strongly encouraged. NO HIGH HEELS.
We can no longer offer blankets on-board, but you're welcome to bring your own!
Restroom
Freda B offers a public restroom on board. Restroom is available one at a time. We do recommend using shore facilities as a priority prior to sailing. Restroom is disinfected by crew after each use.
Tickets
Advanced reservation is required for all passengers, including babes in arms. Passengers 17 and under must be accompanied and supervised at all times by an adult. All tickets must be purchased in advance, and full contact information is required for all passengers. Tickets are transferable up to 48 hours prior to sail. A new name and contact information associated with the ticket is required in order to create an accurate roster for the Coast Guard and contact tracing.
Give the gift of sailing, a perfect present for all the sailors in your life. Gift certificates are always available for purchase and guaranteed to put a smile on everyone's face!
Link to purchase gift certificates
Groups of 6 or more
Private groups of 6 or more are encouraged to consider a private charter on San Francisco Bay.
CIMBA - 32' Grand Banks, downtown Sausalito, 2-10 guests
FREDA B - 80' Schooner, downtown Sausalito, 2-49 guests
COVID-19
For your safety and ours, Schooner Freda B requires all guests arrive wearing masks (covering both mouth and nose) and keep masks on while boarding, underway (unless eating/drinking), and disembarking. Captain and Crew are also required to wear masks .
Guests must board and disembark 1 guest at a time, 6' apart. Forehead temperature check and hand sanitizer are required for all guests boarding the vessel. If a guest has an elevated body temperature they will be asked to reschedule, or will be offered a refund.
Link to Freda B COVID 19 Guidelines
Weather
Sailing on the San Francisco Bay is weather dependent. We sail in most weather, including cold, wind, fog, and light showers. On occasion, we will need to reschedule a sail due to extreme wind or rain. If this is necessary, you will usually be notified within 24-48 hours of the scheduled sail.
If the Captain must cancel due to weather, our sales team will work with you to reschedule or refund your order. The Captain and Crew monitor the most sophisticated weather channels to make every effort to bring you information in the timeliest manner. We apologize in advance if the weather complicates any special occasion plans.
Guest Cancellation
Due to the popularity of this sail we do not offer guests an option to cancel or reschedule within 7 days. If you need to cancel please do so at least 1 week in advance. For extreme emergency situations within the week of sail, please contact the ticket desk with your reason at tickets@sfbayadventures.com.
For more information, please check out the Public Sail FAQ page.
We look forward to welcoming you aboard!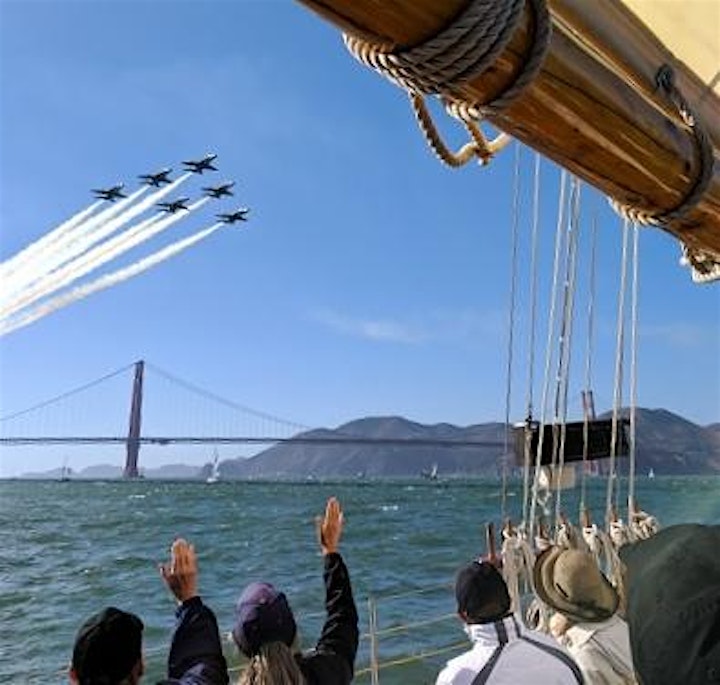 Organizer of Blue Angels Spectator Sail - Fleet Week 2021
SF Bay Adventures is the premier boating, event, and tour resource for the San Francisco Bay. Headquarters are located on the North side of Golden Gate Bridge, in beautiful downtown Sausalito. SF Bay Adventures has been helping people experience on the water from another vantage point for over 20 years.
The flagship vessel, Schooner Freda B, is one of the Bay's most popular sailing yachts for locals and visitors alike. Schooner Freda B is an 80' sailboat built along the same lines as the traditional tall-ships from the 19th Century, known for their upright, comfortable and stable sailing. The hospitality onboard Freda B is unmatched on the San Francisco Bay. 
We look forward to welcoming you aboard!