BLS Boston Data Users' Conference
Description
You are invited to attend the Bureau of Labor Statistics (BLS) Data Users' Conference on December 1, 2017 in Boston, Massachusetts. William J. Wiatrowski, Acting BLS Commissioner, will discuss the Bureau's Principal Federal Economic Indicators. Join us to get the facts about U.S. productivity; pay, benefits, and working conditions; and labor market developments in the nation and region. This conference will give you the opportunity to speak with regional experts about the data the BLS produces.
---
Event Presenters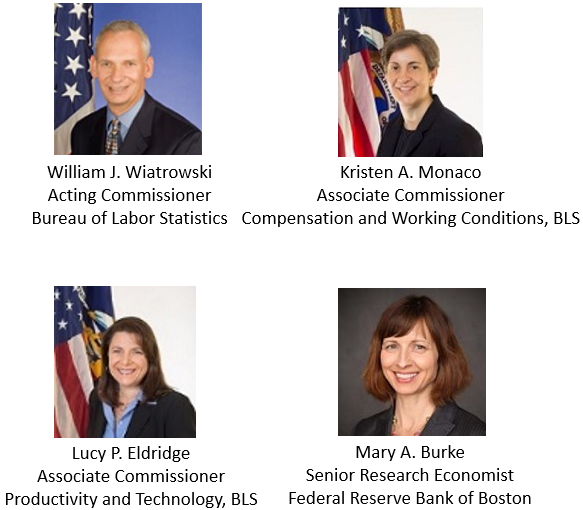 ---
NOTE: Due to security measures, registration and government-issued photo ID will be required for admittance to the Boston Federal Reserve bank building. Space is limited. Registration is required no later than Friday, November 17, 3:00 p.m.

***
Coffee and light refreshments will be provided.

---
Agenda
8:00 a.m. Check-in opens
9:00 a.m. Welcome and opening remarks
Deborah A. Brown, Regional Commissioner, and Tim Consedine, Regional Economist
9:15 a.m. Keynote Address
William J. Wiatrowski, Acting Commissioner of the Bureau of Labor Statistics
10:00 a.m. Using BLS Data to Analyze the Pay, Benefits, and Working Conditions of U.S. Jobs
Kristen A. Monaco, Associate Commissioner of the Office of Compensation and Working Conditions, and Mariah Arraya, Economist
10:45 a.m. Open House: Speak to your own BLS expert!
11:15 a.m. Labor Force Participation in New England vs. The United States, 2007-2016: Why was the regional decline more moderate?
Mary A. Burke, Senior Research Economist for the Federal Reserve Bank of Boston
12:00 p.m. Highlights of Productivity Statistics
Lucy P. Eldridge, Associate Commissioner for Productivity and Technology
12:45 p.m. Closing remarks
Tim Consedine, Regional Economist
12:50 p.m. Open House: More time to chat with your personal BLS expert!

---
Contact Information
Please forward this invitation to any colleagues who may be interested in the event. If you have any questions, please contact the BLS New England Information Office at (617) 565-2327 or send an email.
US Bureau of Labor Statistics, New England Regional Office

---
FAQs
Is it ok if the name on my ticket or registration doesn't match the person who attends?
No. Due to security measures, the person attending must match the name that is registered. If you need to change the name of the person attending, please call (617) 565-2327 or send an email.

Are there ID requirements to enter the event?
Please bring a government-issued photo ID.