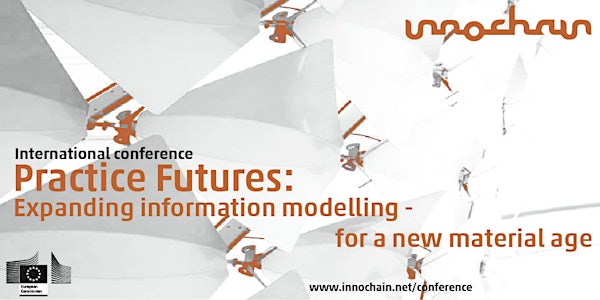 BLOXHUB & Innochain Pre-Conference Workshops - Practice Futures
When and where
Location
BLOXHUB: BLOX Bryghuspladsen 8, Entrance C, 3rd floor 1473 Copenhagen Denmark
Description
BLOXHUB and Innochain invite to a series of Workshops, which take place before the Innochain Conference "Pactice Futures" http://innochain.net/conference/ . These workshops introduce participants to new tools and practices for the building industry, which have been developed in the Innochain projects. Each of the workshop addresses a key challenge in our current architectural, engineering and construction practice. The aim is to introduce participants on a conceptual and technical level to new tools and provide sufficient space for participants to experience and work with the tools hands on and to trigger a discussion and positioning of the innochain developments in their current and future practices.
Participants are hence asked to bring their own laptops and projects along in order to test and contextualise the innochain solutions. Participants have as well the possibility to present their own approaches and challenges and discuss in the group ideas for future developments.
An informal social bar at Bloxhub will conclude the day. Herein participants of the workshops, Bloxhub members and guests of the next days' Innochain conference at Blox, which are already in Copenhagen can join and mingle. Workshop thematics and results will be shown, as well as anyone else has the opportunity to present projects and ideas related to the general topics of the day.
The three workshops are:
Workshop 01 - Machine Learning for Design, Optimisation & Search
Faciltiator: Zeynep Aksöy (IOA Vienna)

A quick assessment of all kinds of building performances is a pressing need in early design stages. Current tools and practices for analysis are however still based on the assumption of a linear a linear process starting with the early design draft, to engineering analysis – to optimisation. This process is time consuming and costly - and based on inconsistent digital systems. Machine Learning on data from current, past and build projects presents a possibility to close this gap.

This workshop examines how architects and designers can use data from their own internal as external sources to negotiate between performative design objectives and aesthetic aims. The aim is to initiate a discussion on how this awareness can positively influence optimisation procedures in later design stages and how how a multi-disciplinary dialog can be triggered between professionals and stakeholders to understand the nature of the design problem early on.
Participants will gain:
How to introduce generative processes at the very beginning of the design

How to create an interactive environment that give designers the possibility to develop their designs while evaluating and improving them in real time.
Experience with a design framework, which allows professionals to define and evaluate design goals from the early phases on.

Insights how almost real time feedback can be introduced in these processes on the example of structural analysis with Karamba 3D
Workshop 02 - After Flux - Connecting Building Models project and office specific with Speckle - Open Source BIM collaboration
Facilitator: Dimitrie Stefanescu (UCL)
The current proliferation of different design platforms make it difficult to share information easily within the building industry, as current digital design data is fragmented and creates cut off points in the design chain.
This workshop, puts forward the shared platform Speckle , through which different stakeholders can communicate and share information across design stages, thereby paving the way for a more inclusive design process. Contrary to current interoperability platforms, which are black boxed and based on fragile business models, Speckle is open source, transparent and adaptive to the highly specific needs of companies and projects. The tool is carried by a 300+ strong community that is growing continuously, both in terms of supporters as well as actual contributors, with leading international companies from the AEC industry starting to engage.
Workshop participants will
be introduced to the concept and paradigms of the Speckle digital infrastructure framework,

investigate in a hands on way, how to connect their specific data models with other models,

explore how the social and informal aspects of the everyday practice between companies and disciplines can be integrated in the model.
Workshop 03: Virtual Construction with Assembly Information Modeling
Facilitator: Ayoub Lharchi (KADK)
While digital tools support architects, engineers and constructors in almost all aspects of design and manufacturing, the planning and design for the assembly of buildings remains an area which takes only place in late stages of design. This workshop will introduce an approach to represent, simulate, visualize, communicate and potentially optimise assembly processes and data called "Assembly Information Modeling". This digital model can be used for different purposes such as collaborative design on cloud-based platforms, robotic fabrication, assisted assembly and many others.
The participants of this workshop will learn:
How to enrich building models with detailed assembly information.

How to generate an Assembly Digital Model from existing CAD models, such as Rhino3D.

How cloud based tools (eg. Autodesk Forge) can be used for further processing and finally representation of the assembly Model in AR.

How can algorithms be used to detect problems within the assembly sequences.

How to use the digital model for an assisted assembly using a augmented reality device (Microsoft Hololens)