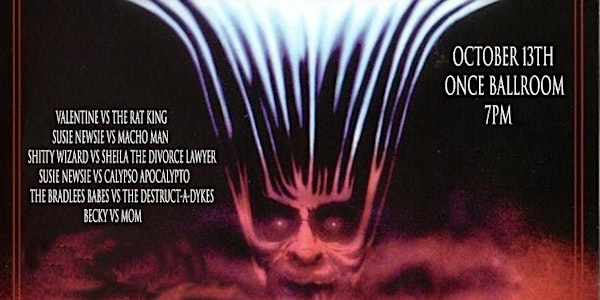 BLOWWLOWEEN III: SEASON OF THE SWITCH
UNDER 18 WITH PARENT OR LEGAL GUARDIAN
Location
ONCE Ballroom
156 Highland Ave
Somerville, MA 02143
BLOWWLOWEEN III: SEASON OF THE SWITCH AT ONCE BALLROOM
About this event
In a month—full of spooky things—there is one Halloween event you won't wanna miss—and it is the third iteration of our weirdest, wildest show of the year, BLOWWloween! The following contests are scheduled for THIS fall. Please do not sleep on getting your tickets for:
BLOWWLOWEEN III: SEASON OF THE SWITCH
The athletes at BLOWW have been having a hard time getting any work done lately. Morale is down ever since Becky took over as the owner of BLOWW, and now that the Bradlees Babes are back together, they are being a general obnoxious nuisance, slapping each other with sticky hands, and not doing suuuper great at reintegrating into the year 2019 from the 90's. Also, they smell like mall cheese.
Overthrowing Becky will still take some time, but at least, the Bradlees Babes can be contained. Cassie Nova, space heel from the distant future, set up the babes with a 90's themed wrestling ring holographic program in the spare room, and the rest of the league can get some work done while they tucker themselves out in there.
However, the 90's wrestling program is too much fun to not share with our adoring fans, and 2019 fucking sucks in this timeline anyway, so if you are so inclined, please join us for a 90's-Halloween-wrestling event full of arm drags and uh, regular drag.
TLDR: COME TO OUR NINETIES HALLOWEEN WRESTLING SHOW THAT ALSO HAS DRAG PERFORMANCES.
Audience members are encouraged to come dressed as your favorite 90's character, wrestling related or not. There will be a costume contest! With prizes!
We will be doing another DRAG HALFTIME SPECTACULAR with performances from:
Micheal Geary
Complete Destruction
Violencia Exclamation Point
and more TBD!
Wrestling matches? We got those too. We will have athletic feats from talented wrestlers such as:
Mom
Rat King
Shitty Wizard
Sheila the Divorce Lawyer
the Bradlees Babes
the Destruct-a-Dykes
Valentine
Calypso Apocalypto
Susie Newsie
and...
...Becky I guess.
We have commentating from the Sparkle Squad (Queerasaurus Rex and Gemma the Bisexual Unicorn), reffing from Broox, and tunes from Black Wednesday
We will also have vendors upstairs, so come at doors and try on some fabulous binders from Shapeshifters Inc (who we are SO thrilled to have at our show)
Doors at 7
First Bell at 8 (come early to shop and dance with us!)
At Once Ballroom
We are also working to try to make our events as accessible as possible. For this event, we will have mostly standing room, but will have a seating section for anyone who wishes to use it as well as wheel chair seating. If you would like to give us a heads up on what we can do to make the show/space more accessible to you, please send us an email at contactbloww@gmail.com.