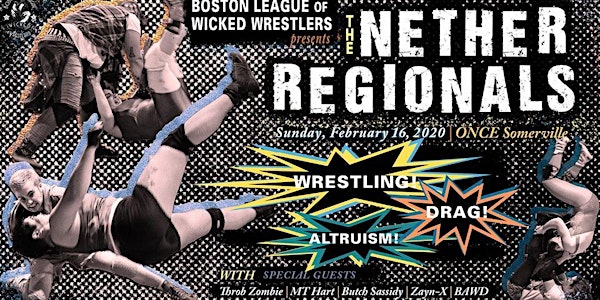 BLOWW: Nether Regionals 2020
UNDER 18 WITH PARENT OR LEGAL GUARDIAN
Location
ONCE Ballroom
156 Highland Ave
Somerville, MA 02143
BLOWW: Nether Regionals 2020
About this event
BLOWW's badass athletes are back to kick ass this lovey dovey Valentine's Day weekend. We are celebrating the most manufactured capitalistic holiday on the calendar the best way we know how: with wrestling, other drag, our yearly feelsy zine, and a donation to an organization that does good in this world. This year, we are showcasing and donating to Youth on Fire, a drop-in center for homeless and street-involved youth, located in Harvard Square. In addition to an opportunity to donate when you buy your ticket, we will also be donating a portion of our show profits directly.
We have spent the winter rolling around in our very own wrestling ring, and are ready to show you what empowered queer consensual skin to skin punchies looks like. Prepare to pop for feats of athleticism from the likes of: Becky, Mom, Rat King, Valentine, Shitty Wizard, Cherrill, Susie Newsie, Sheila the Divorce Lawyer, The Sparkle Squad (Queerasaurus Rex and Gemma the Bisexual Unicorn), Punky Bruiser, Calypso Apocalypto, Cassie Nova, and quite possibly, more!
We are also thrilled to be working with some amazing drag performers this show: Butch Sassidy will be serving us in-ring announcer realness, MT Hart and Zayn-X will be color commentating AND performing, and we will have a very special guest performance from fearless leader of the Slaughterhouse Society, Throb Zombie. Our brethren in violence, the Boston Arm Wrestling Dames (BAWD), will also be dropping in for some friendly competition as well!
Thank you for supporting us, we are so excited to keep growing, and to have the ability to donate to institutions that are important to our community. We are at a critical growing period for our own organization, and invite you to subscribe to our Patreon (!!!) which launches on 1/12, and will feature exclusive content, and access to our previous matches. Patreon subscribers will receive a special give at our show if you sign up, as a token of our affection. Your support means the world to us, and we wouldn't be able to have such a rad league without you, our wonderful patrons.
So, come out! It will be a great time! We will love you and lift you up and be your valentine this year, you can count on it. Three count. That's a wrestling joke.
Tickets available online soon!