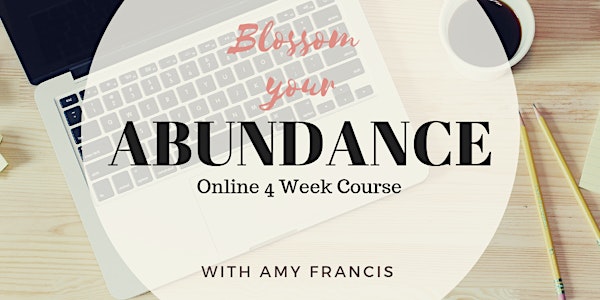 BLOSSOM YOUR ABUNDANCE- Live Online Course
When and where
Location
Tele-Seminar Dial in number: 605-475-4707 Email will give you your Access code to use after calling. 84020
Refund Policy
Refunds up to 7 days before event
Description
​This Course was a catalyst to helping me get out of hundreds of thousands of dollars of debt. As I continued to use many of the meditations and tools, it helped me attract in 2 years: $100,000, my dream house and car, ideal relationships such as deep friendships and healthier marriage, just to name a few.

In the 4 weeks I will help you get very clear about what you intend to manifest with Clarity Worksheets and then you will be releasing and healing at the most powerful energetic level with Light Body Meditations. If you look up light body meditation, you will find it is the most powerful meditation you can do! See more about Light Body Meditations.

HERE ARE THE TOPICS WE WILL COVER IN EACH CLASS:
WEEK 1

​GET MAGNETIZED
Learn to TURN ON your abundance "magnet" to draw in your desires. This week you will reprogram at a cellular level for abundance.

AWAKENING YOUR ABUNDANT SELF:
Talk to the part of you (sub-personality) that creates your prosperity and abundance. Talk to it, and give it a new vision of who you are and what you want. This is one of the most powerful techniques known for creating rapid changes in your reality.

BONUS:
"12 SIMPLE ACTIONS TO CHANGE A THOUGHT" LIST
"HOW TO USE AFFIRMATIONS FOR BEST EFFECTIVENESS" PDF +
"HOW TO CREATE YOUR OWN VOICE RECORDED AFFIRMATIONS FOR MOST POWERFUL EFFECTIVENESS"
LEARN YOUR 1ST POWERFUL TOOL FOR YOUR ABUNDANCE TOOLKIT
........................................
WEEK 2

INCREASING TRUST PROCESS:
You can have anything you want-more money, love, success, friends, health, and free time. Learn to receive, believe you deserve, and open to unlimited joy and prosperity. Increase your trust in yourself and the universe.

RELEASE FOR SUCCESS:
Release your fear of success or failure. Imagine success in every area of your life; go beyond any previous limits, and allow yourself to have your dreams. Become more confident, accept and love yourself, and feel successful.

BONUS:
"ALLOWING SUCCESS PLAYSHEET"
LEARN YOUR 2nd POWERFUL TOOL FOR YOUR ABUNDANCE TOOLKIT
.........................................
WEEK 3

CLEARING BELIEFS AND OLD PROGRAMS:
Your life can change rapidly when you change your beliefs, for your beliefs create your reality. This is a powerful and life-changing process to release beliefs that are not working and establish new ones.

CLEARING YOUR ENERGY FIELDS:
​Work on the energy fields around your body to increase your ability to hold and to attract abundance. As you increase your vibration you become magnetic to all the forms, sums of money, weight loss, etc and people that serve this new level.

BONUS:
"TRANSFORMING YOUR BELIEFS PLAYSHEET"
LEARN YOUR 3rd POWERFUL TOOL FOR YOUR ABUNDANCE TOOLKIT
........................................
WEEK 4

LINKING WITH YOUR PURPOSE:
Finding assistance in creating more and fulfilling your higher purpose.
​
RELEASING DOUBTS & FEARS:
Become more powerful and confident. Let go of any fears that may be holding you back from having abundance. Believe in yourself and your unlimited capacity to create prosperity and anything you want.

BONUSES:
"PROSPERITY GAME INSTRUCTIONS & GAME TOOLS"
"TRUSTING THE PROCESS PLAYSHEET"
"SUMMARY OF ABUNDANCE PRINCIPLES" TO FOLLOW

..........................................
​
COURSE DETAILS YOU NEED TO KNOW:
* This Abundance Course will be live, group webinar sessions, during which, you will be taken through a work page and 2 extremely powerful Light Body Meditations by Amy, every session. These meditations go to the core of your energy system and restructures it according to the intention of the meditation.

* These sessions will be recorded, so if you are unable to attend a session, you will have it to use.
​
* Meditations are recorded separately and available as a downloadable MP3, to be used anytime.​​
........................................
HERES WHAT A OTHERS ARE SAYING:
The day after our first class I felt inspired to use a coaching process that Amy taught me while ago, called "clear the clutter" so that I could physically create space to manifest more clients because it had been a slow few weeks. So I did it and a few days later I had an old client come back and bought a pretty good sized pkg. Also on the same day I had a current client buy a another pkg AND a $200 program for her sister. I made more than $1000 in matter of a few days and I feel more coming. AND on the same day...(seriously) a new client I had been working with, referred me to a wellness center that wants me to teach some classes. Which will give me the opportunity to promote myself and programs.
​
Sometimes just staying in a high positive vibration of energy for long enough can get you back on the right track!! I think this worked so fast on me because I have been trying to work on manifesting more already but didn't have all the tools or know how to work on my energy like these meditations do. These classes were a HUGE catalyst for me because the light body meditations did the work for me that I didn't know how to do by literally magnetizing my energy for me! This stuff is so fun!
Amanda B
.....

I have had little mercy in my life in the recent days. Have felt so alone and unwanted. So my focus was manifesting love.
After one of the classes, I was so blessed by my grandchild telling me she loved me and...she wanted to sit on my lap. And another grandson on same day looked me in the eyes with love love, love...
Then that evening I received a message from grandson in Mt. Expressing to me his gratitude for my caring and caring for him and his dad and his family.
I was overcome with emotion....my heart still sings
Joann H.
.....

Amy, the Lord works through you to help so many. I know yesterday with clearing you did on me, changed my whole outlook on life
I'm feeling so free and happy again. Thx my dear Amy. What a difference between negative & positive energy. I'm alive....Yay
Wanda A
.....

Today during our session, my focus was on a fundraising event we hold each year. There are a few things I'm hoping will happen this year. That was on my mind. Only a few hours later, I had a presentation at a local high school for a club that wanted to get involved and so some service. I showed up, presented my info, and then one student mentioned his dad worked at Facebook. I gave him my contact info and asked him to share it with his dad...if he had any pointers he could pass them along. If not, no big deal. I just got a message from him and he not only has some ideas, but has money he can use from Facebook to fund some of these ideas! I'm not sure where it will lead, but I thought that was a pretty immediate response to our session today. I'm excited :) New development: I received an email from a new website that was launched a year ago. They offer resources to help people find local gyms, events, etc that promote being healthy. They want to share our info on their website to help promote Sweatin' for Sammy. For free! I'm feeling pretty happy about this. Thanks Amy!
Jenny G
.....

Amy told us to be on the lookout for signs that we are aligning ourselves with our desires and looking for manifestations that it's working.
We have a bunch of things that need to be done around our house and so I decided to manifest money so we don't have to go into debt to do them. Tonight I was at my sister-in-law's birth of her first child. As I was coaching her through her contractions her midwife said to me, "Angela, you could make a ton of money being a duola." I was pretty excited because I have had a hard time seeing that I have any skill worth being paid money for, let alone "a ton of money". So I'm pretty thrilled to see that I'm making progress and inviting options of ways to bring money into my life. Yay universe! Thank you!!!
Angie H

.....
Thanks Amy for the great class. I discovered fears that need to be dissolved. Loved the box analogy. I kept picturing powerful blinding light bursting outward. It felt so good and was so relaxing!!
​Troy H.
​