Event Information
Location
Wandesford Quay
Wandesford Quay
Cork
Ireland
Bloomers X Rachel Botha Publication Launch Workshop
About this event
Rachel Botha is an early-career curator who, with support from Bloomers editorial team, has brought together perspectives from artists, writers and activists exploring community, care and collaborative practices to produce a print publication. This year, Bloomers Emerging Editor Award is held in partnership with Wandesford Quay and responds to themes resonant with the Living Commons' The Self Assembly structure, installed as part of the Arts Council's In the Open | Faoin Spéir programme.
This event will welcome The Radical Institute's co-founder Eve Olney, who will be speaking about holistic, ecosystemic, feminist and collaborative methods of making, cultures of care and anti-burnout practices. Following this talk a 1-hour workshop will ensue, allowing 15 participants to generate a creative response to themes explored by this project.
A canopy/pavilion designed by The Living Commons was installed to be used for the duration of the programme at the Wandesford Quay Complex, Cork. This is called The Self Assembly and is a covered area with modular seating and work surfaces, to allow for socially distanced workshops, talks etc. This is a temporary structure that can be flat packed into a trailer for moving away. It is estimated it takes 2.5 hours to fully assemble and 2.5 hours to take down. As well as being used for the main events programme, the structure can be booked by members and the organisations at WQ to host talks, launches, events, seminars etc. and is intended for multi-function use.
This event is supported by Backwater Artists Group, Cork Printmakers, the Lavit Gallery and Cork City Council Arts Office through the Arts Council of Ireland's In The Open – Faoin Spéir award: A curated programme of multi-disciplinary, inclusive arts activities in community outdoor spaces running from July 2021-April 2022. #InTheOpenFaoinSpeir
For full Faoin Speir events programme and booking details visit https://corkprintmakers.ie/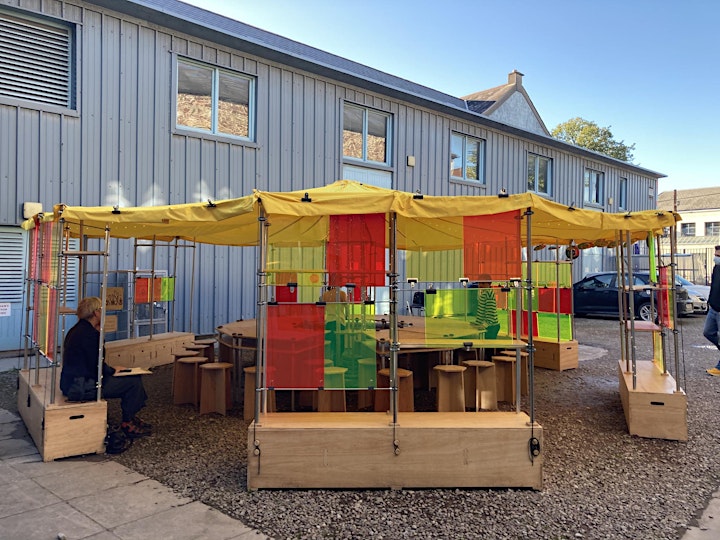 Date and time
Location
Wandesford Quay
Wandesford Quay
Cork
Ireland