Event Information
Refund Policy
Contact the organizer to request a refund.
Eventbrite's fee is nonrefundable.
Learn how to adapt, rehearse, direct & design theatrical performances online! Presented by In Full Color & special guest Benjamin Abraham
About this Event
Are you interested in learning how to create theater or other live performance for the virtual space?
The team behind In Full Color 2020, a virtual multimedia showcase featuring women of color, will share how they took their production from inception to execution, both from an artistic and technical standpoint. Platforms discussed include OBS Studio and Zoom. Presenters include IFC founder/director Summer Dawn Reyes, technical director and board member RescuePoetix and assistant TD Crystal Davis.
Special guest Benjamin Abraham, director of Shattered Space, will also share his expertise on devised and interactive theater.
Each group will share samples of their virtual theater work as well as discuss practical applications and the future of the medium. Q&A will follow.
Folx of all genders and colors are welcome to join!
Free Livestream Preview - Wed. Dec. 2 @ 4 p ESTNew to Zoom, OBS & the concept of virtual theater? Watch this first! Available on Facebook Live on the In Full Color page.
ABOUT IN FULL COLOR
In Full Color is an award-winning organization that empowers women of color through education and the arts. We lead a storytelling revolution called Authentic Representation in theater, visual art, comedy, music, dance and other media. We empower women and other BIPOC of marginalized genders to be their best selves. We also educate, entertain and engage audiences of all colors and genders about diversity, equity, inclusion and justice. For more information, visit http://www.InFullColor.org
ABOUT THE PRESENTERS
Summer Dawn Reyes is the founder and director of In Full Color, an organization that empowers women of color through education and the arts. IFC has received two commendations from the New Jersey State Assembly and the Jersey City Arts Council's Performing Arts Award. Summer is also the co-founder of 68 Productions and the winner of the Permanent Career Award in Literature from the Society of Arts and Letters-NJ and the N.J. Governor's Award in Arts Education. She's also an events coordinator, arts journalist, writer, actress and teaching artist. @infullcolorus_
RescuePoetix™ is a New Jersey native with deep family roots in Puerto Rico. Writing since she could remember, she found her performance voice and fell in love with Jersey City's underground Arts diversity. She has over fifty original works recorded and developed collaborations from all corners of the world. Releases are available at a variety of online portals. RescuePoetix™ poetry is motivational, uplifting and empowering; designed to connect on a level far deeper than what the eye can perceive. Spinning verses in Spanish and English, her words weave stories of strength, growth, experience and love in its many evolving forms. @rescuepoetix
Crystal Davis is the author & creator for Crystal Letters. She was born and raised in Jersey City. You can see her creativity through her abstract paintings, photography and poetry. Crystal is a freelance writer, editor and through Crystal Letters, she provides writing and marketing services in JC and NYC. She is an in her words Alumna and was featured in our Quarantine Cuties IG Live series! She was also assistant technical director for IFC2020. @crystallettersofficial
Benjamin Ernest Abraham is an Asian-American director/producer/playwright based in New York whose works investigates our collective and individual memories to build community. Ben's work has been seen at the Cherry Lane Theater, The Tank NYC, the Kraine Theater, the Dixon Place and online. Previously, Ben was an assistant director at Asolo Repertory Theatre. As part of his online immersive theatre company, the Scattered Players, Ben directed the sci-fi themed Shattered Space and most recently finished producing the Scattered Players' second production, The Battle of Broken Mirrors. Ben is part of The Scattered Players and Step1 Theatre Project. benjaminernestabraham.com
Shattered Space trailer: https://www.facebook.com/thescatteredplayers/videos/294629058594351/UzpfSTE1MzQ0NzIwMTcxODg4MzpWSzo1NzkzODY5Njk1MjA3Nzg/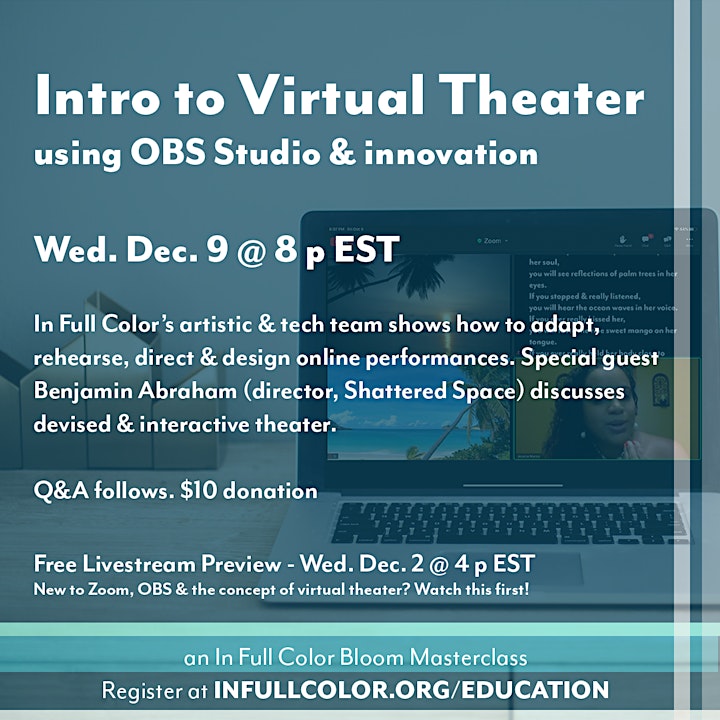 Date and Time
Location
Refund Policy
Contact the organizer to request a refund.
Eventbrite's fee is nonrefundable.