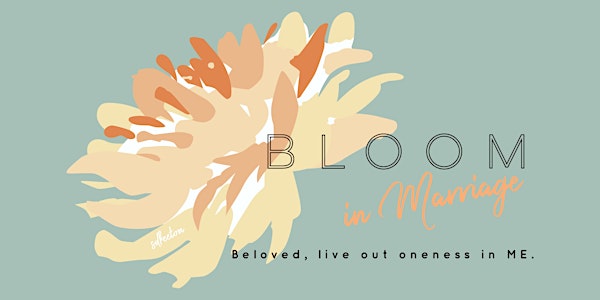 Bloom in Marriage Retreat 2023
BLOOM IN MARRIAGE RETREAT 2023 @ CAMP MIVODEN - HAYDEN LAKE, ID DEADLINE TO REGISTER: MARCH 27, 2023
Date and time
April 7 · 3pm - April 9 · 3pm PDT
Location
Camp MiVoden Retreat & Conference Center 17415 East Hayden Lake Road Hayden, ID 83835
Refund Policy
Refunds up to 30 days before event
Eventbrite's fee is nonrefundable.
About this event
Are you looking to enrich a healthy relationship, revitalize a tired one, or rescue one gone awry? Do you yearn to reconnect and grow closer to your spouse? We all want a lifetime of love, support and faith, but sometimes we need a little help. The Bloom in Marriage Retreat Weekend is designed to help couples grow in their faith, learn new tools to strengthen their marriage, inspire hope and rekindle the spark. Relationships under fire may even begin the journey of healing.
Our theme for this weekend:
Pray Big! God can do so much more!
This year's speakers: Rick & Cindy Mercer
Rick was a former CPA and poultry farmer who was living a life of fast parties, alcohol, drugs and lust. Unknown to Rick, his wife Cindy was being called to pray and fast for her husband rather than walk away from the marriage. Over a seven year period, Cindy prayed persistently, refusing to give up on the promises of God found in Hebrews 7:25, "Wherefore, He is able to save them to the uttermost that come unto God by Him seeing He ever liveth to make intercession for them." And God worked a miracle in their life! You will be encouraged as you journey through their story. They will take you from a marriage once destined to be destroyed and then share how they found purpose in their pain. The Mercer's greatest passion is sharing the power of prayer which is the main ingredient for enriching marriages and relationships. They will share with you how to gain victory and break the bond that Satan has on our families.
Rick serves as the Ministerial Secretary for the Oklahoma conference and Cindy serves as Prayer Ministries Director. She is a Registered Nurse and the author of Pray Big....God can do so much more!
Rick and Cindy find tremendous joy in sharing with others what God has and continues to do in their life today. They are actively involved in a variety of ministries which include prayer, addiction counseling, marriage restoration, men, women and youth.
Check them out at http://www.mercerministries.com
2023 Bloom in Marriage Retreat speakers: Rick & Cindy Mercer
Camp MiVoden - Hayden Lake, Idaho
Our intent is to fortify our oneness in Christ, and improve our understanding of God's ultimate design for a loving marriage, while providing opportunities for creating deeper connections with our spouse.
Please join us for this impactful weekend.
We are praying that this event will honor God and be a blessing to your marriage.
Your Bloom in Marriage hosts,
Steve and Debby Keeton
Notes:
• Register soon. The best rooms will go fast! ;)
• Click the green "REGISTER" button (or the red "TICKETS" button) to see pricing options and to register.
• THIS IS A CAMP, NOT A HOTEL. ;) There are different price options for apartments, guest rooms, cabins, basic dorm rooms (queen, double & twin bunks), and full hook up RV sites.
• There is also an option for ENGAGED AND SEPARATED COUPLES to attend. As well as an option for DAY ATTENDEES ONLY. (Scroll half way down on the registration page to see those options.)
Schedule of Events:
Friday:
3-5 pm • Arrive/Check-in/Relax
5-6 pm • Welcome/Session 1 (Maple Auditorium)
6-7 pm • Dinner (Dining Hall)
7-8 pm • Session 2 (Maple Auditorium)
8 pm • Couple Communication Time*
Sabbath:
8-9 am • Breakfast (Dining Hall)
9-10 am • Sabbath Service/Session 3 (Maple Auditorium)
10:30-12 pm • Session 4 (Maple Auditorium)
12-1 pm • Lunch (Dining Hall)
1-4:30 pm • Couple Communication Time*
4:30-5:30 pm • Marriage testimony (Maple Auditorium)
6:00-7:30 pm • BLOOM Banquet Dinner (Dining Hall)
7:30 pm • Couple Communication Time*
Sunday:
8-9 am • Breakfast (Dining Hall)
9-10 am • Session 5 (Maple Auditorium)
10:30-11:45 am • Session 6 (Maple Auditorium)
11:45-12 pm • Closing Comments (Maple Auditorium)
12-1 pm • Lunch (Dining Hall)
1-3 pm • Couple Communication Time*
3 pm • Depart
(*Indoor pool, outdoor hot tub, bonfire and smores, pingpong, walk in nature, etc.)
THINGS TO BRING TO THE GETAWAY:
Your Spouse ;)
Your Bibles
Three days of clothing (check weather report)
Banquet dinner attire (formal attire encouraged, but not required)
Coat (nighttime gets chilly in the mountains)
Modest swimsuits
Swim towels
Day pack for Sabbath afternoon hiking (optional)
Bottle for water
Hiking shoes
Hats
Sunglasses
Camera
Medications
Personal toiletries
Bedding and bath towels (unless staying in an apartment or guest room where linens are provided.)
Your boat (if you want to bring it and don't mind beaching it, as the dock will not be available at that time of year.)
More Notes:
• This is a marriage seminar, not therapy sessions.
• Vegetarian cuisine will be served (unless you specify that you are a seriously strict about eating only "vegan" or "gluten free" foods).
• There WILL be hot beverages available, but there will NOT be any caffeine products served at camp. Therefore, if you need caffeine, please BRING YOUR OWN. (ie: instant coffee mix, caffeinated tea, cola.)


• Camp MiVoden is an alcohol free zone.
• This is an adult retreat (please don't bring children).
• Please do not bring your pets. Camp MiVoden has a no dog policy.
PAST BLOOM IN MARRIAGE SEMINARS:
2022 Bloom in Marriage Retreat speakers: Richie & Timi Brower
Theme: Desire & Anger
2021 Bloom in Marriage Retreat speakers: Mike & Lynn Ortel
Theme: Great Grace, Great Life!
2020 Bloom in Marrage Retreat: Canceled due to Covid
2019 Bloom in Marriage Retreat speakers: Robert & Cindy Morris
Theme: Created for Connection
Bloom in Marriage is sponsored by: