Sales Have Ended
Registrations are closed
The Bloom in Marriage Retreat registration is now closed for this year. Please mark your calendar and come back after May 1, 2020 to register for next year's retreat. Same weekend: April 9-11, 2021. Same place: Camp MiVoden, Hayden Lake, Idaho. Speakers will be: Mike and Lynn Ortel. For more information, email us at bloominmarriage@gmail.com or call us at 208.762.2620. Your Bloom in Marriage Hosts, Steve and Debby Keeton
Sales Have Ended
Registrations are closed
The Bloom in Marriage Retreat registration is now closed for this year. Please mark your calendar and come back after May 1, 2020 to register for next year's retreat. Same weekend: April 9-11, 2021. Same place: Camp MiVoden, Hayden Lake, Idaho. Speakers will be: Mike and Lynn Ortel. For more information, email us at bloominmarriage@gmail.com or call us at 208.762.2620. Your Bloom in Marriage Hosts, Steve and Debby Keeton
Description
Update 3/31/20:
Due to the COVID-19 social distancing and group retreat restrictions; we have to cancel our Bloom in Marriage Retreat. If you are one of the 40 couples who registered for this year's retreat, you will be receiving a refund within this next week. We are very sad, as we had a wonderful retreat planned for you, but we are looking forward to next year's Bloom in Marriage Retreat. Our speakers, Mike & Lynn Ortel, have graciously offered to reschedule and come then instead. The dates are April 9-11, 2021. If you want to sign up early, we will be taking registrations for that retreat starting soon. Just check back at bloominmarriage.com shortly to register.
God bless you all!
We pray you stay well and trust Jesus during these trying times!
Steve and Debby Keeton
bloominmarriage@gmail.com

BLOOM IN MARRIAGE RETREAT 2020 @ CAMP MIVODEN

DEADLINE TO REGISTER: MARCH 31, 2020

---


"No one has ever seen God,
but if we love each other,
God lives in us,
and His love is brought to full expression in us."
1 John 4:12
---
Are you looking to enrich a healthy relationship, revitalize a tired one, or rescue one gone awry? Do you yearn to reconnect and grow closer to your spouse? We all want a lifetime of love, support and faith, but sometimes we need a little help. The Bloom in Marriage Retreat Weekend is designed to help couples grow in their faith, learn new tools to strengthen their marriage, inspire hope and rekindle the spark. Relationships under fire may even begin the journey of healing.

Our theme for this weekend is GREAT GRACE, GREAT LIFE!
Our intent is to fortify our oneness in Christ, and improve our understanding of God's ultimate design for love, while providing opportunities for creating deeper connections with our spouse.

(Note: This is a marriage seminar, not a therapy session.)

---

This year's speakers: Mike & Lynn Ortel
Having a great relationship with God is great way to live! Mike and Lynn Ortel invite you to explore Great Grace...Great Life, where relevant biblical principles of enjoying life with God and each other are explored. The Ortel's passion for vibrant and healthy connections with God and others is based, not only on their personal challenges and victories of relating to God and people, but also on the professional education in which they have invested. They enjoy presenting the Great Grace offered to each of us, so we can have abundant joy and experience a Great Life and a Great Marriage!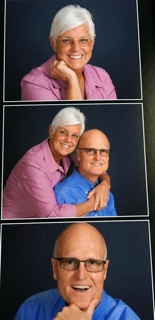 Mike Ortel is an ordained Seventh-day Adventist minister with a master of divinity degree and a master's in public health. He is retired from pastoral and administrative work but is still very active in ministry. He currently is volunteering in the Arizona SDA conference as men's ministries leader. He is also the police chaplain for the Paradise Valley Police Department. Mike lives in Phoenix, AZ, with his wife, Lynn, of 50+ years. They have three married children and six grands. Mike is a loyal leader, husband, father, grandfather and friend. He lives integrity at every level, and is enthusiastic, fun, compassionate and understanding. His greatest joy is sharing the great news of Jesus Christ and how God's great grace results in a great life!!

Lynn Ortel was a registered nurse but chose to be a stay-at-home mom until their three children outgrew homeschooling and entered traditional school. For eight years Lynn was the caretaker for three developmentally disabled women in her home. In later years she earned a bachelor of science degree in psychology, and a master of art's in counseling. Lynn is now a licensed professional clinical counselor. She has served the Adventist church as a conference director for communications, family ministries, women's ministries, and children's ministries. She is currently volunteering in the Arizona conference as women's ministries director. She has a passion to experience the real and relevant God. Her life's mission statement is "to live a life of love." (Ephesians 5:1-2)


---
Please join us for this impactful weekend. We pray this event will honor God and be a blessing to your marriage.


Your Bloom in Marriage hosts,
Steve and Debby Keeton

---
P.S.

1. Register soon. The best rooms will go fast! ;)
2. Click the green "REGISTER" button (or the red "TICKETS" button) to see pricing options and to register.

3. THIS IS A CAMP, NOT A HOTEL. ;) There are different price options for apartments, guest rooms, cabins, basic dorm rooms (queen, double & twin bunks), and full hook up RV sites.
4. There is also an option for ENGAGED AND SEPARATED COUPLES to attend. As well as an option for DAY ATTENDEES ONLY. (Scroll half way down on the registration page to see those options.)

---


Schedule of Events:
Friday, April 10:

3-5 pm • Arrive/Check-in/Relax
5-6 pm • Session 1 (Maple Auditorium)
6-7 pm • Dinner (Dining Hall)
7-8 pm • Session 2 (Maple Auditorium)
8 pm • Couple Communication Time*


Sabbath, April 11:

8-9 am • Breakfast (Dining Hall)
9-10 am • Sabbath Service/Session 3 (Maple Auditorium)
10-12 pm • Session 4 & 5 (Maple Auditorium)
12-1 pm • Lunch (Dining Hall)
1-4:30 pm • Couple Communication Time*
4:30-5:30 pm • Pastor David & Annie Morgan's marriage testimony (Maple Auditorium)
6:00-7:30 pm • BLOOM Banquet Dinner (Dining Hall)
7:30 pm • Couple Communication Time*


Sunday, April 12:

8-9 am • Breakfast (Dining Hall)
9-11:45 am • Session 6, 7 & 8 (Maple Auditorium)
11:45-12 pm • Closing Comments (Maple Auditorium)
12-1 pm • Lunch (Dining Hall)
1-3 pm • Couple Communication Time*
3 pm • Depart

(*Indoor pool, outdoor hot tub, bonfire and smores, pingpong, walk in nature, etc.)
---
THINGS TO BRING TO THE GETAWAY:

Your Spouse ;)
Your Bibles
Three days of clothing (check weather report)
Banquet dinner attire (not required attire, just bring if you want to dress up for it.)
Coat (nighttime gets chilly in the mountains)
Modest swimsuits
Swim towels
Day pack for Sabbath afternoon hiking (optional)
Bottle for water
Hiking shoes
Hats
Sunglasses
Camera
Medications
Personal toiletries
Bedding and bath towels (unless staying in an apartment or guest room where linens are provided.)
Your boat (if you want to bring it and don't mind beaching it, as the dock will not be available at that time of year.)

---

Notes:

1. Vegetarian cuisine will be served (unless you specify that you need "vegan" or "gluten free").
2. There WILL be hot beverages available, but there will NOT be any caffeine products served at camp. Therefore, if you need caffeine, please BRING YOUR OWN. (ie: instant coffee mix, caffeinated tea, cola.)


3. Camp MiVoden is an alcohol free zone.
4. This is an adult retreat (please don't bring children).

5. Please do not bring your pets. Camp MiVoden has a no dog policy. (Unless you are staying in an RV, then you can bring small pets, if they do not stay outside and do not go down to the main camp area.)

---