About this Event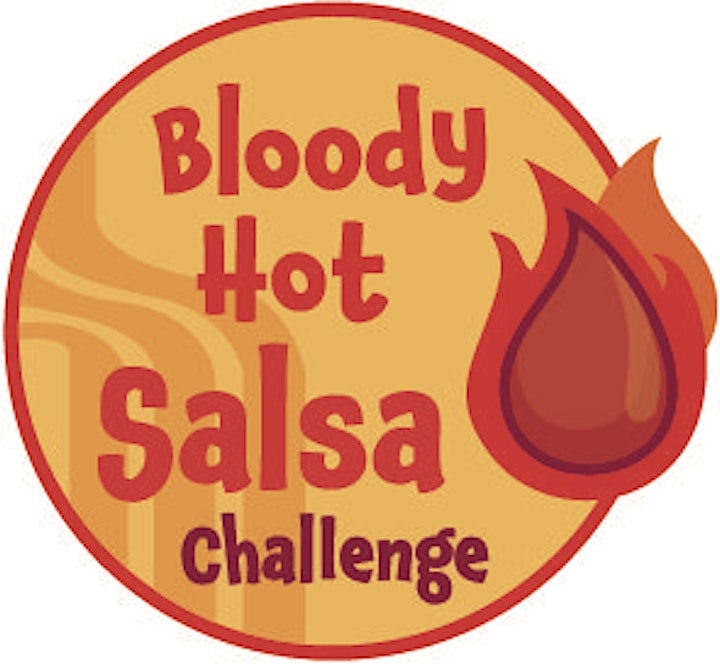 The Hemophilia Foundation of Southern California proudly presents its Bloody Hot Salsa Challenge. We are thrilled to host this event in connection with our SoCal emPOWERment Forum (advocacy day). You must register separately for the emPOWERment Forum if you are interested in attending and learning about legislative advocacy and bleeding disorders. We will need a headcount for meals: Please register at:
https://socalempowerment2020.eventbrite.com
Entrants are limited to the first 20 entries in each category "Mild" and "Spicy," and the All-Stars category is for anyone who sells their salsa or works in a restaurant or catering business.
First Prize Winner in Spicy and Mild categories will receive: $500
Second Prize Winner in Spicy and Mild categories: $200
Third Prize Winner in Spicy and Mild categories: $100
All-Stars Prize: $500
PEOPLE's CHOICE: $100: participants choose among the amateur mild/spicy categories for their best salsa!
Industry Winner: Bragging rights
Rules are as follows:Date: Saturday, February 29, 2020
Schedule:
8:30AM – Salsa Entries due by contestants to the Salsa Contest Check-In Area
9:00AM-12:00PM: Judges meet to taste and evaluate
2:00PM-3:00PM: Salsa Festival: Event Opens for Guest Tasting
2:30PM: Winners announced at MAIN STAGE/Royal Ballroom: $500 Prize to Mild Salsa Winner, $500 Prize to Spicy Salsa Winner; $200 to second prize winner in each category (Mild and Spicy): $100 to third prize winner in each category (Mild and Spicy) . $500 Prize to All-Stars Winner.
Fee: $10 per entry - You may only enter each category one time.
Very Important: You will have to prepare your salsa at home and bring it to the Salsa Challenge on competition day February 29, 2020. You will need to sign a statement declaring that you are the sole maker of the salsa submitted. All salsas must be homemade!
About the Contest:
1. Pre-registration is required for all contestants – the deadline is February 22, 2020 unless already filled. No entries accepted on contest day.
2. Corn Tortilla chips will be provided free of charge by Pickwick Gardens, Burbank, CA.
3. A qualified panel judges will base the salsas on aroma, taste, texture, and originality, giving equal weight to each category.
4. You must provide enough salsa for a tasting for 200 guests in small white cups. You will be given a table to serve your salsa. Please bring your own utensil for serving. HFSC will provide the small white cups for serving.
What you'll need to do:
1.Prepare 1/2 cup (4 oz) of your freshest and tastiest salsa for the contest for the judges.
2. Prepare at least 1 pint (16 ounces) of salsa for tasting for guests at the event.
3. You must transport and keep your salsa in a cooler with ice to keep your salsa fresh at no higher than 40 degrees.
4. Have fun! Enjoy the different types of salsas – winners will be announced at approximately 2:30pm
5. Rules Subject to change by HFSC.
**Please call the office if Registration Fee presents a financial burden.
______________________________
La Fundación de Hemofilia del sur de California presenta con orgullo su concurso de salsas, "Bloody Hot Salsa Challenge". Estamos encantados de ser los anfitriones de este evento en relación con nuestro Foro de EMPODERAMIENTO del sur de California (día de abogación). Debe registrarse por separado para el Foro de EMPODERAMIENTO si está interesado en asistir y aprender sobre defensa legislativa y desórdenes sanguíneos. Necesitaremos un conteo de personas para las comidas: regístrese en:
https://socalempowerment2020.eventbrite.com
Los participantes están limitados a las primeras 20 entradas en cada categoría "Suave" y "Picante", y la categoría All-Stars es para cualquiera que venda su salsa o trabaje en un restaurante o negocio de catering.
El ganador del primer premio en las categorías picante y suave recibirá: $ 500
Ganador del segundo premio en categorías picantes y suaves: $ 200
Ganador del Tercer Premio en las categorías Picante y Suave: $ 100
Premio All-Stars: $500
SELECCIÓN DE LA GENTE: $ 100: ¡los participantes eligen entre las categorías de aficionados suaves / picantes para su mejor salsa!
Ganador de la industria: derechos de fanfarronear
Las reglas son las siguientes: Fecha: sábado 29 de febrero de 2020
Programa:
8:30AM – Las salsas deben ser entregadas por los concursantes al Área de Registro de Concursos de Salsa
9:00AM-12:00PM: Los jueces se reúnen para probar y evaluar
2:00PM-3:00PM: Festival de Salsa: evento abierto para que los asistentes puedan probar las diferentes salsas
2:30PM: Ganadores anunciados en escenario principal / Royal Ballroom: Premio de $ 500 al ganador de salsa suave, premio de $ 500 al ganador de salsa picante; $ 200 al ganador del segundo premio en cada categoría (suave y picante): $ 100 al ganador del tercer premio en cada categoría (suave y picante). Ganador del premio de $ 500 al All-Stars.
Tarifa: $ 10 por entrada: solo puede ingresar a cada categoría una vez.
Muy importante: tendrá que preparar su salsa en casa y llevarla al concurso de salsas el día de la competencia el 29 de febrero de 2020. Deberá firmar una declaración declarando que usted es el único fabricante de la salsa presentada. ¡Todas las salsas deben ser caseras!
Sobre el concursot:
1. Se requiere preinscripción para todos los concursantes: la fecha límite es el 22 de febrero de 2020 a menos que ya se haya llenado. No se aceptan participaciones el día del concurso.
2. Pickwick Gardens, Burbank, CA proporcionará chips de tortilla de maíz de forma gratuita.
3. Un panel de jueces calificados basará las salsas en aroma, sabor, textura y originalidad, dando el mismo peso a cada categoría.
4. Debe proporcionar suficiente salsa para una degustación para 200 invitados en pequeñas tazas blancas. Se le dará una mesa para servir su salsa. Por favor traiga su propio cuchara para servir. HFSC proporcionará las tazas blancas pequeñas para servir.
Lo que deberá hacer:
1.Prepare 1/2 taza (4 oz) de su salsa más fresca y sabrosa para el concurso para los jueces.
2. Prepare al menos 1 pinta (16 onzas) de salsa para degustar para los invitados al evento.
3. Debe transportar y mantener su salsa en una hielera con hielo para mantenerla fresca a no más de 40 grados.
4. ¡Diviertasé! Disfrute de los diferentes tipos de salsas: los ganadores se anunciarán aproximadamente a las 2:30 p.m.
5. Reglas sujetas a cambios por HFSC.
** Llame a la oficina si la tarifa de registro presenta una carga financiera.