Blood & Thunder OC Roller Derby Training Camp

Friday, October 4, 2013 at 8:00 AM

-

Sunday, October 6, 2013 at 7:00 PM (PDT)
Who's Going

Loading your connections...
3 of your friends are going.
Share it to get more people on board!
Share

Sara Haughty
San Francisco, California

Luke Picard
London, United Kingdom

Rick Vespucio
Florence, Italy
Event Details
ONLINE SALES END AT 9:00pm on 10/4/13
Walk Up Sales will be available :
Saturday10/5/13  8:00am  at flat track
Blood & Thunder Training Camps, in cooperation with local hybrid league,    OC Roller Girls will be holding a 2+ day roller derby training camp on October 4, 5 and 6, 2013 in Huntington Beach, California.
THE CAMP:
This camp will feature two days of flat & banked track training, Saturday scrimmage on the flat track and offskates workshops. There is also the (price included but space limited) option of adding banked track. We will also include a beach skate and/or a trip to the skate park.
GUESTS:
CAMPERS:
Juniors Camp (Sat/Sun) is best suited for the female, age 8-17 skater that has passed her minimum skills test.

Adult Camp (Sat/Sun) with Optional Friday and Sunday Events) male/female  18+
 
FRESHIES
A freshie or rookie skater is brand new, has recently passed or are attempting to pass the WFTDA minimum skating skills standards. Classes are NO CONTACT.

BEGINNER:
Beginner skaters may be newer to derby, but can skate safe. They have passed the WFTDA type minimum skating skills standards and are ready to start or are have just started bouting. Beginner classes might be full contact.

INTERMEDIATE:
Intermediate skaters have passed minimum skills and have experience bouting, understand rules and basic strategies. Intermediate classes are full contact..
 
ADVANCED
Advanced skaters are bouting and have interleague experience. Skaters should understand the rules of the game and strategic tactics and can execute them with and against unfamiliar skaters. Advanced classes are full contact.
TRAINERS:
We are pleased to feature the following trainers at our Sothern California 2013 camp.
(Subject to change)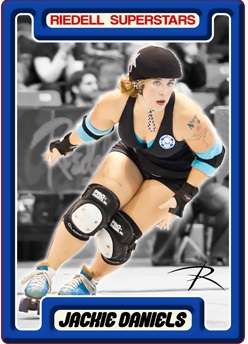 Jackie Daniels (Rachel Bockheim)
Jackie has been around the derby scene since 2005. She began her derby career as a board chair and All Star captain for Grand Raggidy Roller Girls in Grand Rapids MI. After five hard-hitting seasons with GRRG, she made a transfer to Chicago's Windy City Rollers. Since her  arrival in the Windy City, She has nabbed awards for fan favorite, best pivot for the intraleague team The Fury, best league pivot, All Stars MVP and league MVP. In 2011, She was co-captain for the All Stars and was elected to the WCR executive board.

She pretty much eat, sleep, and breathe derby, and has since she started. She has coached and instructed leagues from Toronto to Hawaii and most points in between. If there's an opening on a multi-league team, she will fill it gladly. She has played on Team Awesome, Team Legit and the Vagine Regime in both banked and flat track bouts. On the rare occasion when she is not skating or coaching, you might just look over and notice her next to you supporting your league...no matter where you live! The derby world calls her "America's Girlfriend."

Jackie appeared as herself in the film "Whip It!". In 2011, She was honored with the unique designation of being named a "Living Legend" at RollerCon and having a track dedicated in my her name.She loves derby, loves being a member of Windy City.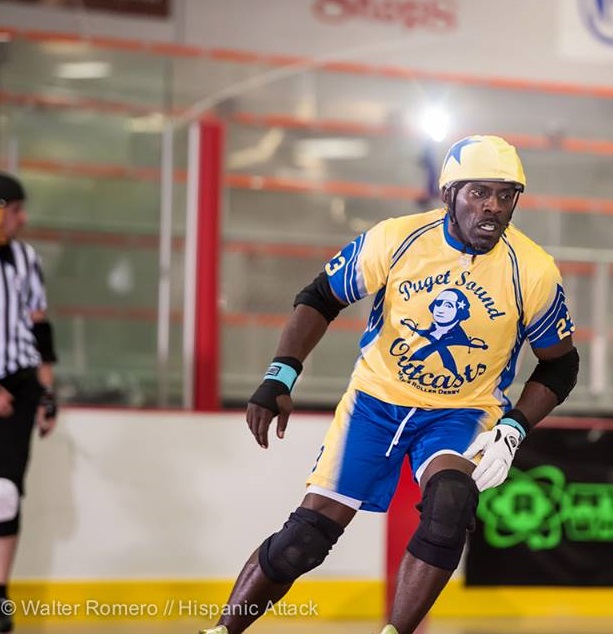 Mo Sanders, known as Quadzilla L.K. or simply Quadzilla, is a roller skater, who has competed at the international level in roller derby and aggressive inline skating, and national level in jam skating. He became a professional aggressive inline skater competing in the X Games and Roller Jam, the Roll Bounce Championship.
With the development of flat track roller derby, he coached the Oly Rollers, then the Rat City Rollergirls, and bench managed Team Awesome & Team Legit . He developed both Antik skate boots and Heartless Wheels. He remains active as a skater with Puget Sound Outcast Derby. Sanders is also known for his ability to jump long distances on skates. His record is jumping over fourteen people.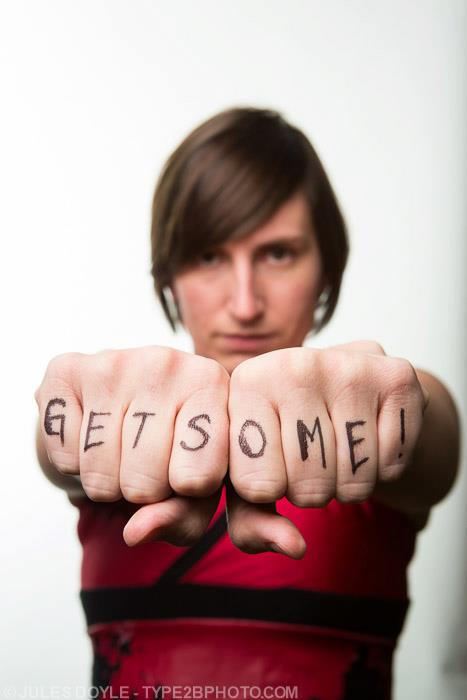 Carmen Getsome
The three piece approach to training that is employed during all Getsome Athletics camps and clinics includes body mechanics, active learning and building up. All three are equally important.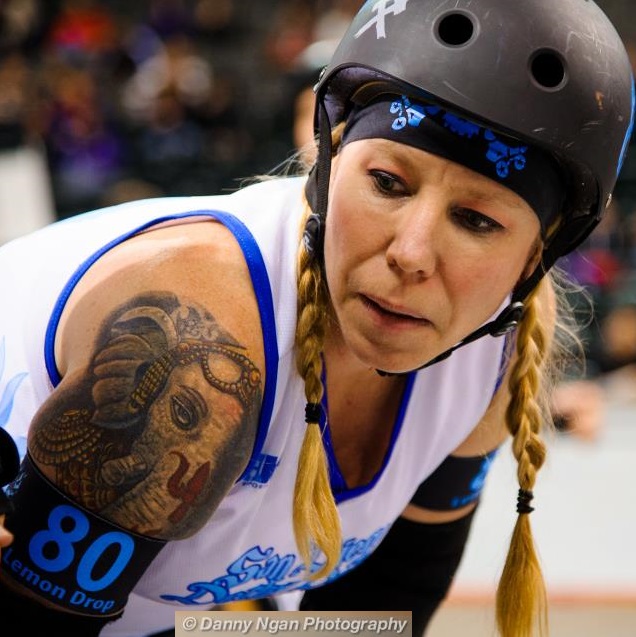 Lemon Drop (Kelly Cameron) has been skating since 2006 for the San Diego Derby Dolls on both flat and banked tracks. In 2009-2010 she played on the All Star team that won back to back championships at the Battle for the Banked tournament. During these years, this All Star team also climbed the DNN ranking boards for flat track competition, reaching #13 in the country.
Lemon continued skating with the San Diego Derby Dolls all star team, the Wildfires, as a coach, captain and player until 2012 when she retired from skating. 
Since 2012, she has coached the flat track team Hidden City Derby Girls and the hybrid OC Roller Girls. She plays on several pick up teams to keep up her skills and created The Villains to play flat, banked and coed teams. In April, she severed her Achilles playing soccer and is focusing coaching until she is healed!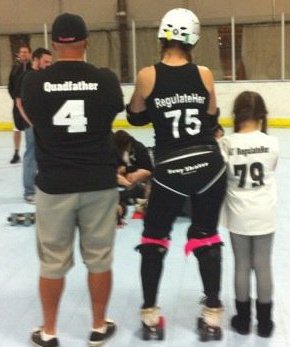 Quadfather, Regulator & Lil Regulator The QuadalaterHers run the JR LA Derby Dolls. Quadfather has been coaching junior sports for 20 years and roller derby for 4 years. RegulateHer has been skating for 30 years (artistic, speed, hockey and roller derby). She has coached speed, hockey, roller derby and junior roller derby. Lil RegulateHer put on her first pair of skates when she was 11months old and has been known to run junior and adult practices, run team benches when mommy and daddy are busy. They train on flat and banked track.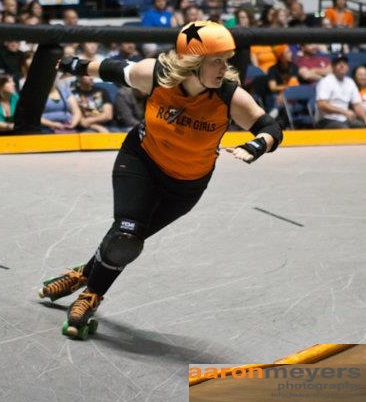 Dirty Deborah Harry (Deborah LaBriola- Monterossa) comes from a well-known roller skating family (think "circus family" teachers, performers, rink owners, wheel makers and more). She began her classical training at age four, literally growing up in the rink loving both the "art" of skating and the endless round & round of session. She blends the teaching styles of both her mother and father resulting in the desire for technical perfection and an understanding of the role of the mind in performance. She has just completed seven seasons of travel team play for the OC Roller Girls, skating both banked and flat track derby. She has trained skaters at RollerCon both in the US and in Australia. She is an owner of OC Roller Skates and is generally obsessed with all things roller skating.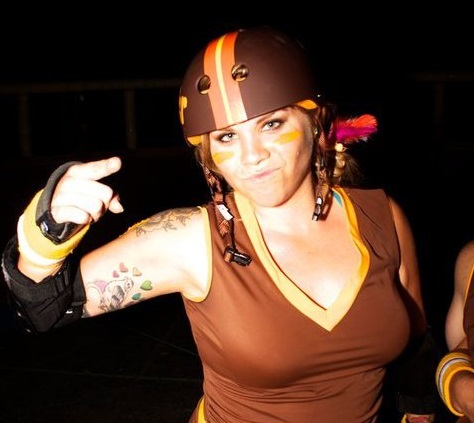 Pigeon has been skating since 2007. Her first time on skates was at tryouts with the Santa Cruz Derby Girls. She made the team and skated with them until the end of 2010. She moved  to Southern California and played banked track and was Captain of her team with Long Beach Roller Derby until 2012 when she founded her own league in Southern LA, Beach Cities Roller Derby. She is the General Manager and Head Coach of Beach Cities Roller Derby and Captain of their AllStar team. She recently purchased Moxi Roller Skate Shop in Long Beach and will be having a grand re-openning late this Fall.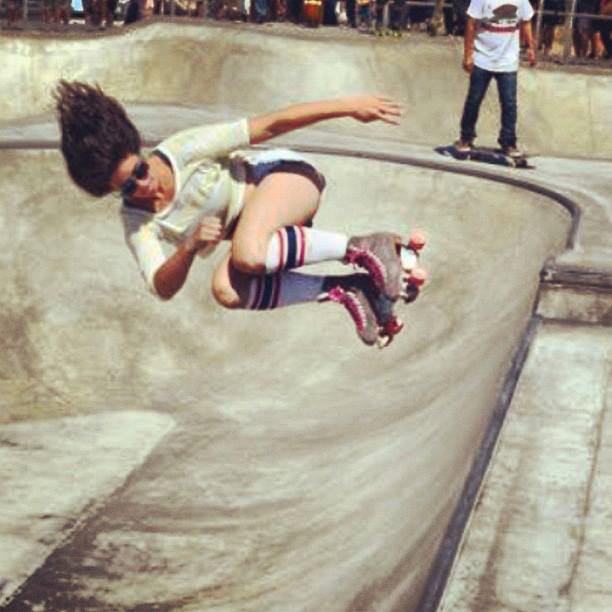 Estro Jen (Michelle Steilen) skated her whole life, was a ramp skater for thirteen years and can be found skating anywhere and everywhere, including rinks or skate parks. She started playing roller derby in 2005 and has played with the L.A. Derby Dolls, Angel City Derby Girls and then in 2009 started Long Beach Roller Derby and coached 100 brand spankin' new derby girls how to skate. Estro opened her own brick 'n' mortar roller skating boutique Moxi Roller Skate Shop, designed and launched Moxi Roller Skates, a line of outdoor wheels and apparel to match her skates. She believes leading by example and having a rad, rollertastic lifestyle!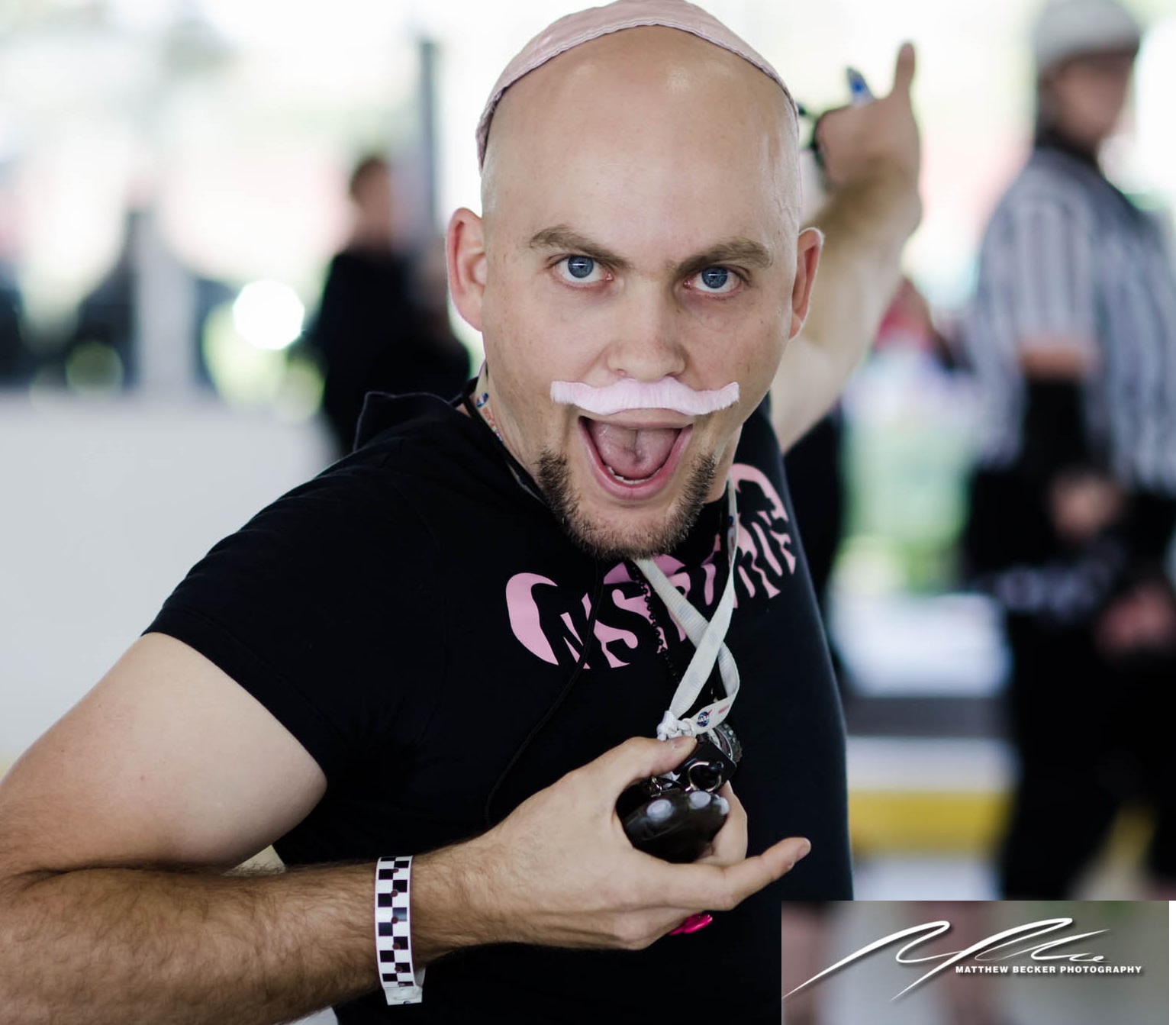 Jew Bully (Benjamin Breitberg) has been officiating roller derby for the past 6 years.  He got his start with the Slaughter County Roller Vixens in Bremerton, WA in 2007 and continued to officiate in Florida with the Jacksonville RollerGirls when he moved there in 2010 and then become independent in 2012 when he moved to California.  As a proud member of the NShObos, he has officiated with leagues throughout the United States and been to many tournaments including WFTDA Playoffs.  In addition to officiating, Jew Bully has organized and instructed at officiating clinics, training the future generation of roller derby officials.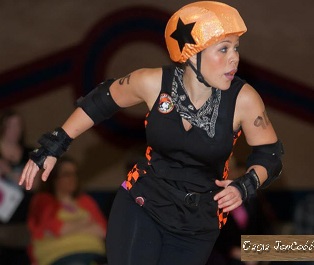 Pinky Pokerface (Tarina Smith) has been skating since she was a toddler and playing roller derby since 2008. She currently skates for the OC Roller Girls and is Captain of their travel team "Blockwork Orange". She has been coaching for OC Roller Girls and Hidden City Derby Girls for over two years. Voted best inspiration and biggest cheerleader, it is rare that you will ever see this girl off her skates....rumor has it she sleeps in them.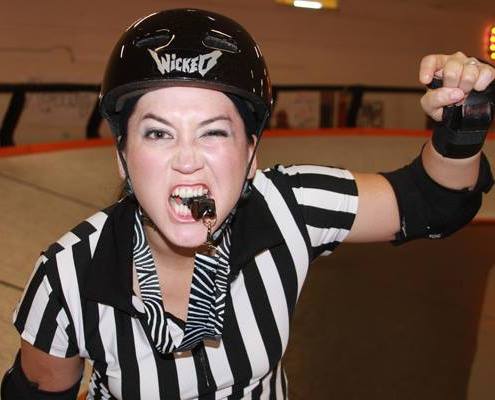 Shaolin Punk Shaolin Punk went from skater to the stripey side in 2011. Since then, she has reffed and NSO'd bouts and tournaments on both flat and banked track throughout California. This is her second year as OC Rollergirl's Rules Representative to the Roller Derby Coalition of Leagues Rules Committee, and as the Ref Representative for her ref crew, Ref Squadron.
SCHEDULE: (Subject to change)
LOCATIONS: 
Flat: The Rinks- HB (OC Roller Girls) 5555 McFadden Huntington Beach, CA 92647
Banked: OC Roller Girls, 1947 South Main Street Santa Ana, CA 92707
Volcom Skate Park: 900 Arlington Dr. Costa Mesa, CA 92626
GOODIES!
Early Bird Passes or first 50 registrations get you a goodie bag!
INSURANCE:
Our facilities will require that you bring a copy of your ID and personal health insurance to attach to your liability waiver. At this time- USARS and WFTDA insurance are not required or accepted as your primary insurance.

TICKETS: https://bloodandthundercamp.eventbrite.com
Group Discount:camp@rollerderbytrainingcamp.com
WAIVER:
When you complete the registration process you will be asked to review and confirm that you HAVE READ THE RELEASE OF LIABILITY AND ASSUMPTION OF RISK AGREEMENT, FULLY UNDERSTAND ITS TERMS, UNDERSTAND THAT YOU HAVE GIVEN UP SUBSTANTIAL RIGHTS BY SIGNING IT, AND SIGN IT FREELY AND VOLUNTARILY WITHOUT ANY INDUCEMENT.
When & Where

The Rinks-Huntington Beach
5555 McFadden Ave
Huntington Beach, CA 92649


Friday, October 4, 2013 at 8:00 AM

-

Sunday, October 6, 2013 at 7:00 PM (PDT)
Add to my calendar
Organizer
Blood & Thunder Training Camp
To provide a full-immersion training camp, where skaters of all skill levels, coaches, and referees can learn from each other and further the sport of roller derby.
Blood & Thunder prides itself on attracting the top coaches in derby, who are at the forefront of the sport's development, as our core coaches.  We also invite well-respected local coaches to take part in our camps. 
Since 2008, Blood & Thunder has organized small and large, simple and intensive roller derby camps that focus solely on training and draw the best coaches from around the country. We have held camps in the US and
New Zealand and 2013 brings us back to our starting place in Southern California with a  
hybrid track trainig camp in Orange County.
Blood & Thunder OC Roller Derby Training Camp