Blood Health Expo, ​ARCADIA COMMUNITY CENTER 血液健康講座+展會

Saturday, January 26, 2019 from 10:00 AM to 3:30 PM (PST)
Event Details
Blood Health Expo and Seminar  健康展健康講座
Speaker Dr. Wanxing Chai-Ho is a hematologist oncologist who practices in Westwood and Encino. She uses a multidisciplinary approach to diagnose and treat blood disorders, head and neck cancer, and solid malignancies. Dr. Chai-Ho is a strong advocate for her patients and their families. She is board certified in internal medicine.

Dr. Chai-Ho completed her internal medicine residency training at Lahey Hospital and Medical Center in Boston, and then completed her Hematology/Oncology training at UCLA.

Dr. Chai-Ho is a member of the American Society of Clinical Oncology and American Society of Hematology. She is fluent in English and Chinese.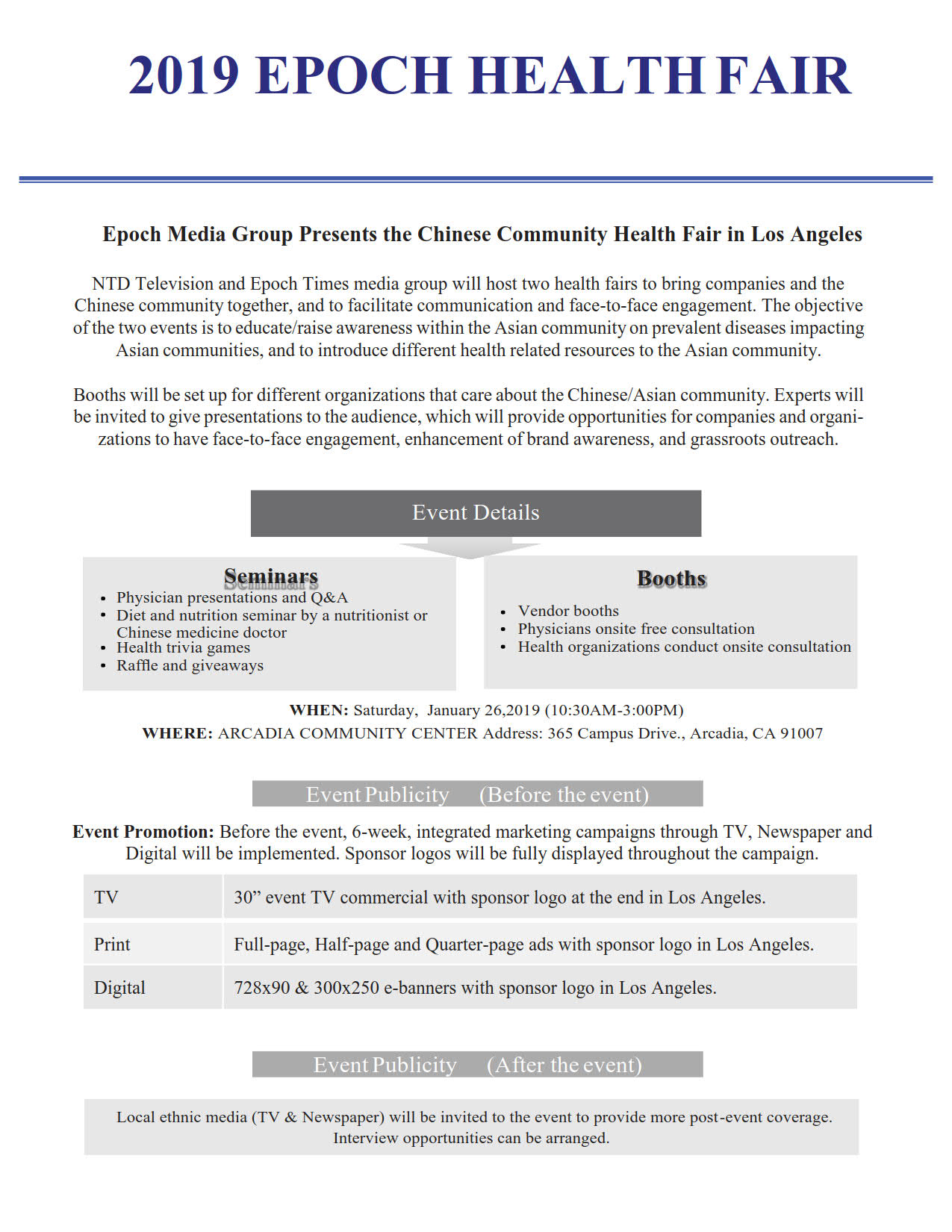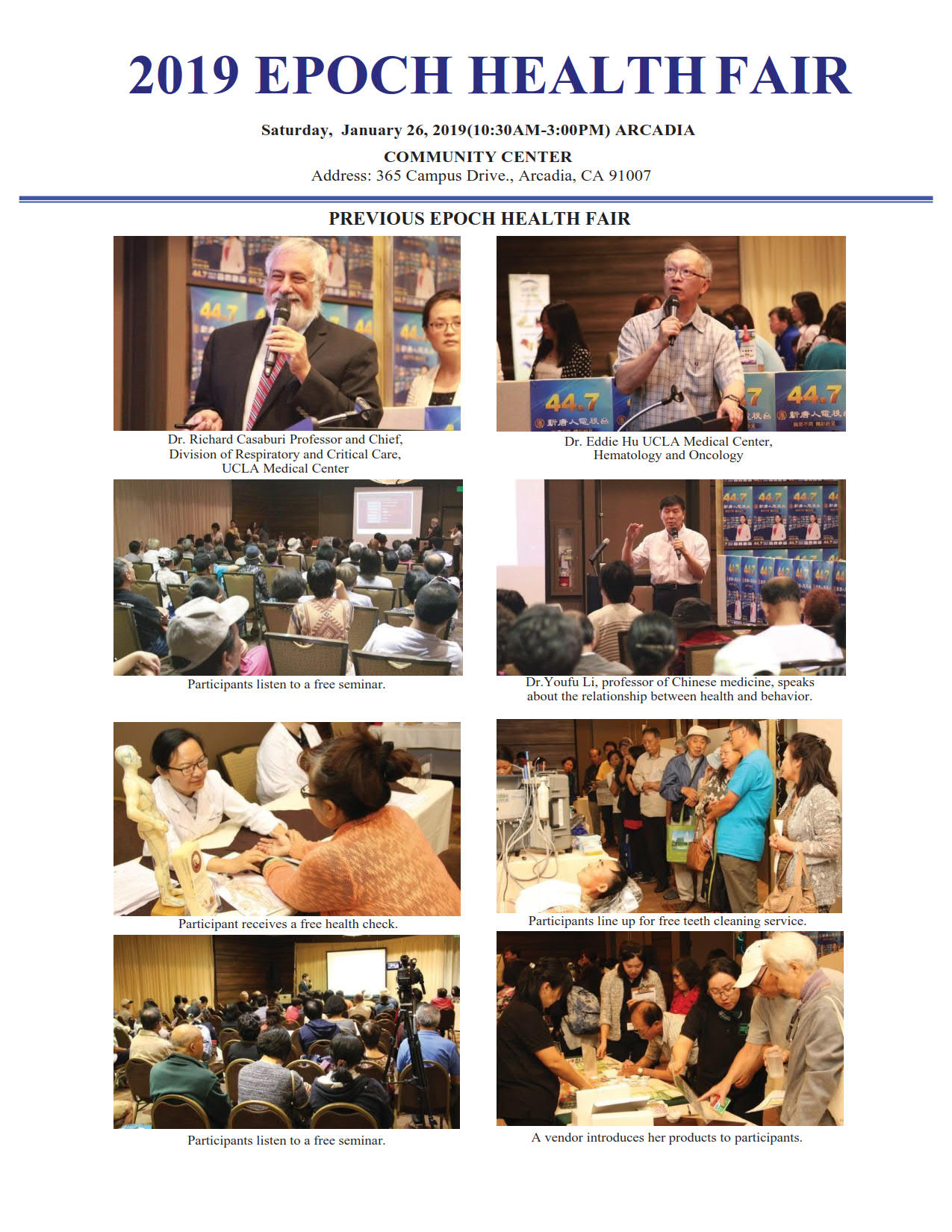 健康展上专家解迷思:
血癌是特殊癌 末期也可能治愈
邓长春博士介绍,血癌主要有三种主要类型:白血病、淋巴瘤、多发性骨髓瘤。美国每年新发血癌病例和死亡病例和死亡比例如下表所示:
血癌检测需要综合手段
邓博士表示,在临床上医生需要综合各种方式检查血液和相关器官,以帮助确诊和制定适合的治疗方案。比如,骨髓活检可以看到更详细的肿瘤状况,包括染色体病变;而淋巴结的活检,则不仅仅是针吸活检,而是需要切下整个病变的淋巴结,详细检查其中的血夜病变。
通常医生会多次采血检查血液,检查患者肝脏(乙肝、丙肝等)、肾脏、心脏肺等器官、以及是否存在爱滋病等,以免在治疗中引起这些器官的并发症或病毒感染。此外,医生也可能要求进行CT检查、CET(正电子扫描)等进一步确认病情发展进度。
观察期与治疗期密切监控病情
邓博士在演讲中提醒病人及其家属,一些人虽然被确诊为血癌,医生并不一定要求立即进行治疗。一些慢性或者低恶性血癌需要有一个观察期。但在观察期内,需要密切追踪病情进展,保持高度警惕。
有人在确诊后,观察期稍微长一些就掉以轻心,错过治疗。一名纽约患者在家庭医生诊所体检时,发现肠中有2.5公分肿瘤,在持续观察5年后,没有明显变化,以为不会继续发展。在他搬到佛州居住之后,病情恶化,逐渐发展到走路困难,视力变差,当再次接受检查时又过去5年,原来的低恶性肿瘤已经发展为高度恶性癌变,需要立即治疗。
邓长春博士强调,如下三种急性血癌务必立即治疗:
1.急性淋巴性白血病(ALL)
2.急性骨髓性白血病(AML)
3.弥漫性大B细胞淋巴瘤(DLBCL)、外周T细胞淋巴瘤(PTCL)等
和其它癌症一样,血癌在治疗时也面临副作用。例如女性容易发生尿路感染,所有患者都可能面临肺炎、脑膜炎、肿瘤溶解综合症等,一般副作用还包括腹泻、出血、心脏疾病、嘴巴喉咙长包等。因此,在癌症治疗期间,患者身体随时可能出现变化,因此密切观察,提前预防病情转化非常必要。
血癌的案例和教训
在西方, CLL(慢性淋巴性白血病)是常见血癌,美国每年约有2万新增病例,约有1/4的患者在一年内死亡。近十年来,该病的治疗方案有了很大发展。邓博士认为,找到一位权威的专家医生有助于找到适合的方案;相反则可能贻误治疗,让患者蒙受更大痛苦。
一名70多岁的CLL患者,在观察期间,白细胞急速上升,采用FCR三种药物联合治疗方案后,白细胞消失,进行抗病毒感染治疗3∼4周身体得到康复。此后2到3年后复发,白细胞增多,他选择参加临床试验22个月,恢复良好。因为喉咙出现感染,现已经停药18个月,其它状况正常。
而有些低恶性血癌因为生长慢,发现晚,很可能因治疗不当而加重患者痛苦。一名出自音乐世家的白人,在60岁左右、人生尚有许多时光可以享受的时候,不幸诊断为肥大细胞白血病(Mast cell leukemia,MCL)。他本人吃素30年,相信非传统医学治疗,在某诊所先用维生素B17以及注射其它药物治疗无效。14个月后,他只能躺在床上,身上长了褥疮,无法进食,只能服用吗啡止痛,眼睛无法视物,腹部等出现不适采用电疗等方法,病情无好转。转到哥大治疗,发现癌变已经扩散到肠、脑、骨髓等处,化疗4个疗程后,可正常活动。
健康展现场民众收获颇多,王先生在演讲现场咨询并得到邓长春博士的治疗建议,他十分激动地说:"像这样的活动多举办一些,给不同的患者讲述病的原理,让人们多了解清楚怎样治疗。"
血癌征兆 专家为您解读白血病迷思
近年不少名人,包括台湾艺人高凌风、郭台铭的弟弟郭台成都因罹患血癌去世。血癌看起来十分凶猛。是什么原因导致血癌?为什么小孩和老人是血癌的高危人群?血癌有哪些症状?血癌真的能治愈吗? 事实上,血癌早已经不是"不治之症"。有病要早治,及早发现及早治疗,目前已有许多人罹患血癌后,病情得到逆转。
台湾知名主持人杨月娥日前在脸书公布,罹患血癌的女儿考上理想大学,令她喜极而泣。杨月娥女儿小蓁去年被医院确诊罹患血癌,当时她正值高三备考阶段。杨月娥表示,经过一年的抗癌治疗,女儿健康状况有了惊喜转机:"小蓁血癌已经痊愈,癌细胞消失无踪。"
什么是血癌?
血癌是一种源自骨髓的癌症。健康的骨髓会正常地制造白血球、红血球和血小板。当骨髓无法正常生产白血球、红血球和血小板,而产生大量的血芽细胞(不成熟细胞)时,正常细胞的增生就会减少。
白血病、淋巴瘤和骨髓瘤都属于血癌,其中白血病较为常见。临床上将白血病分为四种:急性骨髓性白血病(AML)、慢性骨髓性白血病(CML)、急性淋巴性白血病(ALL)、慢性淋巴性白血病(CLL)。
根据美国癌症协会报告显示,白血病是15岁以下儿童和青少年中最常见的癌症,多数儿童和青少年白血病是急性淋巴细胞白血病;55岁以上的成年人也最容易患白血病,平均每个人在一生某个时间患上白血病的概率是1.5%。而成年人白血病则多是急性骨髓性白血病和慢性淋巴细胞白血病(CLL)。2015年,美国白血病病例总数超过40万。
有些血癌来势汹汹,患者发病后若不治疗,很可能几天之内病情急转直下,一两个月内夺去生命。因此了解一些血癌的常识非常重要。
莫名瘀青/脸色苍白/经常流鼻血
可能是血癌的症状
有时候,病患甚至在早期没有明显的症状,只是感觉身体不适、食欲不振、疲倦或体重减轻。
但有些患者会出现淋巴腺浮肿、脾脏肿大导致腹胀、经常受感染、时常发烧以及夜间盗汗,这些症状和白血球数量过高有关,有时也会导致骨头或关节部位感到剧烈的疼痛。
如果出现脸色苍白、牙龈出血、经常流鼻血、身体出现莫名的瘀伤(皮肤出现黑紫块)以及表皮出现细小的血点(皮下出血),则是和血小板数量偏低有关。
主讲专题讲座 关注华人健康
"新唐人电视台"与《大纪元时报》长期关注华人健康,多年来已成功在洛杉矶合办多届华人健康展。各类健康知识的推广深入人心,深刻体现了两大媒体关注华人社区、服务华人社区的理念。
"2019年新唐人健康展",将于1月26日,在洛杉矶亚凯迪亚市的活动中心举行。本次健康展特邀血癌专家Wanxing Chai-Ho医生进行专题讲解,帮助民众了解白血病、贫血方面的知识,以降低罹患血液疾病的风险。民众不用费时费力跑去医院,在现场可直接向权威专家免费咨询各类血液疾病问题。而且Wanxing Chai-Ho医生精通英语和国语,会让您的咨询沟通更顺畅、更容易理解。
血癌专家Wanxing Chai-Ho医生,毕业于北京协和医学院,并在美国波士顿的Lahey医院和医疗中心完成了内科住院医师的培训。她在UCLA(加州大学洛杉矶分校)完成了血液学/肿瘤学的专科培训。
Wanxing Chai-Ho医生,也是美国临床肿瘤学会和美国血液学会的成员,目前在大洛杉矶市Westwood市执业。她擅长采用多学科方法诊断来治疗良性血液疾病和血癌。
多位中医师免费义诊
本次健康展邀请了三位中医师免费义诊,为参加健康展的热心观众和热心读者送健康。这三位资深中医师在去年的健康展上,展位从开始到结束一直挤满了排队候诊的民众,深受参加健康展的民众欢迎。
今年的新唐人健康展现场,将提供许多健康展位供民众参观体验。不同类别的健康展位带来不同的资讯信息、不同角度的健康视野。另外,健康展现场还准备了丰富的奖品,采用有奖征答方式,让民众参与抽奖活动。观众无需购票,免费入场,免费停车,欢迎参加。
"新唐人健康展"关注华人健康
咨询电话:626-401-1828
地址:亚凯迪亚社区中心(Arcadia Community Center)
365 Compus Dr., Arcadia, CA 91007
时间:2019年1月26日(周六)10:30am-3:30pm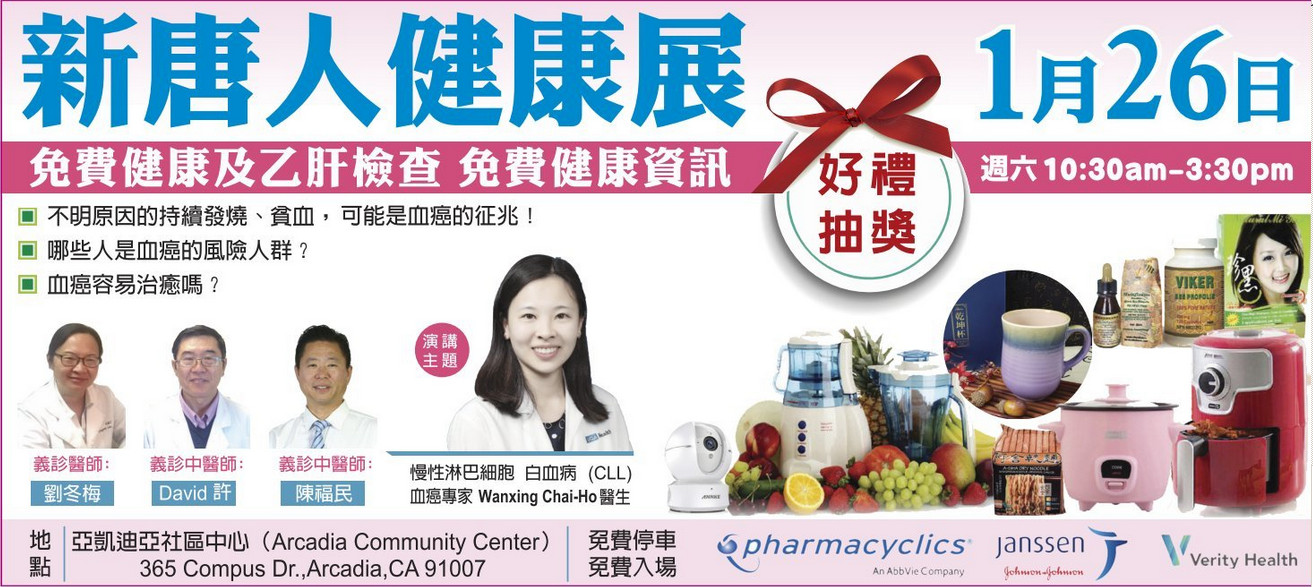 Save This Event
When & Where

ARCADIA COMMUNITY CENTER
​365 Campus Drive.
Arcadia, CA 91007


Saturday, January 26, 2019 from 10:00 AM to 3:30 PM (PST)
Add to my calendar