About this Event
ONE MASTER For the past seventeen years, One Master has been conjuring raw and aggressive black metal in the dark corners of the US underground. Their latest two albums (Reclusive Blasphemy and Lycanthropic Burrowing) ranked among the best metal records of 2015 and 2017. Having recently performed at international black metal festivals Steelfest (Finland) and Messe des Morts (Montreal), this is their first live performance in New Haven in three years and the kick off to their North American tour with Blood Chalice.
https://eternaldeath.bandcamp.com/album/lycanthropic-burrowing
BLOOD CHALICE Crushing black/war metal from Finland. Delivering an intense live performance that is part sonic oppression and part sinister ritual with a sound reminiscent of bands such as Conqueror, Black Witchery, and Blasphemy. This is their first performance in the United States and the start of their North American tour with One Master.
https://helterskelterproductions.bandcamp.com/album/sepulchral-chants-of-self-destruction-2
UNHOLY VAMPIRIC SLAUGHTER SECT Shrouded in mystery, UVSS plays noise filled and chaotic black metal. With a slew of limited underground releases since 2015, they have only recently begun playing live. What is sure to be one of the most unique and strong performances of 2019.
https://unholyvampyricslaughtersect.bandcamp.com/
DEATH VANISH New project of primitive and barbaric black metal based in Connecticut, with influence from bands such as Beherit and Profanatica.
https://eternaldeath.bandcamp.com/album/cold-hammer-of-melancholy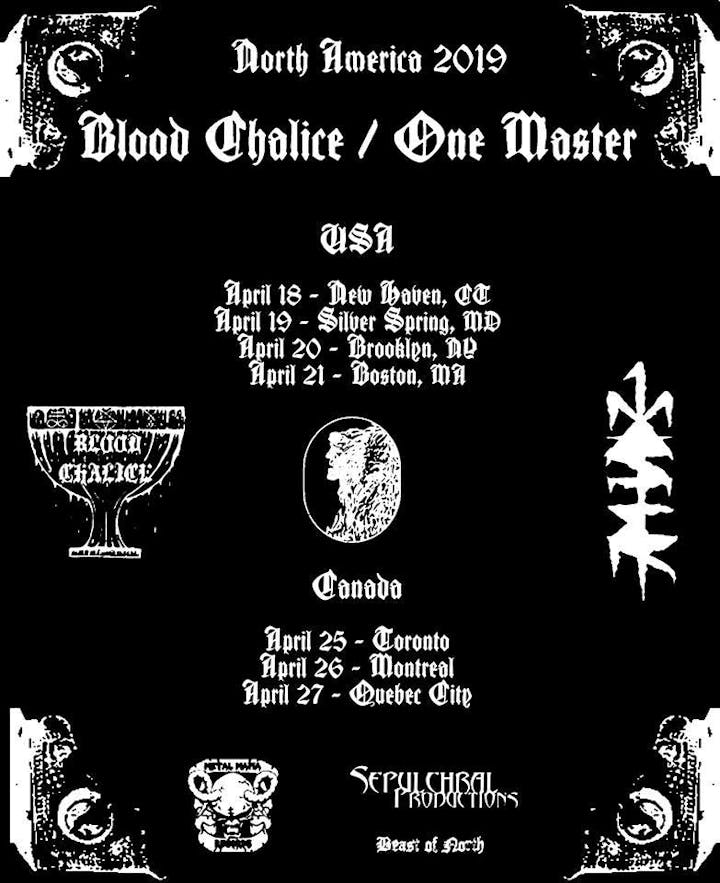 Performers
Date and Time
Location
Refund Policy