About this Event
Doors 7:30PM ✹ Show 8:00PM
$30 ADV ✹ $40 Day of Show ✹ 21+
ABOUT SUMMER SERIES AT INDUSTRY CITY▶
Created by the team behind Brooklyn venues The Bell House and Union Hall, City Farm Presents returns to Industry City for a second summer of outdoor shows in Courtyard 1-2! From June-September, this season features an expanded schedule with more than 35 concerts and dance parties. Audiences can expect to discover a diverse line-up featuring genres spanning rock, soul, electronic, jazz, world and beyond. This summer will introduce thoughtful artist curation to an already unique and creative space, bringing a fresh take on the New York City outdoor concert experience. For more information, visit our Website or the City Farm Presents Facebook, Instagram or Twitter.
All Summer Series shows are located at Industry City in Courtyard 1-2 (info and directions below).
Doors open one hour prior to performance unless otherwise noted.
VENUE ADDRESS ▶
Industry City - Courtyard 1-2
Entrance at 238 36th Street (Food Hall Entrance)
Brooklyn, NY 11232 | Google Maps
DIRECTIONS TO THE VENUE ▶
☞ BY CAR
There is a paid designated parking lot accessible via 2nd Avenue between 32nd Street and 36th Street
☞ BY PUBLIC TRANSPORTATION
D / N / R to 36th Street
B63 Bus to 36th Street
☞ BY BIKE
There are bike racks located throughout the Industry City campus.
There is a Citi Bike bike sharing station located at 2nd Ave between 36th Street and 35th Street, and another at the corner of 2nd Ave and 39th Street.
FOOD OPTIONS AT INDUSTRY CITY▶
Eat your heart out Brooklyn. From Korean comfort food to Instagram-famous Avocado toasts, Industry City's Food Hall is a delicious culinary gathering place in the center of campus. Stroll along Innovation Alley and beyond to discover other Brooklyn-based purveyors serving up local craft spirits distilled on site and some of the country's best BBQ.
Table 87 Pizza
Burger Joint
Ends Meat
Avocaderia
Taco Mix
Recently opened Japan Village (Building 4)
Hometown BBQ (Building 5 - Opening Soon!)
Click Here For Food Options Near Courtyard 1-2 in Industry City
VENUE BAR HOURS ▶
Our venue bar is open for all scheduled performances at doors, and in addition to:
Thursday-Friday: Opens at 4:00PM
Saturday-Sunday: Opens at Noon
✴ Happy Hour! ✴
Weekdays 4:00pm-7:00pm, $1 off all beer, wine and well!
RAIN OR SHINE POLICY▶
All Performances are Rain or Shine. In the event of dangerous weather we will be communicating updates on our website, Facebook, Instagram Stories and Twitter.
✹✹✹✹✹✹✹✹✹✹✹✹✹✹✹✹✹✹✹✹✹✹✹✹✹✹✹✹✹✹✹✹✹✹✹✹✹✹✹
ABOUT BLONDE REDHEAD ✹
BLONDE REDHEAD, a New York based art-rock trio
Not many bands can handle very long careers and never stop evolving and actually, keep on exploring, from record to record. Blonde Redhead deserves a place in this category. In 25 years, the acclaimed New York based trio went from the noise rock of the early years to the refined dream pop of "Misery Is A Butterfly", passing through the sensual electronic textures of "Barragán" in 2014, before reaching the melancholic romantic sound of "3 o'clock" EP..
Formed in 1993 by Kazu Makino and twin brothers Simone and Amedeo Pace, the band challenges itself with each recording situation and the results have been stunning every time. Their music is always inspired by the same emotions, but their tastes and the ways they choose to execute those emotions are constantly evolving.
With Kazu and Amedeo on guitars and vocals, Simone on drums, and Takahashi on bass, the band's chaotic, artistic rock caught the attention of Sonic Youth drummer Steve Shelley, who produced and released the band's debut album, Blonde Redhead, on his Smells Like Records label in 1995. Shortly after the album's release, Takahashi left the band. The remaining members continued as a trio, releasing a second album, La Mia Vita Violenta, on Shelley's label in 1995.
For their 1997 release, Fake Can Be Just as Good, recorded for Touch & Go, the trio was joined by guest bass player Vern Rumsey from Unwound. By 1998, the band eliminated bass and scaled back to guitars, drums, and vocals for In an Expression of the Inexpressible. Melody of Certain Damaged Lemons and the Mélodie Citronique EP followed two years later.
The song "For the Damaged Coda" released on the album Melody of Certain Damaged Lemons, was used in an episode of Rick and Morty series and gained over 33 million views on YouTube.
The band's first album for 4AD, Misery Is a Butterfly, was released in spring 2004. For 2007's 23, the group opted for a mix of dream pop and delicate electronic textures. Three years later, Blonde Readhead delivered Penny Sparkle, a more stripped-down, even more electronic-leaning set of songs the band recorded in New York and Stockholm with Alan Moulder, Van Rivers and the Subliminal Kid. In 2014, the band returned with Barragán, featuring production from Drew Brown (Beck, Stephen Malkamus, Radiohead).
The band revisited its early days in 2016 with the Numero Group box set Masculin Feminin, which collected Blonde Redhead and La Mia Vita Violenta along with demos, singles, and radio performances from that era. That year also saw the release of Freedom of Expression on Barragán, a collection of Barragán remixes including contributions by Deerhoof, Van Rivers, Nosaj Thing, and Connan Mockasin.
Blonde Redhead returned with new music in 2017 in the shape of the EP 3 O'Clock, which they released on their own Asa Wa Kuru Records.
The band is now working on a new album, while Kazu Makino is going to launch her first solo project.
ABOUT LUDOVIC ALARIE ✹
Montreal singer-songwriter Ludovic Alarie is 25 years old and sings like he speaks, gently and softly. His strength resides in seizing the complexity of a feeling, a moment. Former classical guitarist, he released his first solo album in French in 2014 and his second in 2017. In 2018 he starts his own record label - chouchou records. His new album titled "we're a dream nobody wrote down" will be released by chouchou records and Blonde Redhead's label Asa Wa Kuru on May 10th. The album features musicians Warren C. Spicer (Plants & Animals), Simone Pace (Blonde Redhead), Adèle Trottier-Rivard (Le Bleu), and Mishka Stein (Patrick Watson).
Sign up for our newsletter! http://eepurl.com/geb4kf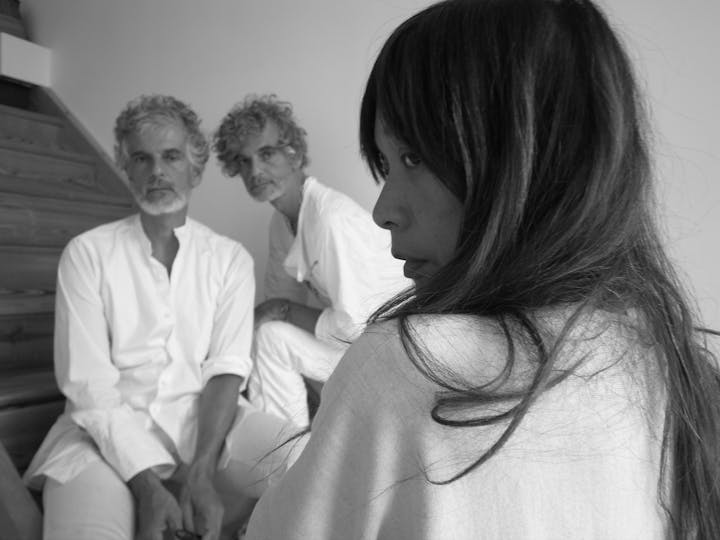 Performers
Date and Time
Location
Industry City
238 36th Street
Courtyard 1-2 (Food Hall Entrance)
Brooklyn, NY 11232
Refund Policy