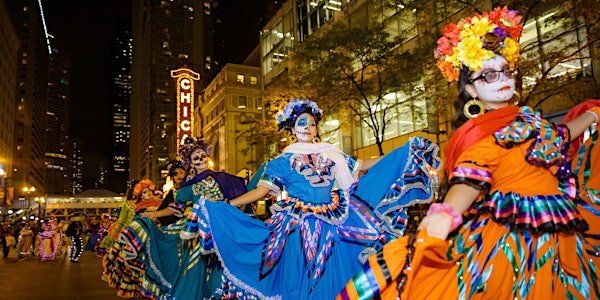 Blommer Chocolate Company's ARTS IN THE DARK Upside Down Halloween Parade
Join us for the parade that celebrates Halloween as the "artist's holiday" and enjoy it from the safety of your car!
When and where
Location
Entry is in Parking Lot just West of the General Richard Jones Armory off of Payne Drive 5200 South Cottage Grove Drive Chicago, IL 60612
About this event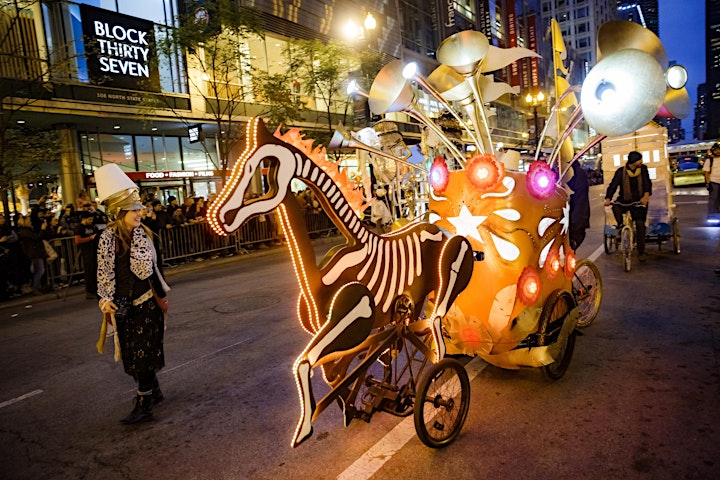 ADDITIONAL TICKETS WILL BE RELEASED WEDNESDAY, THURSDAY AND FRIDAY MORNING AT 9AM!
For the past five years, the Arts in the Dark Halloween Parade has drawn together close to 100,000 guests and participants for a magical evening parade that celebrates Halloween as the "artist's holiday." Past participants include world-renowned institutions like the Art Institute of Chicago, celebrated Chicago organizations like Lookingglass Theatre Company, important programs like After School Matters and aspiring artists in every field. It is a dazzling event that delights the audience with unique floats, spectacle puppets and creative performances – all set against the backdrop of historic State Street.
The parade is not only a salute to Chicago's cultural community, it has become a showcase for the creativity and diversity of Chicago's neighborhoods – and not even the craziness of 2020 can stop the celebration! In fact, this year, Arts in the Dark will be the Grand Finale of a special Mayor's Office Halloween Initiative ("Halloweek") and it will take place in Washington Park in partnership with the Chicago Department of Cultural Affairs and the Chicago Park District. Of course, it won't be the usual procession of floats and group spectacles making their way down a crowded street. This year, the parade will be turned UPSIDE DOWN. Dozens of delightful parade contingents will be stationed at intervals along a beautiful tree-lined drive in Washington Park, and spectators will drive through the route, enjoying the spectacles from the safety of their vehicles.
Thanks to our generous sponsors and partners:
Blommer Chocolate Company
The Chicago Department of Cultural Affairs and Special Events
Cinespace Chicago Film Studios
Steve and Monica Perlman
Harris Theatre of Music and Dance
BY RESERVING A TICKET FOR THIS EVENT, ALL PASSENGERS IN YOUR VEHICLE AGREE TO DEFEND, INDEMNIFY AND SAVE AND HOLD HARMLESS LUMA8 and the City of Chicago for any loss, liability, damage, or cost which may incur due to the presence of the Undersigned in or upon the premises or in any way working for, volunteering, or participating in any event or activity whether caused by the negligence of LUMA8, the City of Chicgao or otherwise.
ATTENDEES HEREBY ASSUME FULL RESPONSIBILITY FOR AND RISK OF BODILY INJURY, DEATH OR PROPERTY DAMAGE arising out of or related to the service(s) or event(s), whether caused by the negligence of LUMA8, City of Chicago or otherwise. *The novel coronavirus, COVID-19, has been declared a worldwide pandemic by the World Health Organization. COVID-19 is extremely contagious and is believed to spread mainly from person-to-person contact. LUMA8 has put in place preventative measures to reduce the spread of COVID-19; however, LUMA8 cannot guarantee that you will not become infected with COVID-19. Further, attendance could increase your risk of contracting COVID-19. Participant, for him or herself, and attendees heirs, legatees, beneficiaries, assigns and representatives, RELEASES, ACQUITS, AND FOREVER DISCHARGES THE CITY OF CHICAGO, LUMA8, its officers, directors, shareholders, employees, affiliates, divisions, principals, agents, insurers, representatives, servants, sponsors, officials, volunteers, successors, assigns, licensees, and other Event participants (collectively "Event Parties") from and against any and all liability, claims, causes of action, damages, injuries, and losses, known or unknown, suspected or unsuspected, whether sounding in contract, tort (including, without limitation, claims of negligence) or arising under any federal, state or local statute, regulation, law, or ordinance, associated with or in any way arising from, relating in any way directly or indirectly to, or alleged to arise from or relate to, Attendee's participation in the Event.
ATTENDEES HEREBY RELEASE, WAIVE, DISCHARGES AND COVENANTS NOT TO SUE LUMA8 and the City of Chicago from all liability to the Undersigned, his/her personal representatives, assigns, heirs, and next of kin for any and all loss or damage, and any claim or demands therefor on account of injury to the person or property or resulting in death of the undersigned arising out of or related to the service(s) or event(s), whether caused by the negligence of the LUMA8, the City of Chicago or otherwise.
THE PERSON RESERVING THIS TICKET HAS READ THIS RELEASE AND WAIVER OF LIABILITY, ASSUMPTION OF RISK AND INDEMNITY AGREEMENT, FULLY UNDERSTAND ITS TERMS, UNDERSTAND THAT HE/SHE HAVE GIVEN UP SUBSTANTIAL RIGHTS BY SIGNING IT, AND HAVE AGREED TO IT FREELY AND VOLUNTARILY WITHOUT ANY INDUCEMENT, ASSURANCE OR GUARANTEE BEING MADE TO HIM/HER AND INTEND THAT BY RESERVING A TICKET THEIR ACCEPTANCE OF THESE TERMS IS A COMPLETE AND UNCONDITIONAL RELEASE OF ALL LIABILITY TO THE GREATEST EXTENT ALLOWED BY LAW.