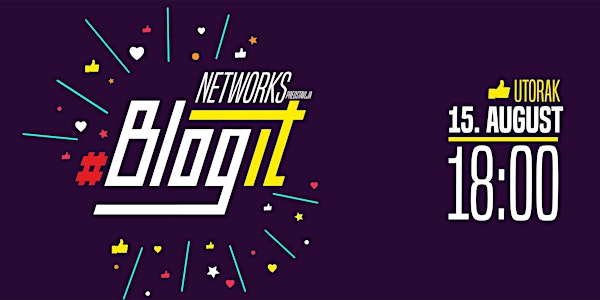 #BlogIt - Pokrenimo blogging zajednicu
When and where
Location
Networks Skenderpašina 1 71000 Sarajevo Bosnia and Herzegovina
Description
Blogerska zajednico Bosne i Hercegovine, vrijeme je da zasjate!
Blogovi – povezuju ili udaljavaju? Plaćene objave ili generičke brojke? Blogeri istih strasti: pomoć ili konkurencija? Sloboda pisanja ili prilagođavanje zaradi? Ko bloga "bez dlake na jeziku"? Ko za društvenu dobrobit? Ali i oboje? Da li blogovi pomažu ili odmažu?
Bh. zajednico blogerki i blogera, vrijeme je da se ujedinimo! Kreirajmo zajednicu koja razumije da nije dovoljno stisnuti samo "post" i očekivati čuda. Koja postiže mnogo više od vidljivosti i koja inovativno transformiše naš mentalitet svojim intelektualnim doprinosom.
Sjesti za računar, pisati tekstove na besplatnoj blog platformi i obezbijediti novac za život, čini se kao najjednostavnija formula za zarađivanje, u vrijeme opšte besposlice? To rade ljudi u cijelom svijetu, zašto ne bismo i mi, u Bosni i Hercegovini? Blogeri nude svoje znanje na određenu temu, vještine pisanja i svoj virtuelni prostor, a kompanije dobijaju promociju svojih proizvoda i usluga iz ugla "običnog čovjeka".
Ono što nije jednostavno za jednog blogera, jeste biti primjećen u blogosferi, zahvaljujući znanju i entuzijazmu i održati kvalitet i kontinuitet. Upravo to su stavke koje izdvajaju dobrog blogera, koji profitira od svog "piskaranja po internetu" i blogera u pokušaju.