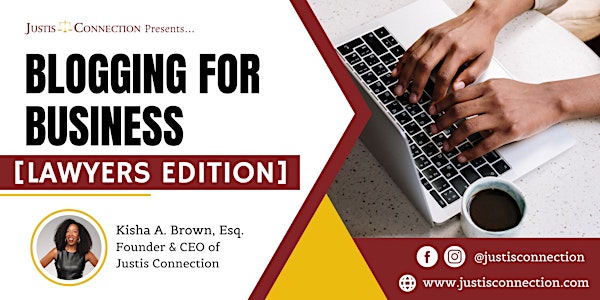 ⚖️ Blogging for Business [Lawyers Edition]
Need more potential clients? One of the best ways to share your legal knowledge and reach the masses is through blogging. So, let's go!
Refund Policy
Contact the organizer to request a refund.
Eventbrite's fee is nonrefundable.
About this event
People often research an issue before deciding to hire a lawyer. By sharing your legal expertise you introduce yourself to potential clients in meaningful and economical ways. One of the best ways to share your legal knowledge and reach new audiences is to write and have it published online.
In this workshop, you will learn:
The power of publishing online to meet new clients
How to identify the best places to publish
How to position yourself as a subject matter specialist
Easy ways to formulate your expertise into a publishable article (templates and topics included); and
How to turn readers into clients
About the Speaker:
Kisha A. Brown, Esq. is a trusted strategic advisor, speaker and thought partner. She is also the CEO of Justis Connection, an online platform creating new client pipelines for Black lawyers and engaging communities of color with legal resources. As a highly sought-after speaker by law firms, associations, universities, conferences, and governments, Kisha is committed to ensuring that people are educated and empowered in the law and that lawyers have the tools, skills, and support to build successful practices.
Kisha has led workshops around the country for lawyers in private practice as well as government-sponsored and community-based programs. She has been a keynote speaker for tech groups, bar associations, non-, and for-profit entities, and a guest on dozens of podcasts.
We hope you will join us on October 7th at 12pm; we'll see you there!