Description
Join us at the Blogger Week Networking Mixer & UnConference!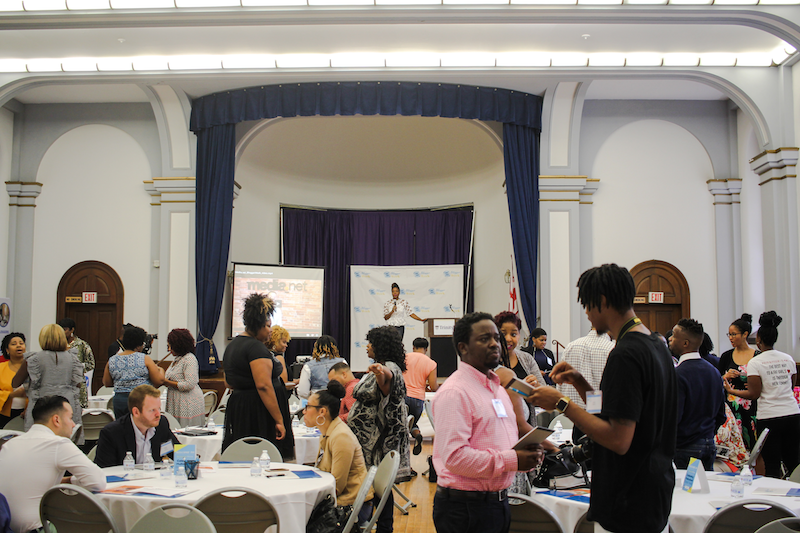 Blogger Week was started by bloggers for bloggers to help people at all stages learn how to harness the power of social media to build their brands and businesses. Blogger Week 2019 is a multicultural festival of bloggers, journalists and social media mavens hosted by Black Bloggers Connect.
Join Roland Martin at the Blogger Week UnConference!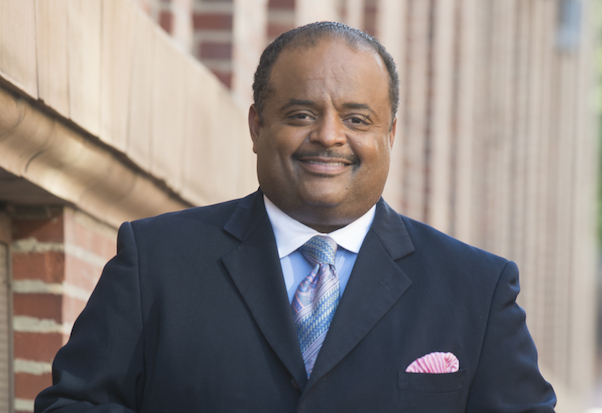 Roland Martin is an official Special Guest of the Blogger Week UnConference! On Saturday, October 12, 2019, attendees will participate in a live discussion with Roland Martin about his new online show #RolandMartinUnfiltered and the importance of independent media.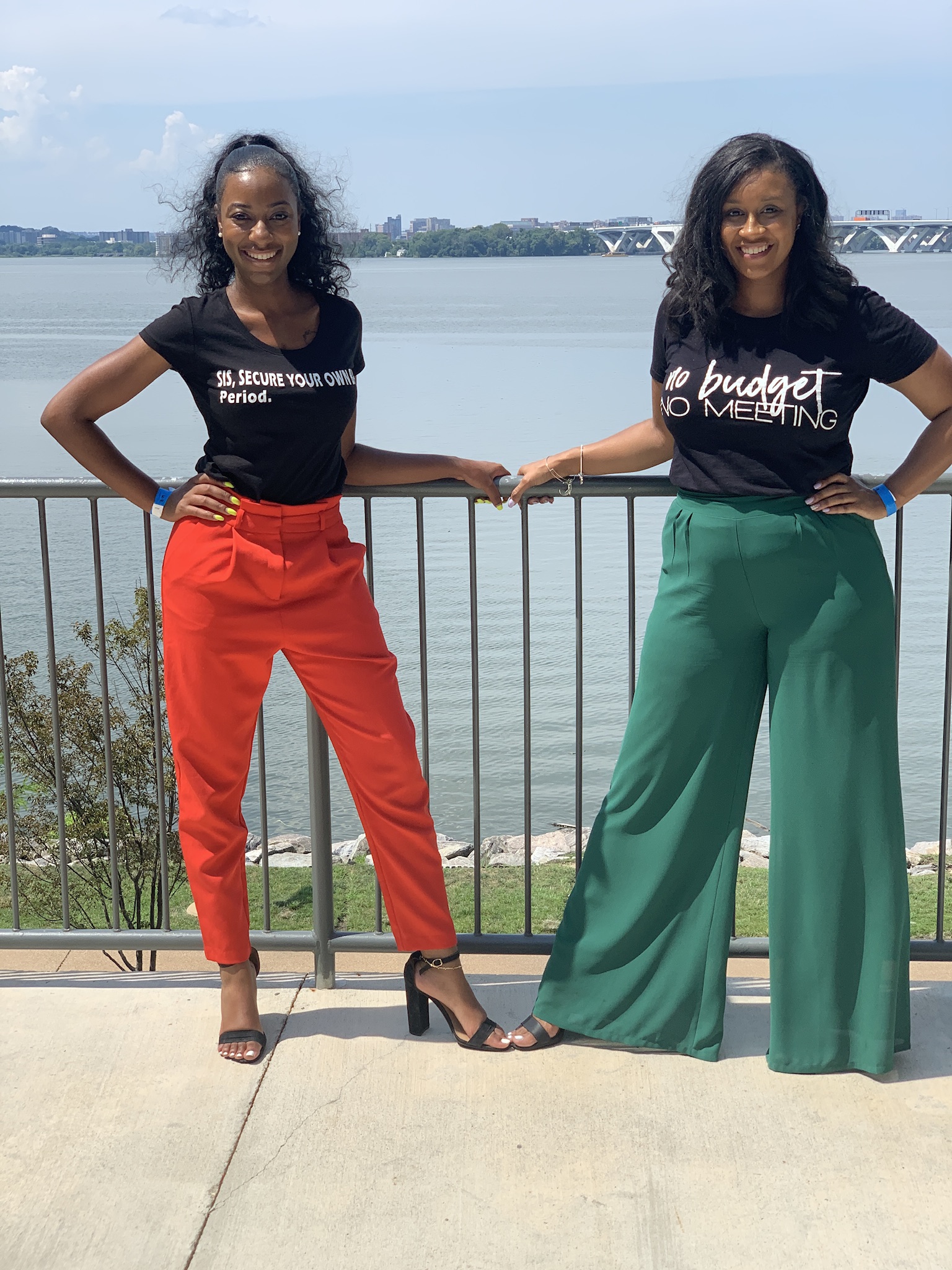 Join the PR Alliance at the Blogger Week Networking Mixer!
The PR Alliance will co-host the Blogger Week Networking Mixer on Friday, October 11, 2019 6pm-8pm. The PR Alliance is an entertainment and lifestyle public relations agency located in the DMV (D.C., Maryland, and Virginia) area. Meet the PR Alliance co-founders,
Mariah Oates & Keisha Brewer.
Full details are available at BloggerWeek.com.
At Blogger Week we help you:
PROMOTE YOUR BRAND.
BUILD YOUR NETWORK.
GROW YOUR BLOG.
Now is the time to become the blogger, podcaster, and digital media maven you've always dreamed of.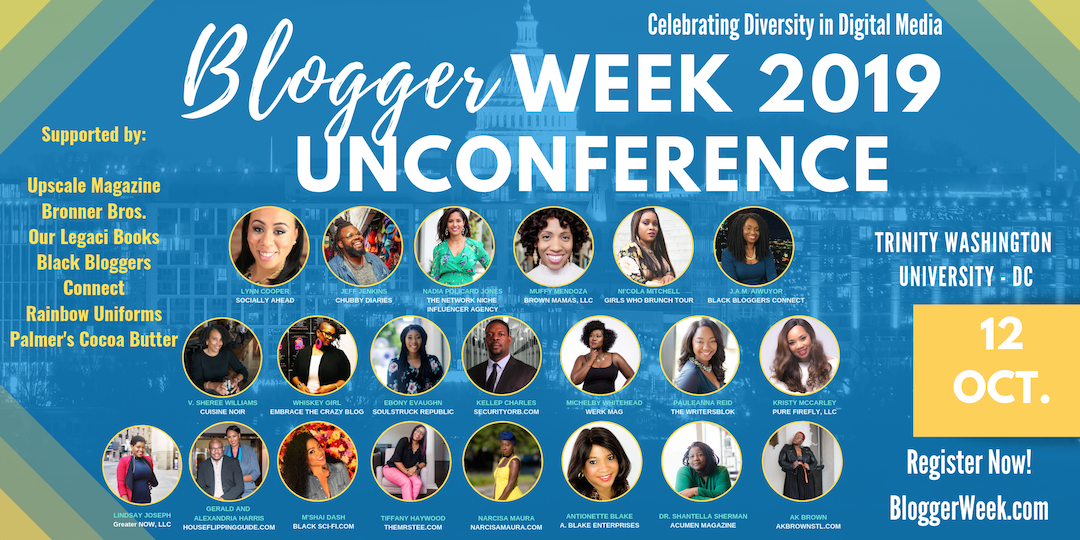 Meet our speakers and presenters:
Lynn Cooper, Managing Partner of Socially Ahead
Kristy McCarley, Chief Marketing Strategist of Pure Firefly Marketing, LLC
Nadia Policard Jones, CEO of the Network Niche Influencer Agency
Antionette Blake, CEO of A. Blake Enterprises Social Media Marketing
Jessica Ann Mitchell Aiwuyor, Founder of Black Bloggers Connect
V. Sheree Williams, Founder of Cuisine Noir
Dr. Shantella Sherman, Publisher of Acumen Magazine
Ni'Cola Mitchell, Founder of the Girls Who Brunch Tour
Ebony Evaughn, Founder of Soulstruck Republic
Pauleanna Reid, Founder of The WritersBlok
Muffy Mendoza, Executive Director of Brown Mamas, LLC
Jeff Jenkins, CEO of Chubby Diaries
M'Shai Dash, BlackSci-Fi.com Staff Writer
Tiffany Haywood, Lifestyle Blogger at TheMrsTee.com
Dr. Kellep Charles, Executive Editor of SecurityOrb.com
Lindsay Joseph, Greater NOW LLC
Gerald and Alexandria Harris, Co-founders of HouseFlippingGuide.com
AK Brown, Blogger at AKBrownSTL.com
Narcisa Maura, Lifestyle Blogger at NarcisaMaura.com
Michelby Whitehead, Creative Director of WERK MAG
Whiskey Girl, Blogger at Embrace the Crazy Blog

List of 2019 Blogger Week Sessions and Workshops:

Opening Plenary by Lynn Cooper aka The Digital Instigator
"How to Pitch Your Services and Manage Social Media for Small Business" by Nadia Policard Jones
"A Bigger Stage: How to go from LIVE VIdeos to LIVE Stage through Storytelling" by Muffy Mendoza "Email Marketing 101 - How Emails can Explode Your Revenue" by Kristy McCarley
"How to Grow a Community to 10K in Less Than a Year: Instagram Best Practices" by Jeff Jenkins
"3D Branding: Be You, Be Consistent, Be Creative" by Tiffany Haywood
"Back To Basics: The 3 Fundamentals That Everyone Always Forgets About Going Live" by Narcisa Maura
"Build Your Brand with a Podcast" by Antionette Blake"How to Make Blogging the Foundation of Your Brand" by Whiskey Girl"Spark, Ignite, and Arise...How to Frame Your Social Space" by Ni'cola Mitchell
"Break the Internet, Don't Let the Internet Break You!" by Michelby Whitehead
"Find Your Influence: The Ins & Outs of Becoming an Influencer" by Ebony Evaughn"Make Them Want You: How to Pitch Your Brand to The Media" by Pauleanna Reid
"Memes, Vemes, and Short Clips: Learn the art of one-minute storytelling, and get the tools" by M'Shai Dash
"Gaining Partnership as a Micro-Influencer" by AK Brown"Owning the Narrative: Lessons from Hip Hop on Effective Personal Storytelling in Digital Media" by J.A.M Aiwuyor
"Creating Niche Content that Transcends Across Cultures and Audiences" by V. Sheree Williams
"Monetizing a High-Quality WordPress Site for Beginners" by Lindsay Joseph "Journalism 101: Beyond the Tweets, Engagements, & Posts" by Dr. Shantella Sherman
"Building a Succesful Business Using Youtube" by Gerald and Alexandria Harris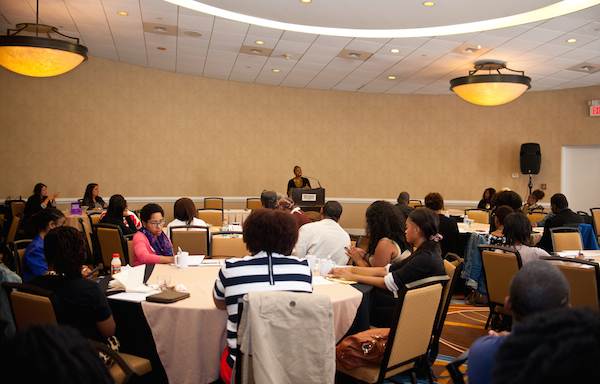 Network with bloggers, public relations professionals, and social media experts on at the Bloggers & Bosses Networking Mixer on Friday, October 11th at Smith Public Trust.

THEN, attend a full day of workshops, sessions and panel discussions at the Blogger Week UnConference on Saturday, October 12th at Trinity Washington University.
Treat yourself to the knowledge and skills you need to grow your blog. Secure your spot today!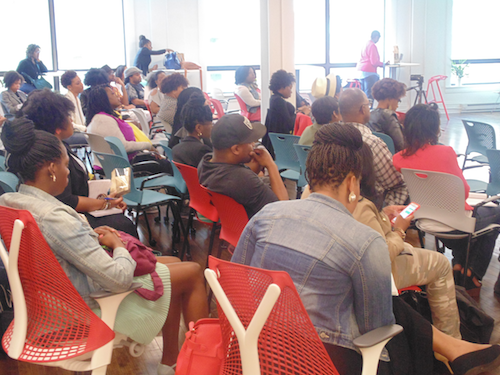 Additional details are available at BloggerWeek.com.
For additional questions or information, email bloggerweek@gmail.com.
All tickets are transferable but non-refundable.