Description
DC-area bloggers Natalie and Erika of The Fashionably Broke and Ashley of Ashley In DC invite you to Blogger Scene's Fall Cocktail Party at Kabin*!

This is Blogger Scene's third event and is part of a series of seasonal cocktail parties hosted for the influencers behind DC's life and style scene. We hope to see you as we catch up on what's happening on the DC blogger scene, trade ideas, get inspired, catch up with old friends and meet new ones. Get dolled up - as usual, our favorite photog John Robinson will be there snapping photos!
Your ticket gets you your first drink free, complimentary apps from PretzelCrisps, and entry into each of our giveaways! We have some fab prizes up for grabs:


Our blogger panel will begin at 8pm and giveaway winners** will be announced at 8:30. This event's panelists include:

Questions? Suggestions? Want to be a part of our next event? Get in touch with us:
hello@ashleyindc.com / @AshleyInDC
natcpin@gmail.com / @NatalieandErika

Blogger Scene - Parties with a Purpose. #BloggerScene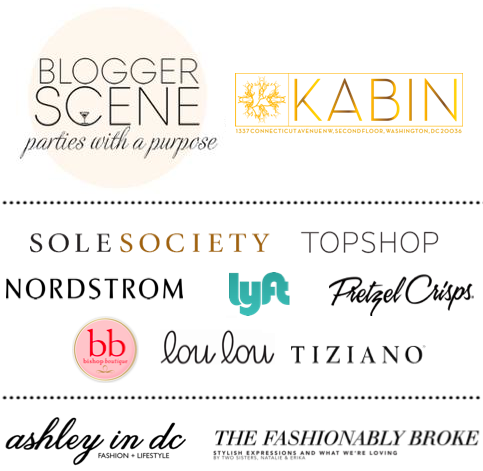 *Must be 21 to attend.
**Must be present to win.